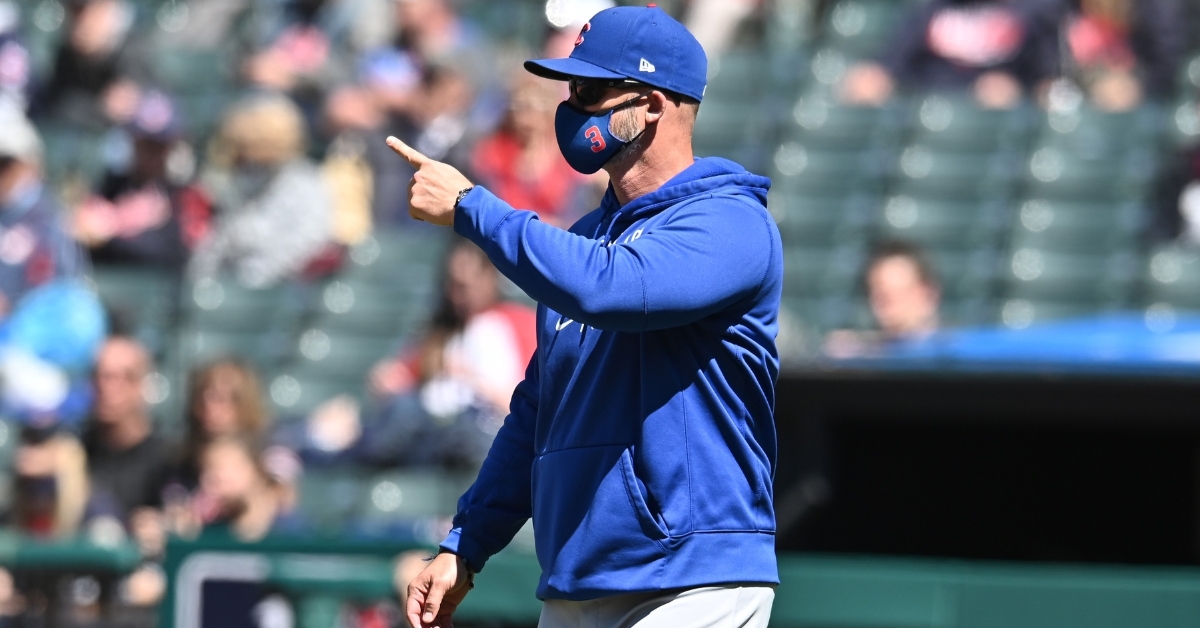 | | |
| --- | --- |
| Takeaways from Cubs loss to Indians: Pederson sizzling, Steele hammer, Stranded runners | |
---
| | | |
| --- | --- | --- |
| Thursday, May 13, 2021, 8:53 AM | | |
Coming into this brief two-game series with the Indians, the Cubs knew they were going to have their hands full. You had a Cubs team who is hampered by injuries right now facing against a Cleveland team not only playing good baseball but with a great pitching rotation. Their bullpen, in particular, is excellent as they lead the major league in ERA.
Even with all that being said, the Cubs still managed to hold their own, playing the Indians to consecutive one-run contests. Unfortunately, the Cubs wound up on the wrong side of those one-run contests dropping game two 2-1 in 10 innings to Cleveland on Wednesday. Making his first career, major league start was Sam Hentges, who kept the Cubs bats in check. He allowed no runs on four hits in 4 2/3 innings, walking four and striking out six.
Opposing him was Zach Davies, and for the second straight start, he turned out a strong outing. It wasn't a seven-inning out this time around, but he still held the Indians to just one run on five hits in 5 1/3 innings. After going through the worst stretch of his career, it is nice to see Davies' trending in the right direction. Speaking of guys trending in the right direction, how about Willson Contreras and Joc Pederson had great days at the plate with Contreras going 4-5 and Pederson 3-5.
Both have seen their averages rise in recent weeks, which is a good sign for a battered club. Pederson picked up the Cubs long RBI with a sharp RBI double to right-center in the sixth. That ended a long stretch of scoreless baseball for the offense. The Indians answered with back-to-back doubles in the second, with Amed Rosario collecting the second of the two doubles to bring in Cesar Hernandez.
Amed Rosario wasn't done, however, as his single in the bottom of the tenth brought home Jordan Luplow to give the Indians a 2-1 win and series sweep.
Joc Pederson coming alive at the right time
Coming off the spring training that Pederson put together, Cubs fans across the world were expecting huge things from him this season. Once the season got underway, that was far from the case as Pederson not only struggled to showcase his power but struggled to hit the ball at all.
It was then revealed that he would be heading to the IL with a wrist injury and that had some wondering if that was the case for his struggles. However, since returning from the IL, the signs have been positive as Pederson has been on a tear. He may not be hitting the long ball, but he is putting the ball in play and driving in runs. He has raised his average by more than 100 points in the last six games, and you must wonder if the wrist injury was the reason for his struggles.
Pederson has also seen time in the leadoff role in recent games and has looked relatively comfortable in that spot. With Ian Happ still having an unclear timetable as to when he will return, maybe Pederson can hold onto that role for a while. However, if he has the hot hand, why not let him try.
David Ross, on Joc Pederson:

"He's pulled his hands in well when they're trying to pitch him in. He's stayed on against some lefties and has taken some balls up the middle and the other way. There's been a whole-field approach."

A look at Pederson's hits this month. pic.twitter.com/zN6EFSXYoV

— Jordan Bastian (@MLBastian) May 12, 2021
A failed starter finding success in the pen
I am not talking about the failed starter Andrew Chafin and what his shirt said, but instead Rookie lefty Justin Steele. Once viewed as a top 15 prospect in the Cubs system, Steele was a left-handed starter full of potential. He threw hard, had excellent command, and had an MLB ready put away pitch that gave hitters fits. Unfortunately, his problem was always health, as he never made it past AA.
Despite the countless elbow and shoulder injuries, the Cubs organization stuck with him and eventually moved him to the bullpen, where his permanent home is. That move was not only the best decision for the Cubs but the best move for his career, and he has looked awfully impressive in his outings.
Thursday, he was thrown into a massive situation with a runner on third and one out in the sixth inning. Steele not only got out of that jam without allowing further damage but racked up a pair of strikeouts. His near 42% strikeout rate not only ranks near the top on the team, only behind Rex Brothers but is in the top five in all of baseball. He is one of several young pitchers making their way through the system, and it is nice to see pitching help finally getting to the show.
Justin Steele continues to leave his mark out the pen. #Cubs

Struck out 2/3 faced today.

(??: @WatchMarquee) @J_Steele21 pic.twitter.com/7IdaOPNxom

— Cubs Zone ™? (@CubsZone) May 12, 2021
Failing to cash in on opportunities
The Cubs struggled to get runners home this series as they left so many runners on base in the two games. You can say that was a big reason why they lost as they combined to go just 2 for 29 with runners on base against Cleveland. That shouldn't surprise fans at this point, as that has been an issue not only this season but going back to the 2017 season.
The Cubs have been involved in many close games lately, with their last seven games decided by one run or less. They have gone 4-3 in those games, but eventually, they need to start cashing in on these one-run games. Unfortunately, there are too many missed opportunities in these games, and over the past three days, it has bitten them in the butt.
However, I will cut them slack for the moment as they are missing some key pieces to the lineup due to injuries. Hopefully, when Nico Hoerner, Jake Marisnick, Ian Happ, and others return, this disturbing trend can go the other direction.