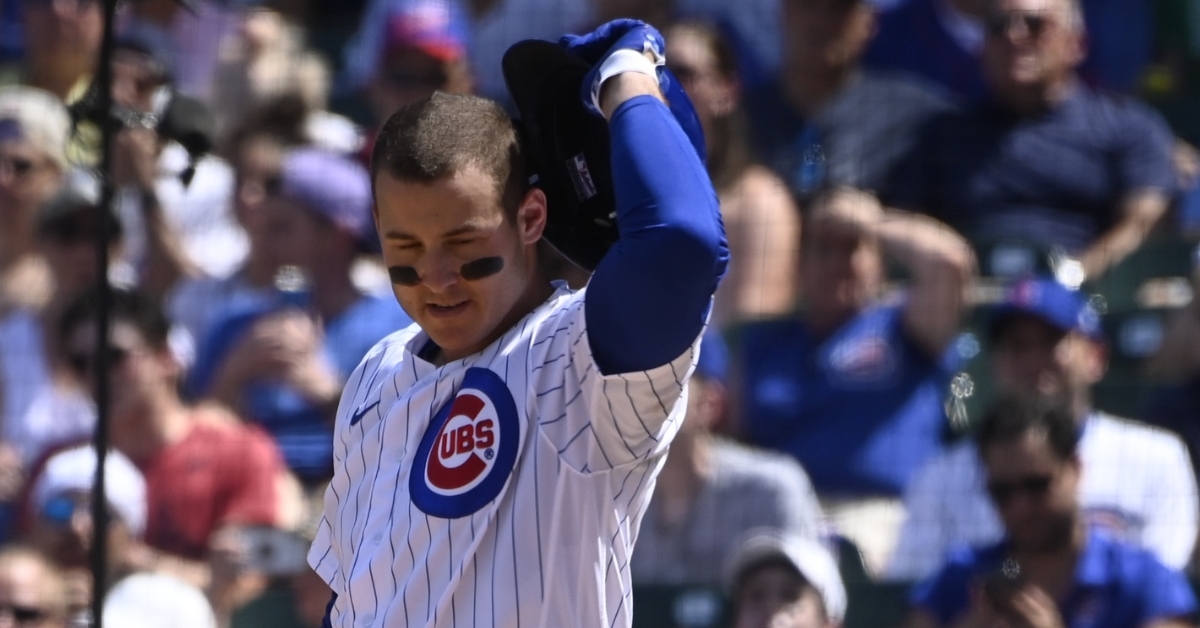 | | |
| --- | --- |
| Takeaways from Cubs loss to Marlins | |
---
| | | |
| --- | --- | --- |
| Sunday, June 20, 2021, 8:58 AM | | |
Apparently, the Marlins are the Cubs' kryptonite. Not only have they won the first two games of this series, but they have done so in dominating fashion, outscoring the Cubs 21-3 in the two games. Add in the Cubs scoring just one run in the playoffs against them last season, and the Marlins are 4-0 against Chicago and have outscored them 30-4 in their last four meetings.
Something is off with this team right now, and it is disturbing. Not only have they now lost five of their last six, but none of those five losses have been close as the Cubs have been outplayed start to finish in most of those games. Looking to continue his dominance against the Marlins, Jake Arrieta was roughed up again, allowing six runs in just three innings of work. Only four of those runs were earned, but another short outing for him put the pitching staff in a bind.
On the other hand, Pablo Lopez was brilliant as he tossed seven shutout innings allowing just one hit in the process to go with seven strikeouts. Two more Adam Duvall backed him homers as he has single-handedly beaten the Cubs this weekend. Miami homered four more times on Saturday, and after three homers on Friday, they have gone yard seven times this series after going four games without one.
Chicago was held to just three hits, with one of those hits coming on the Jason Heyward solo homer in the eighth to end the shutout bid. That makes six consecutive games for the Cubs where all the runs they have scored have come on homers, and that needs to stop following an 11-1 loss to the Marlins at home.
It's time to worry about Arrieta
When the Cubs signed Arrieta to return this offseason, there were many mixed reviews with the reunion. Many of the fans were happy to see him back, but given his track record across the past three years thought his best days were behind. After watching him post a team-best 2.57 ERA in April, the signing started to look like a steal as Arrieta seemed to be back at home.
However, since May 1, Arrieta has been the weak link in this rotation, and it isn't even close if you ask me. Following another short start, the fans who had concerns earlier in the season appear to be right as his best days as a pitcher are long behind him. His velocity is never going back to the 96 MPH range, and his sudden lack of control gives fans the feeling of his Baltimore days which were not pretty.
Down two pitchers already on the IL, the Cubs need Arrieta to be who was in April and not who he was in 2016. That version of Arrieta is never coming back, but the one they have now needs to leave. David Ross has hinted that this team needs at least one more starter come the trade deadline. If Arrieta continues the trend he has been on, the Cubs will be looking for multiple starters as he has become a liability on the mound.
"Just not good enough, obviously," said Jake Arrieta, who is 5-8 with a 5.45 ERA through 14 starts with the Cubs this season. "The game was pretty much out of hand after the first three innings."

— Patrick Mooney (@PJ_Mooney) June 19, 2021
Adam Duvall 10, Cubs 3
Across the first two games of this series, Duvall has been a one-man wrecking crew connecting for four homers and driving in 10. He has not only connected for back-to-back multi-homer games giving him 10 for his career, but he has also singly handily outscored the Cubs in this series.
I don't care how good you have been playing. If one player outscores your entire team over a two-game stretch, things are not looking good. Duvall has always loved facing the Cubs, and you can see why. After struggling for most of the season, Duvall has looked like an MVP over the first two games of this series which is a slap in the face.
The Cubs have had a tendency to do this over the years, however, as there have been numerous occasions where someone looks completely lost during the season only to look like an all-star against this team. Fans thought these days were over given the team's position right now, but clearly, this team still has a lot of work to do to be taken seriously in the NL.
Adam Duvall is on another planet right now!

He leads the NL in RBI after 4 HR in the last 2 days... ??#MIAvsCHC #MLB #JuntosMiami pic.twitter.com/sfkT5gr8YR

— Bally Sports Florida: Marlins (@BallyMarlins) June 19, 2021
Players slumping at the wrong time
Along with the tough schedule this team knew they would have in June, it has come to the harsh reality that it looks like April all over again. During the first month of the season, nearly every spot on the roster struggled at once, which led to a slow start.
After playing some of the best baseball in the Majors for a good five weeks, the Cubs have gone into a spiral the past two weeks, and their play has taken a big hit. The starting pitching is giving up runs, but they fail to make it out of the fourth inning, which puts pressure on the bullpen.
That pressure has led to the Major League-best pen over the past five weeks to look human as they have started to give up runs more frequently. Don't even get me started on the offense, as everyone, and I mean everyone, has begun to do the things that frustrate fans the most. Even Kris Bryant has seen his average drop nearly 30 points over the past few weeks as he has entered his first slump of the season.
It is usual for players to go through peaks and valleys during a season, but the Cubs do something that no one else seems to do. When one player struggles, for some reason, the whole team struggles. No one can put their finger on why that is, but there is a lot of truth in this matter.
You can look at April, you can look at 2019, and you can look at the final two weeks of last season. It is so mind-blowing that everyone is hot when this team is hot, but when they are struggling, everyone is struggling. There is never an in-between. They say hitting is contagious, and hopefully, they start hitting at the same time sooner rather than later.