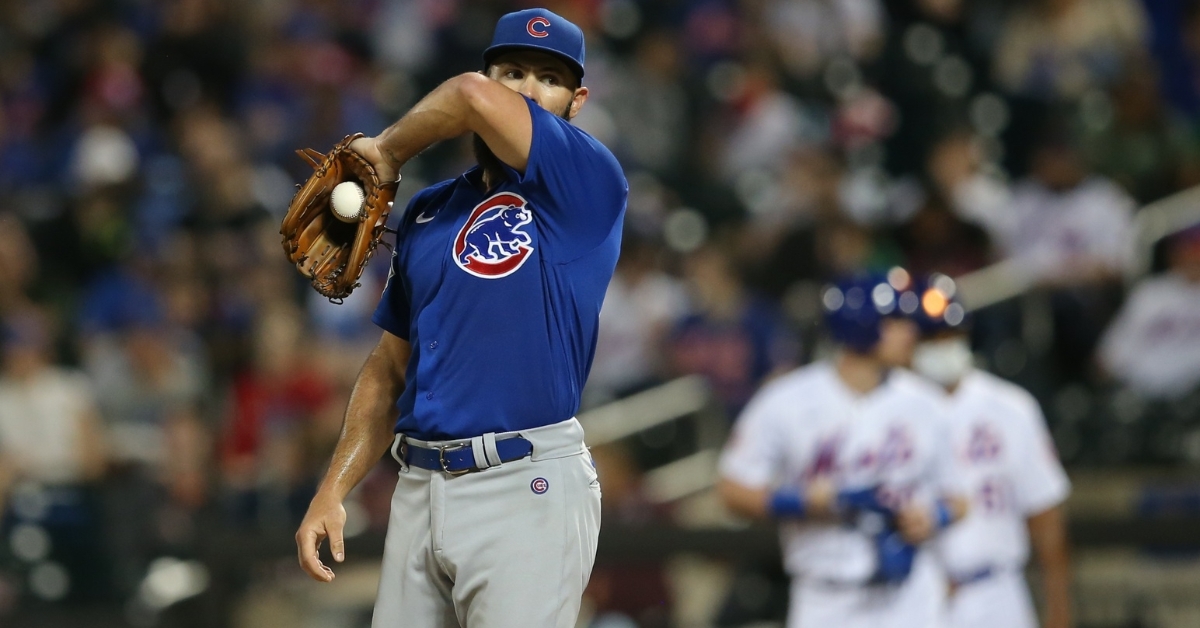 | | |
| --- | --- |
| Takeaways from Cubs loss to Mets | |
---
| | | |
| --- | --- | --- |
| Tuesday, June 15, 2021, 9:30 AM | | |
After completing the three-game sweep of St. Louis at home over the weekend, the Cubs hit the road for a four-game set against the Mets, who they swept at home earlier this season. That was back in April, and both are vastly different teams since then, especially when it comes to the Cubs, who continue to post the best record since April 27th.
However, not far behind them in that category are the New York Mets, who have compiled the best record at home this season to an NL East-leading mark. They have done it with great pitching and an improving offense that will only get better as more pieces come back.
In a matchup between Jake Arrieta and David Peterson, not many things went right for the Cubs as they were held to just one hit through six shutout innings. New York did most of their damage in the fourth inning, pushing across three runs off a James McCann single and Kevin Pillar double before Dominic Smith added a homer in the fifth, chasing Arrieta after just five innings yet again.
With the Cubs bullpen hoping to keep things close, Tommy Nance allowed his first earned run of the season when Brendon Drury singled up the middle, but that was it as the Cubs bullpen continues to pitch well when it matters most. Once the Cubs get Peterson out of the game, their offense was finally able to do some damage getting back-to-back solo homers from Anthony Rizzo and Patrick Wisdom to climb within 5-2. That would be as close as they would get as Edwin Diaz struck out the side in the ninth to secure the save.
Jake Arrieta and his road woes
The Cubs reunion with Arrieta has been filled with mixed reviews as he continues to be inconsistent at best as of late. After being the Cubs best starter the month of April, Arrieta has gone backward since, and some may argue that he has been the worst starter in the rotation since May and could be the weak link.
It's hard to argue that when you look at his ERA over his last eight starts, as that continues to hover around nine after sitting at 2.57 in April. A big reason for his decline in production is his inability to put consistently good starts together on the road. He was coming off a great outing at San Diego last time out, but that was rare as his road ERA surpassed 7.00 on the season.
Given what the Cubs saw from Arrieta when he was with the Cubs the first time around, there are no explanations for why he is struggling so much this season. Command has undoubtedly played a role in that as he has gone back to his Baltimore days of not locating his pitches. You get shorter outings and high pitch counts when that happens, which continues to plague him this season.
Jake Arrieta, 92mph Two Seamer and 90mph Cutter/Hard Slider, Overlay. pic.twitter.com/6NEa5PI4rk

— Rob Friedman (@PitchingNinja) June 14, 2021
A career-best for Mets' Peterson
Speaking of someone who has struggled lately, Peterson has been the weak link in the Mets rotation, and if it wasn't for Noah Syndergaard and his injury, he might not be in the rotation anymore. Entering Monday's start with an ERA above a 9.00 in his past few outings, Peterson was on a short leash as he knew his days in the rotation could be numbered if he continues to put together bad starts.
Instead, Peterson turned out what was possibly his best outing this season and maybe even his career as he held the Cubs scoreless through six innings of work, allowing just an Eric Sogard single in the process. It was just the fourth time in his career that he got into the sixth inning, and just the second time, he lasted six innings. It was also the first time he carried a shutout that deep into a game.
While outings like this from the Cubs offense happen occasionally, it is frustrating when you look at his previous outing against the Cubs, where Chicago won 16-4. The Mets defense played a significant role in many of those runs scoring, but Peterson wasn't that sharp in that start either. That start was either a fluke, or Peterson made tons of adjustments against the Cubs hitters, and there were not able to adjust back.
David Peterson's 96.2 mph fastball to strike out Kris Bryant in the first last night was the hardest recorded pitch of his major league career.@Metsmerized #Mets #LGM pic.twitter.com/bjnGCPBCO7

— Mathew Brownstein (@MBrownstein89) June 15, 2021
Should Javy Baez go on the IL?
For the most part, Javy Baez has bounced back nicely from last season, leading the team in both homers and RBIs to this point. His .234 average is still an issue as he continues to swing at everything leading the major leagues in strikeouts with 85. As much as fans harp on Baez for his plate discipline, that is just who he is and who he will always be, so there is no point in beating a dead horse.
However, there are some concerns with him right now, and those are surrounding his hand as a trip to the IL may be in store. Baez has always been a streaky hitter when you look at his career where he can go on a month-long tear, only to go a month without doing anything. After having a nice stretch to raise his average to .263, Baez is again going backward as he is now sitting at a .234.
While the decline is concerning, it doesn't tell the whole story as he has been dealing with a thumb issue that has kept him out six of the last eight games. After starting against the Cardinals this weekend, it appears Baez may have injured it a bit more trying to make a play on a foul ball in the stands.
David Ross continues to take a day-by-day approach with Baez, but at some point, you just need to put him on the IL and backdate it. It doesn't appear to be a serious injury, but more of a nagging one that can linger if not treated. Shut him down for two weeks, let him rest, and recover. Who knows, that could also clear his head, and he could return with a new mindset. Hand injuries, severe or not, affect hitters drastically, and it has certainly affected him lately.
So what possessed Javy Baéz to dive into the seats with a 5-run lead Saturday on a play that bruised his thumb knuckle?
#ElMago explains: pic.twitter.com/tL9QUrlnYF

— Gordon Wittenmyer (@GDubCub) June 15, 2021