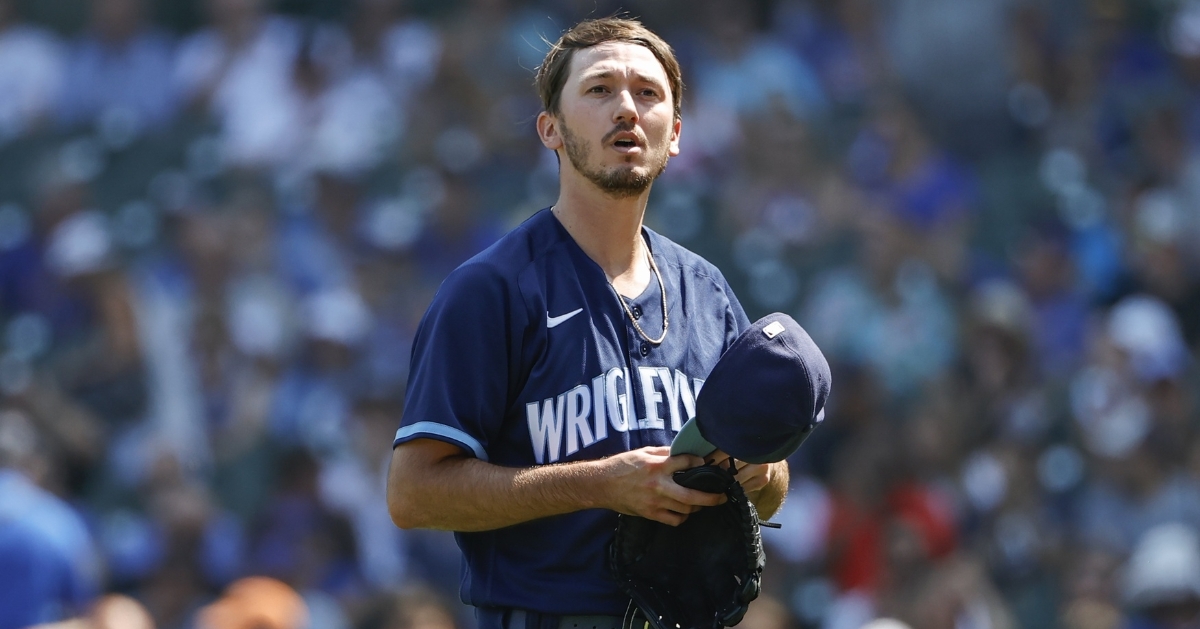 | | |
| --- | --- |
| Takeaways from Cubs loss to Royals | |
---
| | | |
| --- | --- | --- |
| Friday, August 20, 2021, 5:53 PM | | |
Home sweet home was not so sweet as the Cubs continued to struggle at home, falling to the Royals 6-2 on Friday. Even with the recent struggles, this team is still playing above .500 at home, which is hard to believe when looking at the recent results.
In a matchup that pegged Royals opening day starter Brad Keller against Zach Davies, fans were greeted to a decent matchup on the mound as both pitchers made it through six innings. For Davies, I guess you could say that was a moral victory as that makes two straight starts where he has gotten through six innings after struggling to do that most of the last month.
Davies walked one and struck out five, but was bitten by a career-worst for solo homers, two of them off the bat of Salvador Perez. On the other hand, Keller was much better, allowing one walk himself but striking out eight as he was able to recover from a rough go of things early. Keller, too, was bitten by the long ball with Patrick Wisdom unloading for a solo shot in the second inning to put the Cubs on top 1-0.
One inning later saw Davies reach first with a single before an error put runners on second and third with one out. Had Davies realized the ball got by Ryan O'Hearn in right, the Cubs were gifted a run, but instead, he was standing at third which proved to be costly. Two batters later saw Ian Happ rip one into right field for a single, which at that point had the Cubs in front 3-0. However, after slipping rounding first, the Royals tagged Happ out and challenged to see if Rafael Ortega crossed home before the out was recorded.
After a lengthy review and a lot of confusion, the Cubs saw their lead go from 3-0 down to 2-0 and then 2-1 in a matter of seconds, with Salvador connecting for his first of two homers in the game. Emmanuel Rivera tied things up in the fifth with his first career homer before Perez and Andrew Benintendi went deep in the sixth to stretch the lead to 4-2. That spelled the beginning of the end for Davies as the home run ball continued to be an issue after he did such an excellent job with it earlier in the season.
With the Ryan Mesinger on in relief, Jarrod Dyson dropped down a bunt which not only allowed him to reach first but brought home Whit Merrifield in the process, putting the Royals up 5-2. Kansas City added another run in the ninth with their fifth solo shot as they topped the Cubs 6-2 in the opener.
Nothing good ever comes from pitchers running the bases
One of the biggest arguments that baseball purists continue to debate about revolves around the DH or pitcher batting topic. I was once on board with letting pitchers hit, but it is getting boring to watch that MLB needs to do away with it and go with a universal DH.
Not only have pitchers been getting worse and worse at hitting over the years, but their baserunning is also always an adventure, and nothing ever good comes from it. Not only do they often get injured while running bases, but it seems like they lose their momentum on the mound the very next inning after standing on the bases for an extended period.
That is precisely what happened to Davies in the fourth after dominating the Royals through the first three innings. Not only did Davies get a hit, but he was forced to run the bases and made a costly mistake that cost the Cubs a run. Not that a run would have made a difference, but once Davies came back out, he started to miss up in the zone, which led to homers. That has been his issue this season, and once again, the home run ball did him in.
Zach Davies this season:

1st time thru order: .686 OPS
2nd time thru order: .774 OPS
3rd time thru order: 1.138 OPS

KC went 1-8 with 0 runs 1st time through today. Then 2-9 with 2 HR (2nd), and 2-6 with 2 HR (3rd), so far.

— Jordan Bastian (@MLBastian) August 20, 2021
11 games and counting
Not only have the Cubs seen two losing streaks of 11 games or more this season, but you could also say they have seen three streaks of that length as they are enduring another one right now. With their loss on Friday, the Cubs have now dropped 11 consecutive home games, which is the second-longest streak in team history.
Only the 1994 season where they dropped their first 12 home games of the season tops this streak as their rough season continues. This is just another element that sums up the Cubs season as nothing has gone right from them since the better part of June.
Looking at the homestand schedule, this was a golden opportunity for the Cubs to gain some confidence and win some games after not winning for two weeks. Friday was not a good way to start things off as they now look to go 4-1 the rest of the way to finish with a winning homestand.
More streaks come to an end
Not only did the Cubs two-game winning streak come to an end, but two other streaks came to rest on Friday with two players cooling off. Matt Duffy entered the game riding an 11-game hitting streak tied for the best in his career. Duffy didn't offer much hard contact outside of getting hit by a pitch and will look to start a new hitting streak tomorrow.
Frank, the Tank Schwindel, has been a pleasant surprise since joining the Cubs as he tied Geovany Soto's rookie record for consecutive games with a double. Teams are taking notice of his production, and they did their best to pitch away from him during the game.
Schwindel did make solid contact at certain points, but for the first time since getting called up hit the ball right at people as he failed to connect for a hit. He is one of the players the Cubs will count on down the stretch as he looks to prove to everyone that he deserves a regular job on any team.