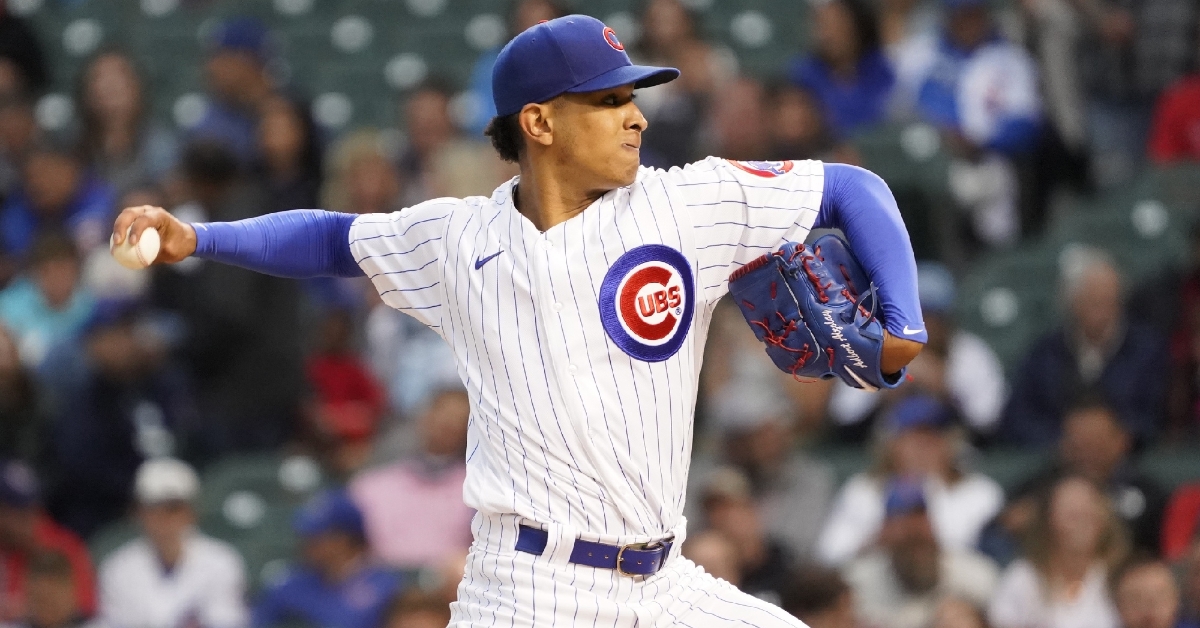 | | |
| --- | --- |
| Takeaways from Cubs' shutout loss to Phillies | |
---
| | | |
| --- | --- | --- |
| Friday, July 9, 2021, 8:30 AM | | |
Well, that winning streak lasted for one day as the Cubs fell to the Phillies 8-0 on Thursday, closing out another series loss 3-1. In what was a Zach Eflin vs. Abert Alzolay matchup, the Cubs were unable to cash in on a couple of early chances, which proved to be costly in the end.
As usual, the home run ball continued to be an issue for Alzolay as, once again, two homers allowed put a damper on what was otherwise a good performance.
Both homers he surrendered came off the bat of Brad Miller, who connected for three of the Phillies four homers, with Didi Gregorius adding the other one. Corey Abbott was responsible for surrendering the other two homers as the Cubs did next to nothing offensively all game long.
Brad Miller remember him?
It wasn't long ago when Brad Miller was a budding St. Louis Prospect looking to find a position play. Similar to Patrick Wisdom in terms of what he has done in the minors, Miller was utility man for the Cardinals in 2019 and to play his way into consistent plate appearances despite not having a regular position.
That was until the September of that year when Miller went off against the Cubs as part of a four-game sweep by the Cardinals that eliminated Chicago from Division contention. Across those four games, Miller hit a 600 in that series while connecting for six homers in the four games.
Clearly, he loves Wrigley Field, as he added three more homers last night, giving him nine homers in nine games at that ballpark. Following the 2019 season, the Cubs had Miller signed to a minor league deal heading into 2020, but he never appeared in camp. The Cubs would release him before spring, and the Phillies bounced on him and picked him up.
This looks like a dumb move now, but had the Cubs known he would do this again to them, they probably would have given him a shot, especially if he turned out like Wisdom. Fortunately for Chicago, Miller will not be at Wrigley Field anymore this season unless he is traded, so the Cubs shouldn't have to worry about another performance like that.
A 3-HR game.

Have a day, Brad Miller. pic.twitter.com/BLkGamudWe

— MLB (@MLB) July 9, 2021
Get ready for more performances like last night
11 game losing streaks certainly change the narratives of a team's Trade Deadline plans. After looking like sure buyers in the early portion of June, Cubs President of baseball operations Jed Hoyer admitted yesterday that the narrative has changed following their recent skid.
He went further to say that significant changes are coming to this roster and that he will be taking plenty of calls in the next three weeks. When you look at what he said, you get the sense that the buying talk is out of the question and that this team is about to unload a lot of the players fans fell in love with over the past seven years.
That is the most challenging part of running an organization. Not only do you have to make the right decisions for the present, but you need to plan for the future too. At this point, Hoyer is more focused on the future instead of what the team can do to turn this season around. Given the players who are about to hit free agency, expect one if not all three of those guys to be on new teams by August.
If that is the case, fans can expect David Ross to have many lineups looking like last night that will be filled with minor leaguers and role players eager to see the field. While fans may witness plenty of performances like last night the rest of the way, it does pave the way for a successful future if Hoyer doesn't give these guys away for nothing.
This is why rosters need to expand
The best part of the September call-ups is the expanded rosters that give fans a chance to see some of the Minor leaguers who had success during the season. I have always been a proponent of major league baseball expanding rosters, but 40 is too much outside that final month of the season.
Baseball has taken the initiative and extended it to 26-men, but I still think they need to allow more to save teams. When you look at the health of a lot of these teams, injuries will happen throughout a Major League season. Some will be severe, some will be minor, and some will be just long enough to land players on the IL.
When you have a situation like Kris Bryant and Javy Baez, who are currently listed as day-to-day with injuries, it takes a bench of four players and turns it into a bench of two, maybe three. In other words, the Cubs are playing shorthanded. They could choose to put both on the IL, but if their injuries are not that bad, you are only hurting the team more than helping it.
An ideal solution would be to do what MLB did last year and expand the roster from 26 to 28 or even 30 players. I think 30 is the perfect number as it would allow teams to carry 16 players and 14 pitchers or 15 of each. That way, even when you have some players dealing with day-to-day injuries, you still have plenty of options off the bench which makes a big difference.
Having extra bodies will also enable a manager to get some of his stars more rest regularly. That goes a long way during a 162 season.