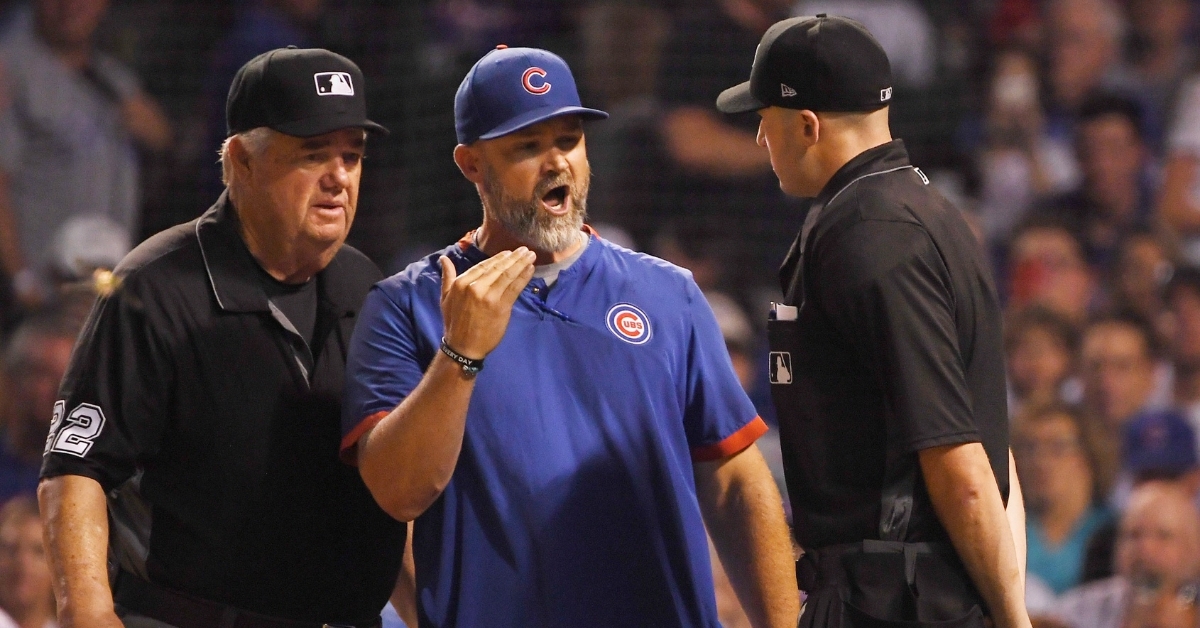 | | |
| --- | --- |
| Takeaways from Cubs' tenth straight loss | |
---
| | | |
| --- | --- | --- |
| Tuesday, July 6, 2021, 9:17 AM | | |
When things are going bad, they go really bad for the Cubs as they dropped their 10th straight game in 13-3 fashion to the Phillies. This team is now under 500 for the first time in nearly two months, and given what fans have seen lately, there are no signs of them coming out of this slump anytime soon.
At some point, something has to give, or at least you would think it does, as the Cubs are mired in their longest losing streak since losing 12 straight back in 2012. That was the first year of the Theo and Jed regime, and this is starting to look like that year all over again despite the amount of talent on this team.
The team has been lifeless, struggling to score runs, and the once dominating bullpen is starting to crack, proving their over-usage at the beginning of the season is starting to catch up to them. Another concern during this streak has been the Cubs inability to hold the lead where they have led in seven of these 10 losses only to let things slip away late. Maybe another ejection from David Ross last night can jumpstart this team because they certainly need something.
Leading early was not an issue for the Cubs last night, as they backed Zach Davies with some early support. After failing to cash in with the bases loaded in the first, Jake Marisnick got into a Matt
Moore fastball in the second inning and took it out to dead center for a 1-0 lead. Marisnick continues to crush lefties this season, and given the continued struggles of Ian Happ could find himself landing more frequent playing time.
The Phillies answered in the third with a long solo homer by Andrew Knapp, only to have Javy Baez put the Cubs in front with an RBI double in the third. One inning later, the long ball proved to be the difference again as Didi Gregorius took a pitch nearly in the dirt out to right as the Phillies tied things up 2-2 in the fourth. It was another shaky start for Davies command-wise, but once again, he gave his team a chance to win, going five innings and allowing just those two homers before turning things over to Rex Brothers and the pen.
Typically, the strength of this team early, the Cubs pen is starting to struggle, and Brothers is one of the guys suffering the most. After just missing a called strike three on Bryce Harper in the sixth, Ross lost it on the home plate umpire and was eventually tossed. Instead of Brothers using that as the fire he needed, Andrew McCutchen came through with the go-ahead RBI double before coming home to score on Rhys Hoskins RBI single.
After both Adam Morgan and Keegan Thompson delivered some good relief outings, Kohl Stewart returned to the Wrigley Field mound, this time in relief. Things went from bad to worse with him on the mound as Stewart struggled with his command. Ultimately, the Phillies pushed across six runs in the eighth inning off him to bust the game open 10-2, but Stewart was charged with no earned runs in the process.
Baez added a solo shot in the bottom of the eighth to pull within 10-3, but the Phillies took Eric Sogard deep twice in the ninth to cap off a 13-3 beatdown of the Cubs. This was Sogard's third pitching appearance in the last seven days, and he has now been used more than Craig Kimbrel in the process. That is a growing concern and not something you want to hear when trying to win games.
Too many missed opportunities
The Cubs offensive struggles have been put center stage for a while now, but they continue to get worse during this stretch. The problem hasn't necessarily been hitting the ball as the Cubs did collect eight hits last night, but more so getting the big hit when it counts.
Not only did they waste a bases-loaded one-out opportunity in the first inning last night, but that makes three straight games and four of their last five where they had that same opportunity early in the game. For an offense struggling to score runs as much as they are, getting any extra run support early in the game would be huge for this team.
It is a mystery why this team struggles so much to hit the ball with runners in scoring position, which has hampered them since 2018. It was during that early postseason exit when Epstein said the offense was broken. He may not have elaborated what that meant, but he was right.
The offense was broken, and three years later, it is still broken. This team has forgotten how to do the simple things that win baseball games, and no amount of extra work will change who they are. This team is stuck in their way and has now put themselves in their position because of it.
Javy Baez getting things right
There haven't been too many positives to take away from this team during this stretch, but Baez and his sudden improvement is undoubtedly one of them. Average aside, which is still under 230, and you have a player sitting at 19 homers and 52 RBIs, both lead the team.
Given his struggles at the plate most of the season, it will be tough to see Baez crack 250 this season, but should he reach that mark, it would mean a tremendous second half in which he hit near 300. One thing that has always hampered Baez has been his plate discipline or lack of plate discipline.
While he continues to lead the league in strikeouts, Baez is starting to take walks more frequently. In fact, he has taken nearly as many walks over the past 10 days as he had all season. That means he is seeing the ball well, and when that happens, Baez can get on a hot streak like none other and carry this offense.
One way you can tell that he is getting right offensively is when he starts to go the opposite way instead of pulling everything. He has done that much more lately, including both of his hits last night. His RBI double was crushed to right and one-hopped the wall while his homer landed halfway up the bleachers in right. This was the approach he used in 2018 when he finished MVP runner-up, and maybe he finally realized that is what he needs to do to be successful.
Javier Baez - Chicago Cubs (19) pic.twitter.com/MlvOzbXXrJ

— MLB HR Videos (@MLBHRVideos) July 6, 2021
Is Robinson Chirinos the answer?
The backup catcher situation has been a nightmare for the Cubs this season as they are on to backup No. 6 behind Willson Contreras. Not only has Contreras caught the most games of anyone, but he has caught the most innings too, and his production at times has suffered. Contreras is worn out at this point and needs breaks more frequently than he has. Hopefully, Chirinos can provide that as he is the best option, the Cubs have had thus far.
Once a prospect in the Cubs system, Chirinos has bounced around quite a bit throughout his career, but has landed himself a solid big-league career. Now at age 37, Chirinos will not be a starter, but knows his place in this league and will provide this team with the first legitimate backup catcher this season.
This season, Chirinos saw action in 13 games in minor league action and compiled a solid 278 average with three homers and six RBIs. For his career, Chirinos has managed just a 231 average, but has provided 86 career homers. Backup catchers tend to have less than appealing stats, but they are used sparingly. Considering what the Cubs had to work with, this is a good pickup, and it will be nice to have a reliable backup behind Contreras in hopes of keeping him fresh down the stretch.
The #Cubs today signed catcher Robinson Chirinos to a one-year major league contract.

Catcher Taylor Gushue has been designated for assignment. pic.twitter.com/5gCT3BD8Ib

— Chicago Cubs (@Cubs) July 5, 2021
On a side note, the ACL Cubs dropped a 9-8 contest to the ACL Giants Orange team last night, falling to 4-2 on the season.

Tags: Cubs Baseball
,
David Ross
,
Zach Davies
,
Jake Marisnick
,
Ian Happ
,
Javy Baez
,
Rex Brothers
,
Keegan Thompson
,
Kohl Stewart
,
Craig Kimbrel
,
Willson Contreras