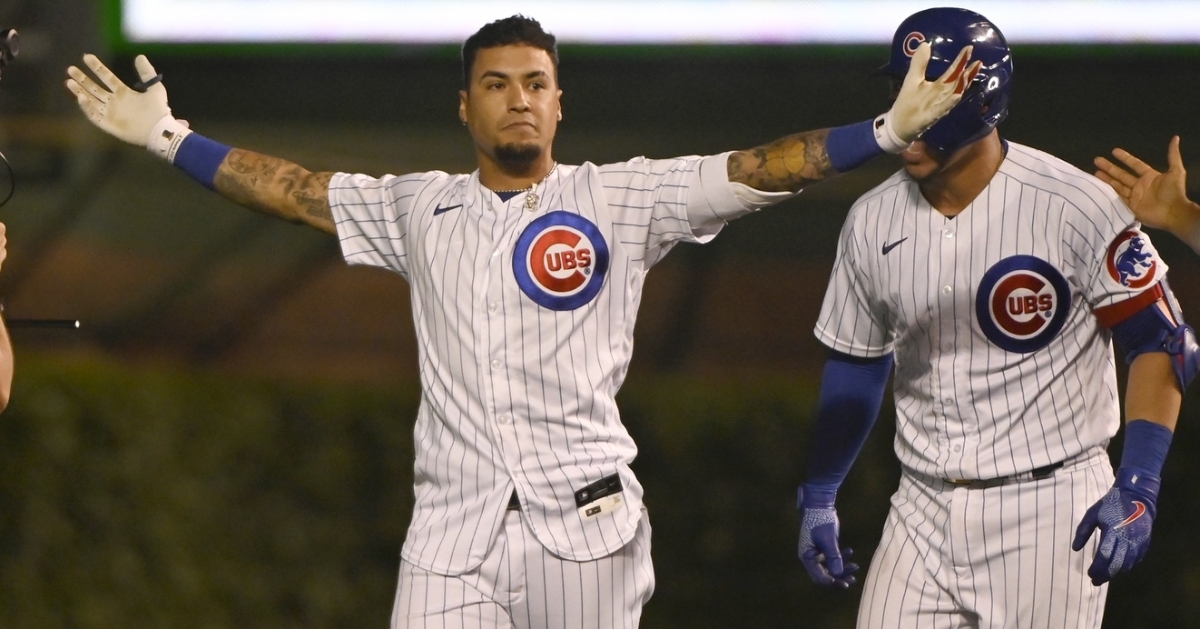 | | |
| --- | --- |
| Takeaways from Cubs' walk-off win over Reds | |
---
There was a lot of drama at Wrigley Field on Monday night, filled with plenty of excitement. You saw Kyle Hendricks labor through five innings and deliver his first rough outing in what seemed like two months. Wade Miley had the lead, but struggled with his command all game as he couldn't make it out of the fifth inning.
It then became a battle of the bullpens, and we know how that typically ends for the Reds. Before we get to that point, let's look back at what transpired during the first several innings. Anthony Rizzo picked the Cubs up in the first as he launched a homer in back-to-back games to give the Cubs an early 2-0 lead.
Typically, that would be enough for Hendricks given the way he has been pitching, but on this night, the Reds had other ideas as they touched Hendricks up in a big way. That all started with Joey Votto, who put Cincinnati on the board with a solo shot in the second before tying things up with a sacrifice fly in the top of the third.
One inning later saw David Bote give the Cubs a 3-2 lead with his single, only to see the Reds tie the game on a Kyle Farmer homer as Hendricks was now searching for answers. In the fifth inning, the Reds seemed to have the advantage as Hendricks not only walked Votto to push across the go-ahead run, but saw Tyler Stephenson pick up an RBI fielders' choice as the Reds led 5-3.
It was the first time in nearly two months that Hendricks left a game trailing as his streak of starts without a loss was certainly in jeopardy. After the Cubs wasted a golden opportunity in the bottom of the fifth, they were able to chase Miley from the game and got to a Reds bullpen that has been downright awful this season.
With Adam Morgan, Rex Brothers, Keegan Thompson, and Craig Kimbrel doing their thing to keep the Reds off the board, Nico Hoerner picked up an RBI single against former Cub Brad Brach to pull within 5-4. One inning later saw Willson Contreras take another former teammate deep as his solo shot off Josh Osich tied things up 5-5 and sent the game to the ninth.
After being given the night off with a sore heel, Javy Baez stepped up to the plate with a chance to play the hero. With the hated Amir Garrett on the mound, Baez and the Cubs got the last laugh as he ripped a walk-off single to right field, capping off the 6-5 comeback win.
As the game was unfolding, word broke about the Cubs second trade of the season. This time it was fan favorite and breakout lefty Andrew Chafin who was dealt to Oakland for a pair of players.
The 31-year-old Chafin has been a reliable lefty across his MLB career, but he was putting together an All-star caliber season this season. For his career, Chafin has posted a 10-15 record with a 3.47 ERA. Most of that career was spent in Arizona, where he was more of a matchup lefty than anything.
After getting traded to the Cubs last season, Chafin appeared in just four games posting a 3.00 ERA in the process. He then went on to post a 2.06 ERA across 43 games this season and had been a significant part of the Cubs pen in the process.
In return from Oakland, the Cubs received OF Greg Deichmann, who was the ninth-best prospect in the organization, along with minor league right-hander Daniel Palencia. Deichmann is a bit older than a prospect at 26, but he is just raking for AAA Las Vegas this season, putting together a .300 average with 21 extra-base hits in 60 games.
Palencia is the wild card as he is just 21 years old and coming into his own. Although his numbers haven't been great for Low-A Stockton this season, Palencia is armed with an upper 90's fastball that can touch triple digits and has struck out 14 batters in 14 innings of work this season.
It's official: #Cubs receive two prospects for Andrew Chafin https://t.co/8qeMJR30aO

— CubsHQ.com (@ChicagoCubsHQ) July 27, 2021
Anthony Rizzo heating up
This season has been a struggle for Rizzo, and all you have to do is look at the numbers to see that. Typically, someone who will hit in the 270s and connect for around 30 homers and 100 RBIs, Rizzo has seen his numbers decline each of the past three seasons, but nothing like this season.
A big reason for the decline could be his back even though he won't use that as an excuse, but he doesn't seem himself. Not only is he hitting around a 250, which would be his lowest for an entire season since 2013, but Rizzo entered this homestand with just 11 homers and not even 40 runs driven.
After his first-inning homer off Miley, Rizzo has now homered in back-to-back games and is up to 38 RBIs. A small victory for him, yes, but it does appear that he is starting to heat up after having the worst start of his career. If this is his last homestand as a member of the Cubs, Rizzo wants to go out with a bang. So far, so good as he is starting to show some signs of life at the plate finally.
Anthony Rizzo - Chicago Cubs (13) pic.twitter.com/kDxQW9jWHk

— MLB HR Videos (@MLBHRVideos) July 27, 2021
Enough with the excuses
The final takeaway isn't from the game itself, but more so what was said before the game. If you watch David Ross's press conference on Monday, he admitted that the trade talks have been a distraction for his players and have led to them performing the way they have. In my opinion, that is an excuse, and it is allowing these players not to take accountability for their actions.
Trade talk is part of the game, and every player knows this going into a season. Most of the time, those players have the mental toughness to block everything out and play the game they grew up loving.
The numbers that most of these players have put up this season are not the numbers they are capable of putting up, and someone needs to be held accountable. Whether that is the manager, the hitting coach, or the players themselves, someone needs to come forth and admit that they have not lived up to expectations. The fans will appreciate this team more for admitting their flaws instead of making excuses to cover them up.

Tags: Cubs Baseball
,
Kyle Hendricks
,
Anthony Rizzo
,
David Bote
,
Rex Brothers
,
Keegan Thompson
,
Craig Kimbrel
,
,
Willson Contreras
,
Javy Baez
,
Andrew Chafin
,
David Ross