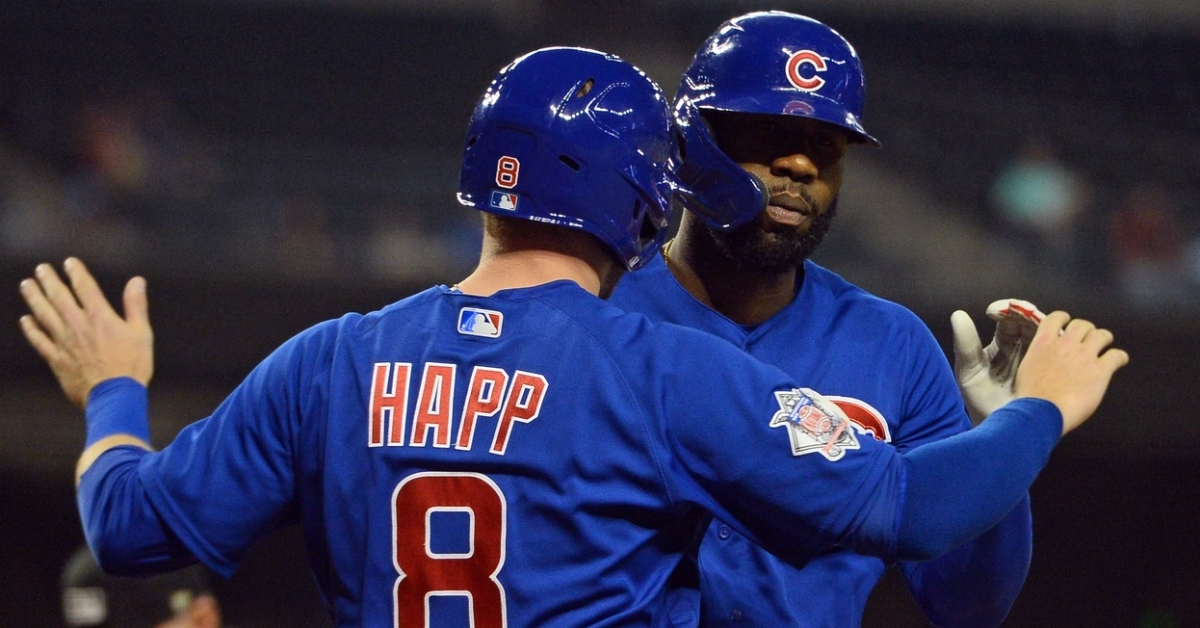 | | |
| --- | --- |
| Takeaways from Cubs win against D-backs | |
---
| | | |
| --- | --- | --- |
| Saturday, July 17, 2021, 8:00 AM | | |
The Cubs opened the second half of their 2021 campaign the best way possible, knocking off the struggling Diamondbacks 5-1. Facing a pitcher in Madison Bumgarner, who has given them fits in the past, the Cubs countered with their ace Kyle Hendricks as he was looking to make it 10 consecutive winning decisions.
David Ross has a straightforward formula to win games. Grab the lead before the seventh inning and turn things over to the three-headed monster of Ryan Tepera, Andrew Chafin, and Craig Kimbrel to seal the deal. I would say 95% of the time, when he follows that formula, it tends to work, and that was the case again last night as the Cubs opened the second half with a win.
Jake Marisnick gave the Cubs an early 1-0 lead in the second inning as he picked up a sacrifice fly to score Javy Baez, who reached third with some aggressive yet heads up baserunning. One inning later saw Josh Rojas tie things up with an RBI double as the Diamondbacks proved they wouldn't go away without a fight.
Even without his best stuff on Saturday that saw Hendricks walk three and strikeout four, he still got through six innings while allowing just that lone run as he continued to do his thing from the top of the rotation making life a whole lot easier for the Cubs. Anthony Rizzo provided the game-winning RBI in the fourth with his solo shot before the Cubs played long ball in the seventh, with Patrick Wisdom connecting for his 13th of the year followed by a two-run shot by Jason Heyward to help seal the deal on what was a nice 5-1 win to open the second half.
Time for Ian Happ to shine
Once Jed Hoyer announced that the Cubs would be entering sell mode, it was only a matter of time until the first domino fell. That first piece fell on Wednesday night when Joc Peterson was dealt to the Braves in exchange for 1B prospect Bryce Ball. Although Pederson never lived up to his potential this season, he did see action in 73 games and was a massive part of the Cubs offensive surge when they were at their best.
Now that he is gone, the left field spot will be up for grabs, but look for Happ to get the first crack at that spot and use this opportunity as a time to shine. Happ has been an interesting case since arriving in the majors, as he has played exceptionally well at times, but then terrible other times.
Happ was a significant part of the team's success last season, and the organization was expecting huge things out of him this year. Instead, they have someone who is still hitting under 200 and is putting one of his worst offensive years together at the plate. That dip in production has taken him from an everyday role and saw him start to split time with Marisnick in center, which took away some at-bats.
With Pederson gone, Happ now has a chance to get more at-bats and become an everyday player again, but this time in left field. Ross and the organization are hoping that more regular at-bats can help him get back to his 2020 version of himself, which would be huge for this team.
Kyle Hendricks does what he does
While most teams focus on high-velocity arms to round out a rotation, the Cubs have taken the exact opposite approach and depend on location over velocity. That all starts with Hendricks, who continues to go about his business picking up his MLB leading 12th win in the Cubs victory last night.
Not only that, but it also marks his 10th consecutive decision that he has ended up on the winning side of things and has now gone 12 starts without a loss. Sure, his ERA is still above a 3.6, which is high for him, but take away that first month of the season, and Hendricks is dealing with a 2.87 ERA across those 13 starts.
That shouldn't come as a surprise to anyone, as Hendricks is the quietest ace in the league and goes about his business. Since 2016, when he won the NL ERA title, Hendricks has posted a 3.06 ERA. That ranks fifth among all qualified starters with the likes of Jacob DeGrom, Max Scherzer, Clayton Kershaw, and other big-name starters.
Hendricks may not be your typical flame-throwing ace, but he is an ace none the less and the Cubs are lucky to have him. He will be the building block of the future around this rotation, and rightfully so.
Kyle Hendricks starts the second half with his 12th win of the season. #CubTogether pic.twitter.com/omw4VnvwbW

— Chicago Cubs (@Cubs) July 17, 2021
Can the Cubs avoid a complete sell-off with player extensions
With the sell-off underway, fans are starting to wonder who is next in line to be dealt to another team. Kris Bryant and Kimbrel appear to be the most likely candidates given their possible return, but Rizzo, Baez, and even Hendricks have had their names pop up.
In hopes of keeping some of this team together, it appears the Cubs are making another run at extending a few players with Rizzo and Baez the ones they are going with. Both players turned down extensions in the past two seasons, but Baez and his camp were closer to an agreement before breaking things off due to COVID.
Hoping to avoid trading at least one of them, the Cubs plan to enter extension talks again as their decisions will alter the trade market completely. Should one of both agree to terms, the Cubs have two offensive pieces locked up for the future that they can fill the rest of the roster around. However, should they say no, the Cubs will have to put them on the block and see what they can get.
REPORT: #Cubs will attempt to extend Baez, Rizzo; Mets, Nationals interested in Bryant https://t.co/tlcjEYQig3

— CubsHQ.com (@ChicagoCubsHQ) July 16, 2021

Tags: Cubs Baseball
,
Kyle Hendricks
,
David Ross
,
Ryan Tepera
,
Andrew Chafin
,
Craig Kimbrel
,
Jake Marisnick
,
Javy Baez
,
Anthony Rizzo
,
Patrick Wisdom
,
Jason Heyward
,
Ian Happ
,
Kris Bryant