| | |
| --- | --- |
| Takeaways from Cubs win over Phillies | |
---
| | | |
| --- | --- | --- |
| Thursday, July 8, 2021, 8:59 AM | | |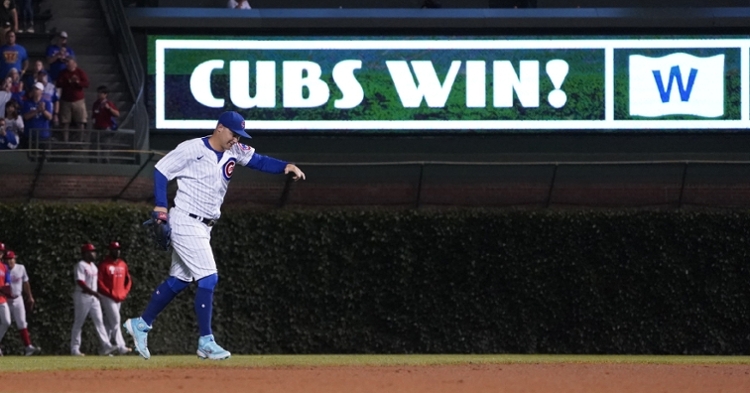 The losing streak is over. It was nice to see the Cubs use the momentum they finished the game with on Tuesday to jump all over the Phillies on Wednesday night. More impressively, the Cubs were able to knock around Zach Wheeler, who would be the favorite to win the Cy Young if Jacob DeGrom wasn't posting the numbers he is posting.
With Alec Mills on the mound, the Cubs wasted no time grabbing an early lead with Jason Heyward, Nico Hoerner, and Rafael Ortega picking up RBI singles in the first to give the Cubs a 3-0 lead. Add in an Anthony Rizzo triple and Willson Contreras singled in the second, and the Cubs had a 5-0 lead. That was more than enough for Mills as he allowed just one hit through five innings and posted his second straight solid start.
The Phillies were able to get to Mills a little bit in the sixth as Bryce Harper smoked an RBI double into the right-field corner before coming home on the Andrew McCutchen homer to make things 5-3. Fortunately, the Cubs had no intention of letting this lead slip away as Joc Pederson picked up an RBI single later in the game ahead of Patrick Wisdom's two-run double as the Cubs win for the first time in nearly two weeks 8-3.
Next year's rotation starting to take shape
When the Cubs elected to part ways with Jon Lester, Tyler Chatwood, and Jose Quintana this offseason, their rotation was left in shambles and had a lot of work to do to round it out for this season. Shortly after, the Cubs traded Yu Darvish and Victor Caratini to San Diego to make an already thin rotation that much worse.
Zach Davies came aboard in the Darvish trade, which did help, as did having guys like Adbert Alzoaly and Alec Mills with starter experience, but more work needed to be done. The Cubs then decided to bring in Trevor Williams and Jake Arrieta to round out their 2021 rotation. While Williams has shown flashes of greatness at times, Arrieta has been a dumpster fire as of late and now finds himself on the IL with a hamstring injury leaving his future in question.
Not only that, but the entire rotation is also a question mark going forward as Arrieta and Williams are both on one-year deals meaning the Cubs will be down two starters again next season. When you look at this upcoming free-agent class, there will be plenty of good pitchers to choose from that could help this rotation. The question is, how much are the Cubs willing to spend, and do they want to on the pitching front? Instead, I look for them to fill the rotation from within, and they are off to a great start.
Kyle Hendricks and Alzolay should be locks in the rotation next season, and I wouldn't put it past Mills to break camp as the team's No. 5 for the short-term next season. That leaves two spots open as they will need to replace the No. 3 and No. 4 spots. One pitcher that seems to be in line to secure a middle-of-the-rotation spot is Keegan Thompson.
A former top 30 prospect, Thompson has fallen out of those rankings but could be back in before long. The rookie right-hander has appeared in 21 games for the Cubs this season, making one start, and has posted a 1.74 ERA in 31 innings of work. While his 32 strikeouts are good to see, the 17 walks are a bit concerning, but there is a belief he will turn that around. Across 29 career minor league starts, Thompson has posted a 10-10 mark with a 3.46 ERA, great numbers for a middle of the rotation arm.
Cory Abbott is another name I expect to see in the rotation next season as he is taking Arrieta's place on the roster. The No. 14 prospect in the Cubs system, Abbott was the organizational pitcher of the year in 2019, posting an 8-8 mark with a 3.01 ERA in 26 starts. He also became the first pitcher since 2009 to surpass 150 strikeouts in a season.
This season has been a struggle for Abbott, but he has been improving in Iowa. Abbott has gone 1-3 with a 5.88 ERA in eight starts but has posted 18BB to 64K. Abbott has also seen action in four games, tossing 8 1/3 innings of work and posting a 4.22 ERA. Abbott is one of the few pitchers in this system, with four legitimate pitches, including two strikeout pitches. Look for these two pitchers to take the reigns of the rotation next season as the Cubs will look to add to their pitching staff from within.
Two-out offense is excellent
Going back the past four years, the biggest issue with the Cubs offense has been their ability to hit with runners in scoring position and come through with a two-out hit. Not only did they do both of those last night, but they did it often, as it was a refreshing sight to see the Cubs not only score eight runs but to score all those runs without a home run.
What stood out even more, is that all eight of those runs came with two outs as the Cubs refused to give away scoring opportunities last night. It was nice to see everyone playing together and picking up the team as they proved they can hit with runners on base and score without home runs.
I do not expect this team to score eight runs a game with two outs, but the approaches they had last night with two outs needs to carry over. No one tried to play hero last night and instead took what the pitchers gave them. The result worked in their favor, and it would be great to see this continue.
I have to be honest. When the Cubs traded for Andrew Chafin last season, I had no idea who he was. When I went back to look at his numbers, you saw a guy who had a solid track record against lefties and posted some great seasons out of the Arizona pen.
After dealing with a thumb injury last season, Chafin not only endured one of his worst seasons as a pro, but was limited to just a handful of games with the Cubs, so Chicago never had an opportunity to see what he can do. Still, the front office believed enough in his track record and elected to bring him back for this season.
That decision has panned out in the best way possible as Chafin has emerged as the best bullpen weapon not named Craig Kimbrel and is posting the best season of his career thus far. Following two scoreless innings last night, Chafin has lowered his ERA to the 1.4 range while posting a 0.92 ERA across his last 30 games. He has also yet to allow a run in his last 25 innings and is getting hitters out from both sides of the plate.
When the Cubs traded for him, there is no way they could've expected this production from him. Now that they see what he can do, Chafin should be part of their bullpen plans beyond this season. The numbers he is putting up this season are not a fluke, and the sheriff can legit pitch. He is pitching at an all-star level and yet was left off the all-star roster list.
I get that most of the all-star selections are a popularity contest, but the managers are the ones who pick the pitching staff. When you look at relievers across the national league, you can't tell me there are 10 relievers better than Chafin. He is the one snub from the all-star team this season and deserves to be there. Maybe someone will opt out and leave the door open for Chafin to have their spot because he deserves it.

Tags: Cubs Baseball
,
Alec Mills
,
Jason Heyward
,
Nico Hoerner
,
Rafael Ortega
,
Anthony Rizzo
,
Willson Contreras
,
Joc Pederson
,
Patrick Wisdom
,
Jon Lester
,
Tyler Chatwood
,
Jose Quintana
,
Yu Darvish
,
Victor Caratini
,
Zach Davies
,
Trevor Williams
,
Jake Arrieta
,
Kyle Hendricks
,
Keegan Thompson
,
Cory Abbott
,
Andrew Chafin
,
Craig Kimbrel