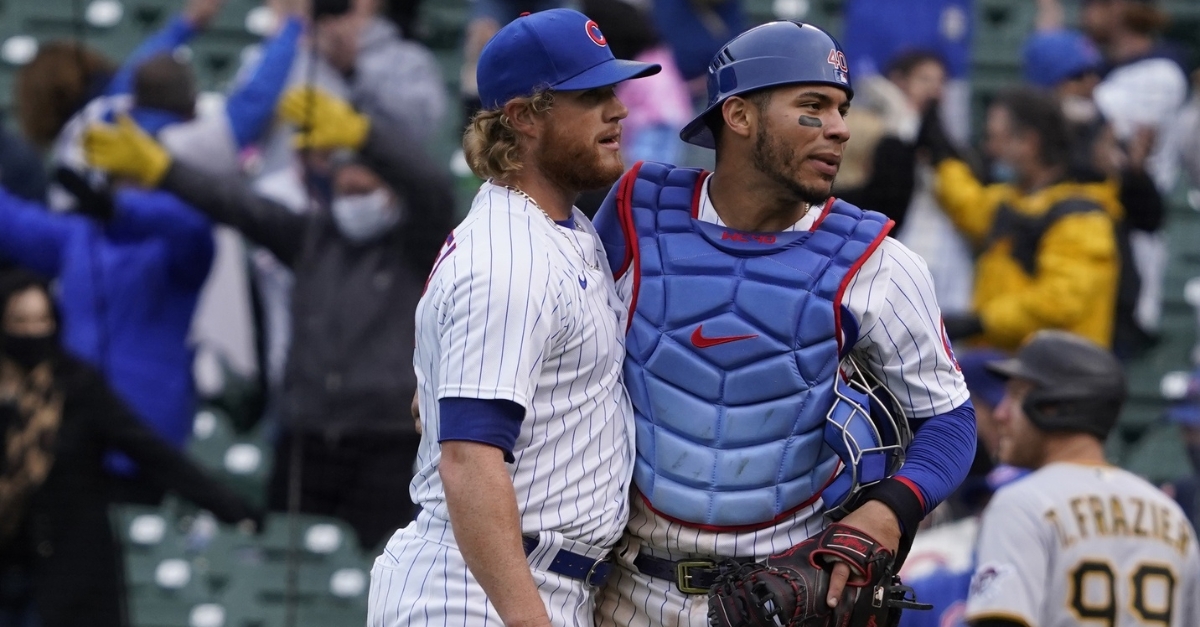 | | |
| --- | --- |
| Takeaways from Cubs win over Pirates: Duffy's rise, Thompson and Pirates | |
---
| | | |
| --- | --- | --- |
| Sunday, May 9, 2021, 9:28 AM | | |
For the second straight day, the Cubs were locked in a pitchers duel with the Pittsburgh Pirates, in which they won 3-2. That not only marks two consecutive series wins, but the Cubs are 5-0 on their current homestand with the series finale tomorrow.
Looking for better luck in his second go-around against his former team, Trevor Williams pitched ok allowing two runs on five hits in just four innings of work. Williams also walked two hitters and struck out six, as this was a vast improvement from his first start against Pittsburgh. Opposing him was rookie Will Crowe who settled down after a rough first inning.
After hitting Willson Contreras with the bases loaded in the first, Crowe settled in nicely and held the Cubs to just two runs in six strong innings of work. With a 1-0 lead entering the fourth, Ka'ai Tom gave the Pirates their first lead of the series tagging Williams for a two-run shot. Those were the lone runs he allowed as he was pulled after that inning.
Knowing how well he was pitching, the Cubs wanted to make sure he left with a no-decision which was the case as Eric Sogard tied things up in the bottom of the fourth with a sacrifice fly. In relief of Williams was Keegan Thompson, who was making his third appearance in a week. After making his first career start on Tuesday against the Dodgers, Thompson was strong again, allowing no runs on two hits in three innings as his ERA remains a 0.00. Thompson also was in line for his first win when the Cubs came to bat in the bottom of the seventh.
With a runner in scoring position, it was the suddenly popular Matt Duffy coming through once again as a pinch-hit single put the Cubs back in front 3-2 and set Thompson up for his first win. The bullpen took care of things from there as Andrew Chafin, and Craig Kimbrel slammed the door for another 3-2 Cubs win.
The rise of Matt Duffy
Let's be honest, when the Cubs signed Duffy to a minor league deal this offseason, did anyone think he would even bring a ton to the table? After all, Duffy has been a reliable MLB player but has been nothing but a bench player who spends most of his time in AAA.
After receiving an invite to spring training, Duffy went on to have an incredible spring, and it left David Ross no choice but to add him to the roster. That was a great decision as Duffy has impressed so far and has now emerged as a starter in the regular lineup. Not only has Duffy provided quality at-bats off the bench, but he is exactly what this offense needs.
Not only does he have a great eye, but his 90.7% contact rate is fourth in MLB. That means that nearly 91% of the time, he makes contact and puts the ball in play, which most Cubs lineup can't do. In addition, the more playing he has been getting, the better and more comfortable his at-bats look, which is also helping the Cubs offense tick. It is safe to say that Duffy has become the teams starting third basemen for the time being.
an appreciation tweet for matt duffy and his chunky cat pic.twitter.com/MPoiEJToPp

— navooo?? (@kboomszn) May 8, 2021
Congrats, Keegan Thompson!
What a past two weeks it has been for Keegan Thompson. After pitching at the Alternate site in South Bend, Thompson was called up to make his major league debut in Cincinnati last weekend before getting sent back down. Less than 48 hours after returning to South Bend, Thompson was called back up as Jake Arrieta was sent to the IL with a finger issue.
Since then, Thompson has not only his first start but secured his first major league victory on Saturday. His command has been iffy at times, but he has shown a ton of promise in his short time with the organization. Thompson is a top 15 prospect and hasn't pitched higher than AA until the past two weeks.
He is viewed as a middle-of-the-rotation type of arm, and judging by what we have seen thus far, the potential is there. It has taken a long time to get to this point, but the Cubs have pitching help on the way, and some of it is arriving sooner than expected.
Keegan Thompson picks up career win No. 1!#CubTogether pic.twitter.com/msblRKLYuu

— Chicago Cubs (@Cubs) May 8, 2021
Give credit where credit is due
While the Cubs may have a 5-3 record against the Pirates this season, you must give credit where credit is due. This is a Pirates team that may be one of the worst teams in baseball, but for some reason, they have given the Cubs all they can handle this season.
Their hitting has been an issue all season, but their pitching has been a pleasant surprise as that alone has kept them in games. For the Cubs, winning a series is the goal, which is precisely what they did over the weekend. However, seeing the Pirates give them a battle like this is a bit unnerving, especially when you look at the series against the Dodgers.
Pittsburgh is a divisional opponent, and they know the Cubs better than most teams in this league. They might be one of those opponents who give the Cubs fits, and if the Cubs are finding ways to win games, that is all that should matter.
Tight spot, clutch hit, smooth slide.#CubTogether pic.twitter.com/ND4hygo5Ux

— Chicago Cubs (@Cubs) May 9, 2021