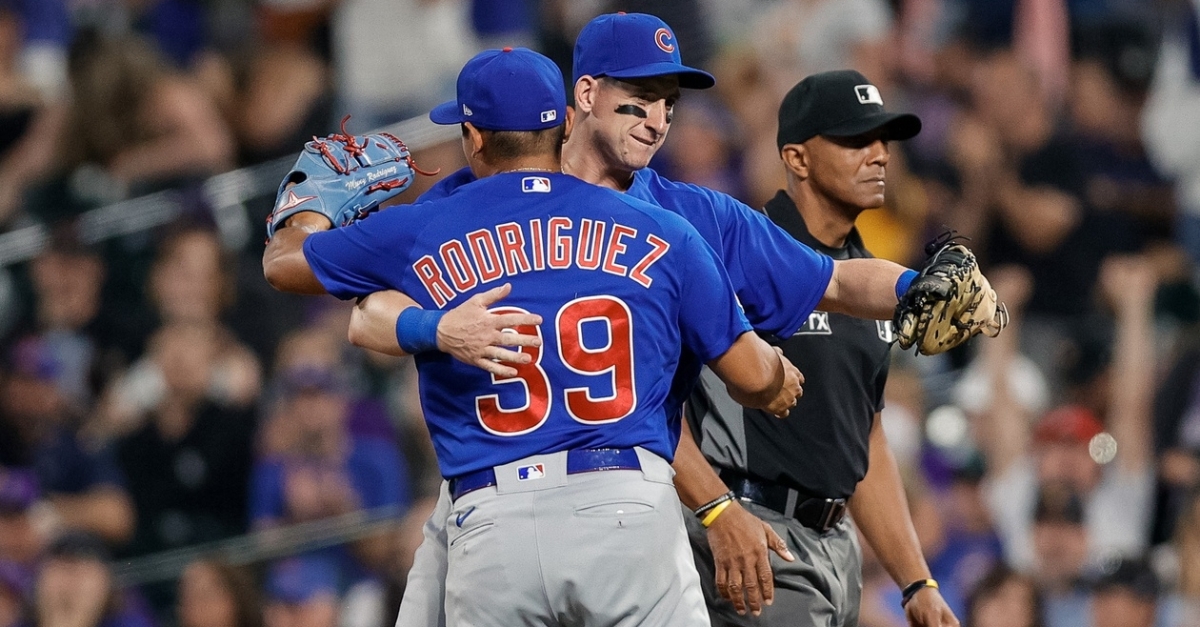 | | |
| --- | --- |
| Takeaways from Cubs win over Rockies | |
---
| | | |
| --- | --- | --- |
| Thursday, August 5, 2021, 9:00 AM | | |
Tuesday night didn't go as planned for David Ross and the Chicago Cubs as the Rockies jumped on them early and often topping them 13-6. Ross also had a short night on the bench, getting ejected, arguing balls and strikes in the second inning.
Looking for better fortunes on Wednesday, the Cubs had to go through the Rockies ace Jon Gray as he looked to continue his strong season.
Opposing him was Alec Mills, who continues to impress in his own right, just in different ways. Despite surrendering a pair of early runs to go with eight hits, Mills settled in nicely and pitched to contact, allowing minimal damage. He went six innings in his start allowing those two runs to go with a pair of walks and three punchouts.
The first of those runs allowed came two batters into the game as Brendan Rodgers doubled home Raimel Tapia, giving the Rockies a 1-0 lead. One inning later saw Trevor Story add an RBI groundout, and just like that, the Cubs trailed by two. Two runs are often hard to make up against a customer as tough as Gray, especially when you have an inconsistent offense like the Cubs.
Although Gray went six innings of his own, allowing eight hits and striking out six, give the Cubs credit as they refused to go down without a fight.
One player that Gray couldn't solve was Patrick Wisdom, who collected three hits in as many at-bats off him. His third hit proved to be the difference-maker as his bases-loaded RBI double in the fifth not only put an end to the shutout bid, but had the Cubs in front 3-2.
With Adam Morgan, Codi Heuer, and Manny Rodriguez called on in relief of Mills to finish the game, that RBI double held up to give the Cubs a 3-2 win.
Johneshwy Fargas picked up his first two hits in a Cubs uniform as several of the new teammates are starting to produce.
Alec Mills auditioning for 2022
I feel like we touched on this earlier in the season, but Mills has looked much better since rejoining the rotation. One could even argue that he has been the most consistent starter across the past month, not named Kyle Hendricks.
However, it doesn't seem like the Cubs have complete confidence in him yet, even after he showed great promise last season. With just under two months left in the regular season, the Cubs will need plenty of starting pitching help next season, and Mills could be someone to give them that help.
Expected to make around seven or eight starts the rest of the season, Mills will use this time as an audition process to prove he belongs in the rotation. He has already established his value in terms of versatility. Now he needs to prove his worth as a long-term starter, which is precisely what these next two months will give him.
Alec Mills has allowed three or fewer earned runs and two or fewer walks in each of his last 10 starts. pic.twitter.com/YMZEKrp0JV

— Chicago Cubs (@Cubs) August 5, 2021
Rodriguez locks down the save
Lost in the shuffle of the Cubs win, the recently promoted Rodriguez locked down his first career MLB save. That shouldn't come as a surprise for those familiar with the Cubs system, given the success he has had this season. Not only was he dealing in both AA and AAA this season, but Rodriguez appeared in the MLB futures game, where he put his talent on full display.
Now in the Cubs pen, the organization is getting an up-close look at the stuff he has and why he was viewed as a top 30 prospect last season. Not only is Rodriguez young at just 23 years old, but he is armed with a triple-digit heater to go along with a wipeout-breaking pitch. He has all the tools to be a dominating closer in this league, and with Craig Kimbrel on the Southside, it could be his job to lose.
"Thank you so much for all the support, Chicago fans I feel at home" pic.twitter.com/1bo7VTyTT9

— manuel rodriguez (@manrod_77) August 4, 2021
Should Ross continue to stick with him and give him these save chances, the Cubs could benefit by finding a diamond in the rough. Having a lockdown closer is essential to a team's success, and what better way to find one than by giving a rising star within your organization a chance to be that guy.
That first save feeling. ??

Sing along with @pepsi to win #Cubs tickets and more: https://t.co/cWZsOT7WU1 pic.twitter.com/XvwHlofviT

— Chicago Cubs (@Cubs) August 5, 2021
Patrick Wisdom for NL Rookie of the Year?
The story of Wisdom is remarkable this season, especially when you look at his journey to get here. A once highly touted prospect in the Cardinals system, Wisdom never cracked the show regularly despite several great AAA seasons that included a 31-homer campaign.
Still, Wisdom never gave up and continued to go about his business, eventually drawing interest from several teams, including the Cubs. Not only did they sign him last season, but the team elected to retain him this season which has paid off in a major way. Now seeing playing time consistently for the first time in his MLB career, the 29-year-old Wisdom leads all NL rookies with 16 homers and is fourth among all rookies.
Wisdom has more than paid his dues in the minors and has finally earned what looks to be a starting MLB job. His 40% strikeout rate is not something fans like to hear, but he continues to adjust as a hitter and is now hitting .278 following his three-hit game on Wednesday. At this point, I would be shocked if he isn't on this roster next season, but before we get that far, let's focus on 2021.
David Ross & Patrick Wisdom on making adjustments at the plate. pic.twitter.com/7pM9ozzQ6o

— Marquee Sports Network (@WatchMarquee) August 5, 2021
Wisdom may not be considered a rookie by most, but in terms of MLB's definition of a rookie, he is a rookie and is playing like a rookie of the year candidate. Ultimately, I do not think he will get that honor given his low RBI total, but his production can't be ignored. Wisdom is in the running for this honor, and the more he can continue to adjust, the better his chances will be.
Patrick Wisdom is 17-for-56 (.304 avg) with 2-outs this season! pic.twitter.com/jXaCTkLVnd

— Marquee Sports Network (@WatchMarquee) August 5, 2021