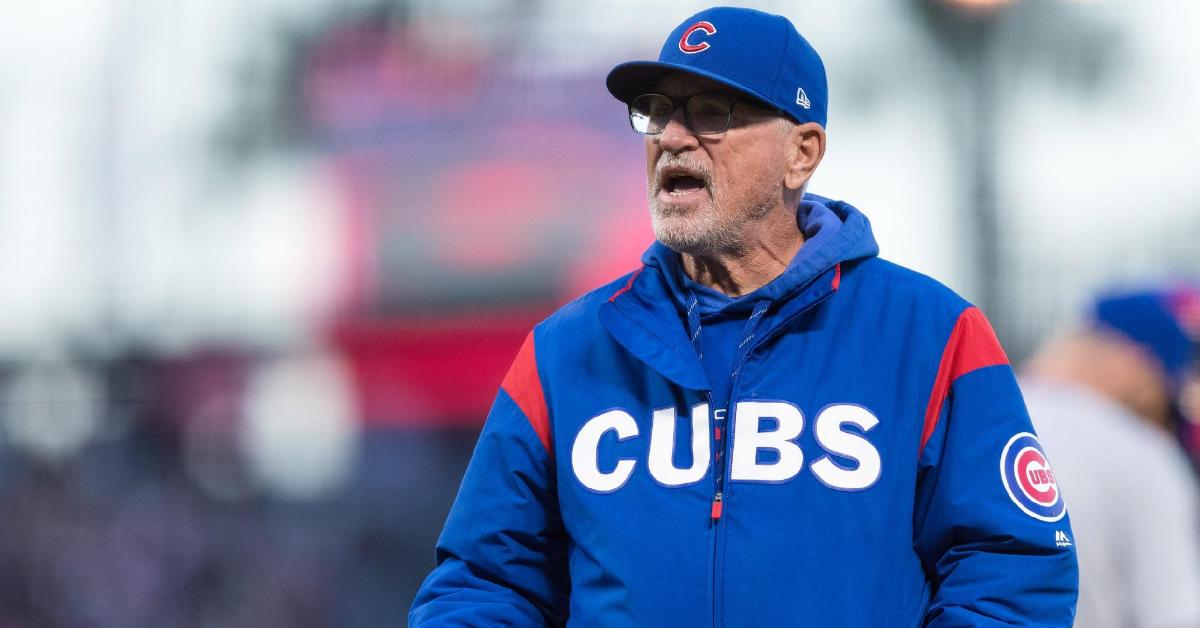 | | |
| --- | --- |
| The 5 Strangest things from the Cubs' 2019 season | |
---
All of a sudden, I realized this morning just how strange 2019 was for the Cubs, both on and off the field. Some of the oddities came in the form of things we could have predicted, while others seem to have come from out of left field. Side note: For those who may not know, some historians insist that the term "out of left field" (meaning strange, crazy) came from the fact that years ago, there was an insane asylum located beyond the left-field wall of the Cubs' former home – West Side Park.
#5: Cubs don't see the postseason
Strange how fast we get used to seeing things, but for the first time in five years, Chicago failed to make it to October.
After five straight years of finishing in fifth place (sometimes out of six teams), Joe Maddon took Chicago by storm, catapulting the Cubs to the NLCS in his first year as manager. We all know what happened in 2016, but then the decline started.
After losing the NLCS in 2017, the Cubs bowed down at the Wildcard level in 2018, finally finishing in third place in 2019. This may have (at least temporarily) marked the end of the Cubs' reign of dominance, but it marked the end of Joe Maddon's reign in Wrigleyville.
It all started before spring training in 2019 when Ben Zobrist failed to arrive on time for the beginning of an unofficial start to the baseball season. The Cubs had granted Zobrist a leave, citing only "personal matters." When Ben finally showed up to spring training about two weeks late, it was just naturally assumed that his personal issues had been dealt with accordingly, but not so. In early May, Zo again took leave for what was later learned to be his impending divorce from his wife, Julianna. Frequently pictured together, Ben and Julianna seemed to be a happily married couple, but there were allegedly some skeletons to be discovered.
While I was confident that the divorce had caused Zo had seen the end of his playing days, Ben managed to pick up the pieces, returning for a thirty-day minor league campaign before rejoining the Cubs on September first for their final month of play.
"It was a very easy decision for me, very easy because I'm a 100% focus type of person and I knew at that moment there was no way I could be here and be focused while I was here.
"I didn't want to give half effort while I was here and think about where my head and heart really were. So, I knew that for at least a period of time, I had to fully put myself back in Nashville at home with my family, doing everything I could to keep my family together. That was my focus." -Ben Zobrist
The Cubs season finale may not only have been Ben's last game as a Cub, but it may have served as the last game in his outstanding career, as Zo has yet to decide if he'll play on.
If that was Ben's last game, he went out on a high note by pitching a perfect inning, ending with a strikeout on a Yadier Molina.
#3: Albert Almora injures child with foul ball
During the fourth inning a night game in Houston on May 29, Albert Almora Jr. was reduced to trembling and tears after a line drive foul ball found a two-year-old girl in the stands. Immediately after making contact, Almora could be clearly heard screaming, "Oh, God," as he spotted where the ball has landed in the stands along the left-field line.
It was sickening to hear the collective gasp let out by the crowd, knowing that despite the TV camera's unwillingness to show the incident – and rightfully so – that someone had been seriously injured. The child, unfortunately, suffered multiple injuries, including a fractured skull.
"As soon as I hit it, the first person I locked eyes on was her. … Obviously, I didn't want that to happen and intend for that to happen. God willing, I'll be able to have a relationship with this little girl for the rest of my life. Prayers right now, and that's all I really can control." -Albert Almora Jr.
Reports say that Almora did reach out to the family but was turned away due to "advice from the family's counsel." The matter is still pending.
If anything good came out of such a terrible incident, it was that several MLB teams started pushing for foul pole to foul pole netting to be put up at their ballparks, with several teams taking the initiative to do so before regulations could even be passed.
#2: The Cubs were carried by the newcomers
While the Cubs found very little consistency in names like Anthony Rizzo, Kris Bryant, and Javier Baez in 2019, they seemed to be carried by an unlikely cast of newcomers.
Nicholas Castellanos brought a lively bat and a positive attitude from Detroit for the second half, wishing Joe Maddon a "Happy Opening Day" before the start of each game. Castellanos would go on to bat an impressive .321/.356/.646 with a 1.002 OPS in 51 games as a Cub, smashing 16 dingers, and 21 doubles along the way.
Theo Epstein warned not to get your hopes up, as Nico Hoerner wouldn't see Chicago in 2019, but that proved to be false, as Hoerner made his major league debut on September ninth, replacing an injured Javy Baez. Hoerner managed to collect himself a slash line of .282/.305/.436 with an OPS of .741 in his 20 games, brandishing a smile that was infectious among his teammates. Will Hoerner be part of the Cubs' clubhouse in 2020? One would think so, but Theo continues to search for a more experienced middle-infielder.
Rowan Wick and Brad Wieck provided solid relief innings, which should have been satisfied by the likes of Pedro Strop and Steve Cishek, while Kyle Ryan did what guys like David Phelps and even Craig Kimbrel couldn't.
If you go through the roster, you'll see that just about the only pitching vet to play consistently solidly all year was Brandon Kintzler.
#1: Yu Darvish sued by his neighbor
This one takes the cake, which is why it earned the #1 spot.
In late March, Yu Darvish and his wife Seiko were sued by a neighbor who claimed (get this…) that Darvish's fence caused them to have their property value decreased and their lives impacted. Obstructing their multimillion-dollar, first-floor view of Lake Michigan from their home in Evanston, Illinois, Darvish's neighbors filed a four-count lawsuit. The lawsuit was due to be adjudicated in late-July. However, no updates or resolution were ever published, leading me to believe that the suit was settled privately. Guessing the neighbors aren't getting tickets to Wrigley for Christmas.

Tags: Cubs Baseball
,
Ben Zobrist
,
Albert Almora Jr
,
Anthony Rizzo
,
,
,
Rowan Wick
,
Pedro Strop
,
Steve Cishek
,
Kyle Ryan
,
Craig Kimbrel
,
Brandon Kintzler
,
Yu Darvish
,
Joe Maddon
,
Theo Epstein