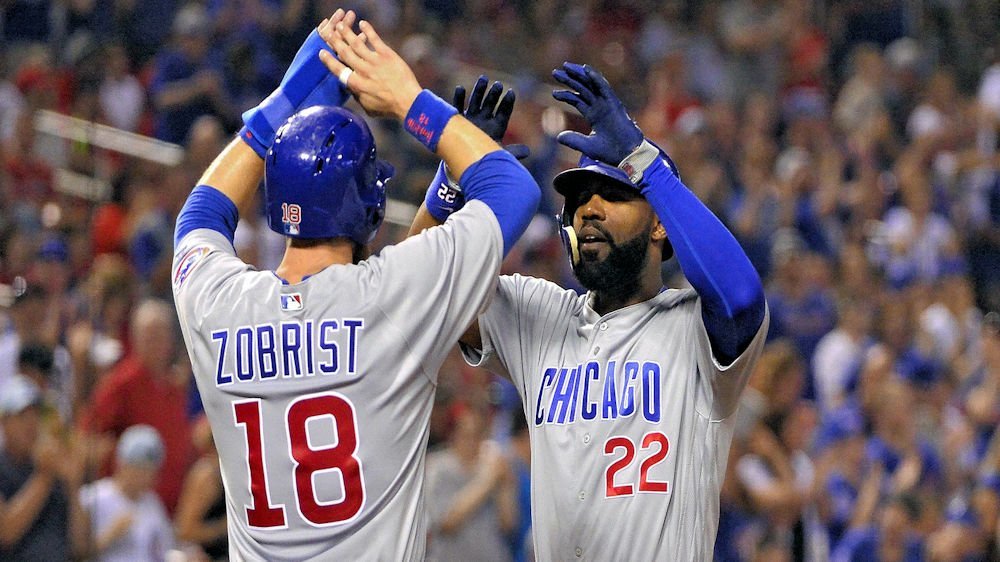 | | |
| --- | --- |
| The Latest notes and quotes from Cubs Con | |
---
| | | |
| --- | --- | --- |
| Saturday, January 19, 2019, 1:06 PM | | |
Cubs' news and notes:
Cubs' Opening Day: 68 days. (March 28 vs. Rangers)
Pitchers/Catchers Report: 25 Days.
First Spring Training game: 36 Days. (Saturday, February 23, Brewers vs. Cubs at Sloan Park)
Things that make you go hmm: West Side Park (Cubs' home before Wrigley) had a mental hospital just beyond LF. It's where the term "out of LF" (meaning crazy) came from.
West Side Park (#Cubs home before Wrigley) had a mental hospital just beyond LF. It's where the term "out of LF" (meaning crazy) came from. pic.twitter.com/mdQ0thW2Oo

— MLBcathedrals (@MLBcathedrals) January 19, 2019
CubsCon notes & quotes
KB on 2018: "It's kind of good for us to go through that and get our teeth kicked in a little bit."
KB on his shoulder: "My shoulder feels great, everything feels good. We got ... three weeks extra this year,"
KB on making mistakes on the field: Kris Bryant, asked to name the biggest mistake he's made that no one knows about: "I've never done anything wrong in my life."
Mark Loretta: "I always wanted to play for the Cubs. Now to put on this uniform is special." He also added the bench coach job wasn't on his radar at all.
Loretta on Maddon: Mark Loretta has a 2-year deal and says he's not worried about Joe's status. He's coaching for the first time and wants to focus on that. Did admit all the coaching turnover came up in his interview with Jed/Theo.
Maddon: After a fan was groaning about starters not lasting seven innings; Big Joe commented that some guys could do it, while others could not. "John Lackey is the prime example. YOU get the ball from John Lackey. That is not fun."
Maddon on getting mad: Joe Maddon's philosophy on getting upset in the clubhouse: (1) Don't do it at home and contaminate the clubhouse. (2) Do it after a win. (3) Do it very rarely, because most of the time, it doesn't work. (4) Make sure your best pitcher is pitching the next day."
Maddon on batting Strop: "Had he been thrown out at first base and not pulled a hamstring nobody would be asking that ... I really do believe it was the right thing to do in that moment."
Theo on the budget/fan frustration: "When we do our jobs really artfully you never notice the budget. ...But when we haven't done our jobs and I haven't done my job as artfully ... we're going to be in a situation that's not as flexible."
Theo on 2018 vs. 2019: "There's a difference between something that broke and something that's permanently broken." "I don't think this offense is fully realized. ...I think you're going to see significant bounce-back performance. ...I think this offense is going to be a lot better this year than last year."
Cole Hamels: "I've been on some pretty impressive pitching staffs in my career, and this is definitely one of those. I'm excited to see what we're going to be able to do."
Kyle Hendricks on the rotation: "If all of us get on the mound and get rolling, it could be kind of reminiscent of 2016."
Question: During a panel with KB, Baez, Contreras, and Zo, a child asked who the best infielder was. Without hesitation, the group agreed: El Mago.
Zobrist on the offense: "We have a lot of work to do as an offensive group."
Watch "In the Batter's Box" with @javy23baez, @KrisBryant_23, @WContreras40 and @benzobrist18! #CubsCon https://t.co/uZlmyiugD3

— Chicago Cubs (@Cubs) January 19, 2019
Latest news and rumors from around the league
Machado: Manny Machado's father weighed in on the "mystery team" phenomena: "I believe that the team you will probably [least] think about is the one that's gonna sign Manny Machado."
Reds: Cincinnati is getting creative. Homerun hitting pitcher, Michael Lorenzen is working out- as a potential fielder. On more than one occasion last year, the Reds used Lorenzen to pinch hit, and that wasn't even because they were out of bench players.

Upgrade Your Account
Unlock premium boards and exclusive features (e.g. ad-free) by upgrading your account today.
Upgrade Now