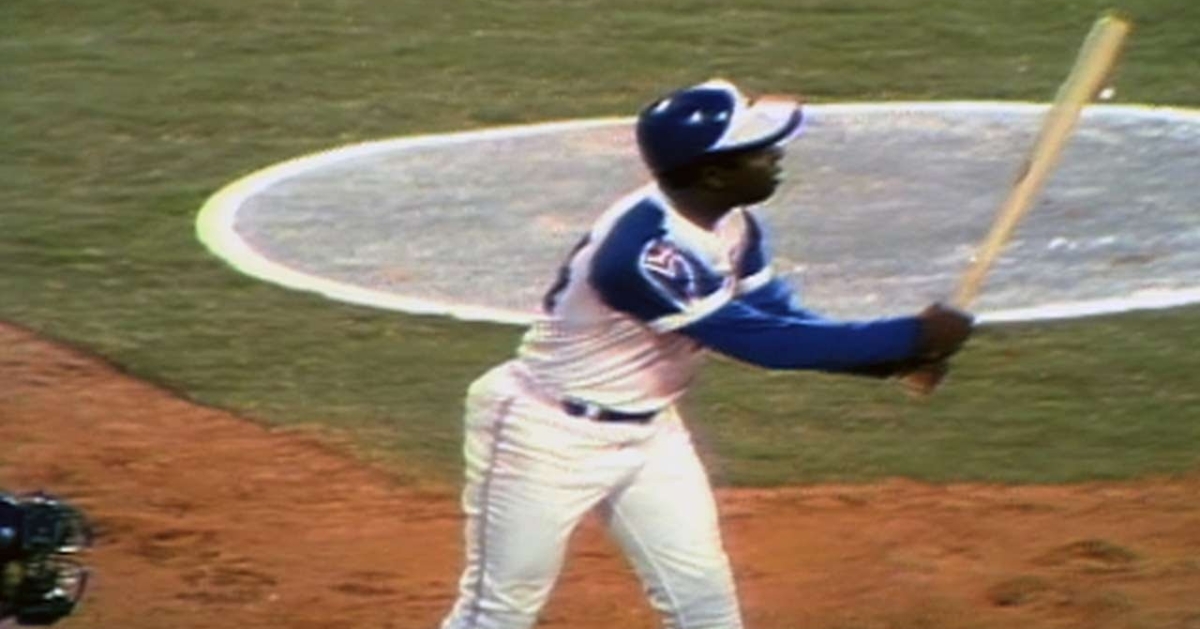 | | |
| --- | --- |
| The most memorable MLB game from my childhood | |
---
| | | |
| --- | --- | --- |
| Wednesday, April 8, 2020, 12:26 PM | | |
Any time that my dad took me to a ballgame as a kid, it was a memorable experience. Usually, we'd go see one Cubs game a year, but back then, they were so terrible that I don't remember ever seeing them win.
I'm quite sure that many of you are (a lot) younger than I am, as I have kids who are in their 30s. It occurred to me the other night that my childhood baseball heroes must seem like ancient artifacts to most of you. You never saw those guys play. All you know of them is what people have told you, or what you may have read. I suppose YouTube might help to make their faces remotely familiar to you, but it probably gives you the same feeling that I get when I see a Babe Ruth or Joe DiMaggio videos. That got me thinking about a game which occurred 46 years ago today – easily the most memorable game of my childhood. The funny part is that it wasn't even a Cubs game.
Babe Ruth held the home run record for almost four decades, but on an April night in Atlanta in 1974, The Babe's record would fall. It took Ruth, also known as The Sultan of Swat, 22 seasons to compile his 714-homerun record, averaging just over 32 dingers a year. No one thought they'd ever see that record broken, especially by a black man named Henry "Hank" Aaron.
Before you can truly appreciate Hammerin' Hank's achievements, you must first understand some of the history involved. Most of you can't conceive what life was like for minorities in the 1970s. For as bad as things may be now, they were worse back then.
In 1974, MLB was only 26 years removed from having the Negro Leagues. Players like Jackie Robinson paved the way to ending the segregated leagues, with Robinson becoming the first African American to play in the majors (1947). Despite breaking the color barrier in baseball, Robinson and other black ballplayers still endured discrimination for several years to come.
After spending his first 12 seasons with the Milwaukee Braves, Aaron and the team moved to Atlanta after the 1965 season, leaving Milwaukee without an MLB franchise. By this time, Aaron was well on his way to catching Ruth's record, having already blasted 398 homers. By the time the 1973 season had ended, Aaron was sitting at 713 homers.
When the '74 season opened, everyone knew it was inevitable. Aaron needed only one bomb to tie Ruth's record and two to break it. Despite starting to wind down his career, Aaron was still able to hit 40 homers in 1973, which was his age 39 season.
Aaron started receiving death threats and racist hate mail when the 1974 season began, as racist baseball enthusiasts were determined not to let a minority break Ruth's record.
Atlanta opened with a road series in Cincinnati that year. During his first at-bat of the season on Opening Day (April 4, 1974), Aaron hit his 714th homer off of Reds' righty, Jack Billingham, tying Ruth's record. With so much racism involved, it was fitting that Aaron homered that day, which also happened to be the sixth anniversary of Martin Luther King Jr.'s assassination.
After the season opener, Atlanta and Cincinnati had a day off, resuming their series on April 6. On that day, the Braves elected to bench Aaron. Following their three-game set with the Reds, the Braves were scheduled to head back to Atlanta for their home-opening series against the Dodgers. The idea was to allow Aaron to break Ruth's record while playing at home.
Eddie Mathews was Atlanta's manager at the time, and he and baseball commissioner Bowie Kuhn wound up in a standoff. MLB was nationally televising this series, anticipating that Aaron would tie and then break the record.
With Aaron benched, the Braves dropped a second-straight game to the Reds, prompting Kuhn to issue an ultimatum. Kuhn ordered Mathews to start Aaron the following day, or face "serious penalties." Mathews rationalized, "I'm trying to get him to hit his 715th home run in Atlanta—it's our hometown."
Once it looked like Mathews wasn't going to budge on his decision, Kuhn sent an assistant to Cincinnati to meet with Aaron, Mathews, and Braves owner, Bill Bartholomay. The situation went from bad to worse, growing even more hostile.
After being threatened again with "serious consequences," Mathews phoned Kuhn. "For the first time," Mathews said later, "the commissioner directly ordered me to start Hank tomorrow. I asked what the serious consequences were, what the penalties would be, and he refused to say, except that they would be serious.
"The commissioner has unlimited powers to impose very serious penalties on individuals and the ball club itself. For the first time I realized that these penalties are not only fines, but also suspensions and other threats to the franchise itself. Because of this order and the threatened penalties, I intend to start Aaron tomorrow." Aaron went 0-3 that day. Did he do so intentionally? You decide.
The Braves returned to Atlanta for their home opener the following day. Aaron got the start, taking his position in left field in front of a crowd of 53,775 fans – the largest crowd ever at Fulton County Stadium. I remember my dad sitting in "his chair" in our living room as the pregame ceremonies started. I was glued to the TV set, and even my mom- hardly a baseball fan, took her place on our couch.
In the fourth inning, Aaron made history, hitting a bomb off of Dodgers' lefty, Al Downing.
You youngins' probably won't recognize the name or the voice, but former Cubs' announcer Milo Hamilton made the call in this video of Aaron beating the record.
Should you prefer Vin Scully, here's his call. "What a marvelous moment for baseball, what a marvelous moment for Atlanta and the state of Georgia, what a marvelous moment for the country and the world. A black man is getting a standing ovation in the deep south, for breaking a record of an all-time baseball idol."
Following the 1974 season, Hank Aaron would return to Milwaukee, who now had the Brewers' franchise. Aaron would go on to hit a total of 755 homers before retiring after the 1976 season. That record would stand until Barry Bonds broke it on August 7, 2007. Bonds would go on to hit a total of 762 homers, but his career is tainted due to the steroid scandal.
Whether or not you believe that Bonds was juicing, nothing will ever top the night that Henry Aaron broke Babe Ruth's record. Thanks for the memories, Hank.