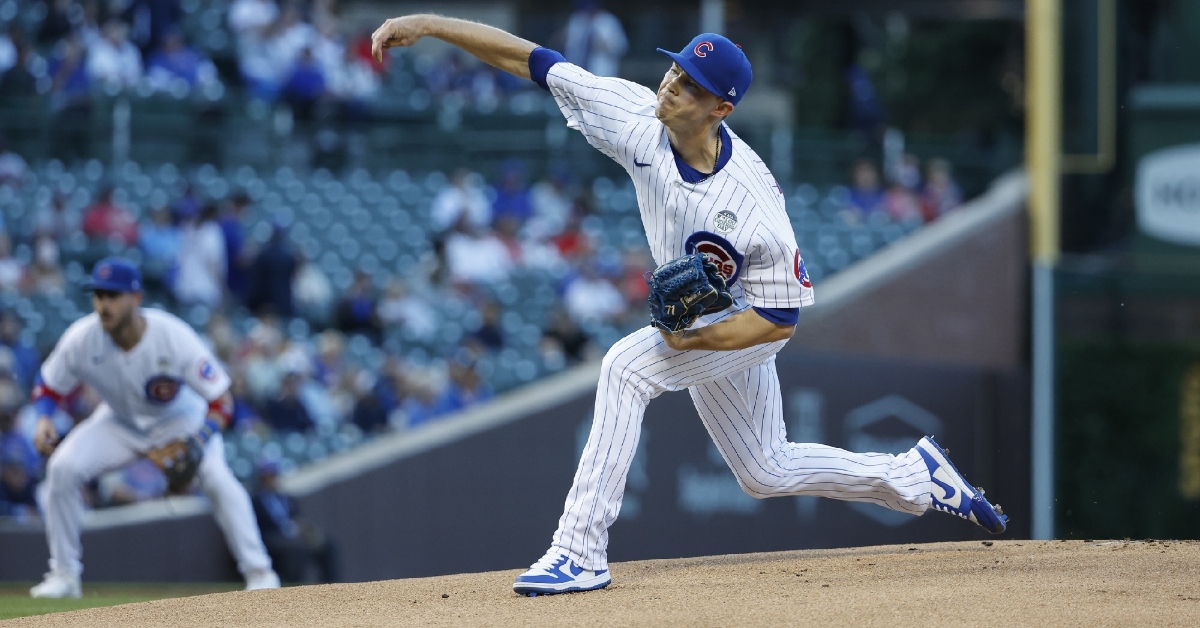 | | |
| --- | --- |
| Thompson remains unbeaten as Cubs top rival Cards | |
---
| | | |
| --- | --- | --- |
| Friday, June 3, 2022, 9:43 AM | | |
CHICAGO - Say what you will about the Chicago Cubs and their 22-29 record. There is an old saying that you are what your record shows, and the Cubs are in their position for a reason. However, things appear to be trending in the right direction as an influx of new faces mixed with a no-quit attitude has this team winning some games and becoming fun to watch again.
Taking on the second place St. Louis Cardinals (29-22) for the first time this season, the Cubs sent Keegan Thompson to the mound as he is now going to be a full-time starter. Ever since spring training, Thompson has been the Cubs best pitcher, and it has been on full display since opening day.
Although not as crisp as he would like to be, he didn't need to be as the Cubs jumped on left-hander Matthew Liberatore and chased him after he allowed four runs in just 3 1/3 innings. For Thompson, he walked three and struck out three while also giving up three runs. That is not what stands out. He lasted 5 1/3 innings, threw a career-high in pitches, and improved to 6-0 with a 1.99 ERA as the Cubs took down the Cardinals 7-5 for their third straight win.
Thompson was very efficient in his first inning of work, retiring the Cardinals in order. For the Cubs, they wasted next to no time grabbing the lead as a leadoff double by Christopher Morel was followed by a Willson Contreras homer, and just like that, it was 2-0. Frank Schwindel added another double as part of his three-hit night later that inning, but nothing came from it.
With the lead in hand and cruising along through two innings, Thompson ran into some third inning trouble which the Cubs wanted to see. No, they didn't want him to allow a ton of runs, but more so wanted to see how he would face adversity in challenging situations. A one-out single by Harrison Bader wasn't a bad start, but with two outs, a Paul Goldschmidt double and Nolan Arenado single tied things up 2-2, and just like that, it was a new ballgame.
That tie was short-lived, with Schwindel going deep in the bottom of the third to put the Cubs back on top 3-2 before Chicago started to create some distance. That distance started to come in the fourth, with Ian Happ leading things off with a homer. The homer was followed by a pair of walks and a single as the Cubs had the bases loaded, but could not come through with any more runs. Leaving guys on base was a problem all night as they set a National League record by leaving 20 men on base.
The Cubs offense continued to go to work in the fifth as a trio of singles, including the RBI knock by Clint Frazier, had the Cubs up 5-2 and put Thompson in a great position to earn another win. Coming out to start the sixth, Thompson retired the first batter he faced, but then walked a pair signaling the end of his night. Michael Rucker entered in relief, walking the first batter he faced to load the bases. What could have been a massive inning for St. Louis turned out to be nothing as Yadier Molina picked up an RBI, but saw the Cardinals still trailing 5-3.
Rucker was relieved by Scott Effross, who gave the Cubs a pair of scoreless frames to set things up for the back end of the bullpen late. Knowing that they had stranded plenty of runners, the Cubs were hoping to add some late-game insurance in hopes of putting St. Louis away for good.
Singles from P.J. Higgins and Nick Madrigals were a great start, as was a hit by pitch to Contreras as the Cubs had the bases loaded with one out. Not only did Chicago manufacture one run off a Patrick Wisdom walk, but Schwindel added a sacrifice fly to his already strong game as the Cubs built their largest lead of the game, 7-3.
Looking to close things out in the ninth, Mychal Givens was called on to pitch and ran into some trouble early. As if a leadoff single to Molina wasn't bad enough, watching Bader take him deep two batters later made things more interesting as the Cardinals cut the deficit in half 7-5. That would be as close as things would get as Givens settled in to retire the final two hitters and preserved the hard-fought win.
Schwindel led the way with three hits to go with two RBIs as he was one of three players with multiple hits. Happ and Higgins were the other two as Higgins continues to hit the ball well since his callup. By reaching base not once, but twice, Morel has now reached base in all 16 games this season as he appears to be settling into that leadoff role.

Tags: Cubs Baseball
,
Keegan Thompson
,
Christopher Morel
,
Willson Contreras
,
Frank Schwindel
,
Ian Happ
,
Clint Frazier
,
Michael Rucker
,
Scott Effross
,
Patrick Wisdom
,
Mychal Givens