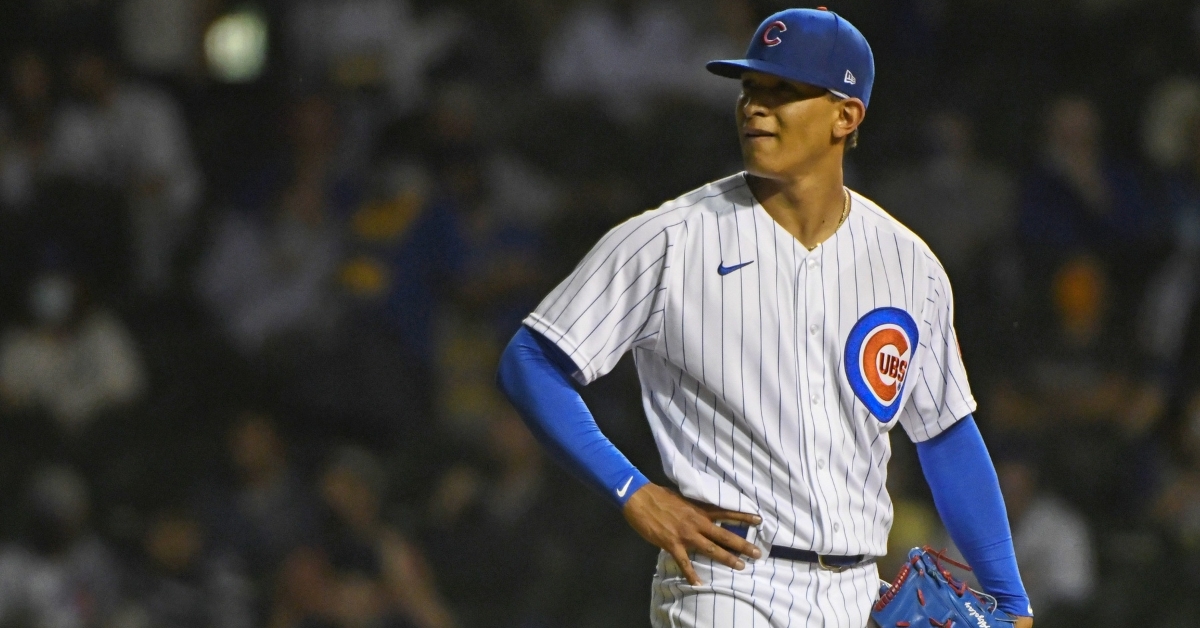 | | |
| --- | --- |
| Three takeaways from Cubs loss to Brewers | |
---
| | | |
| --- | --- | --- |
| Wednesday, April 7, 2021, 11:01 AM | | |
Five games into a baseball season is nothing, but it does give fans a small enough sample size to gauge their team. For the Cubs, their offense continues to be puzzling at best as many are wondering what it will take for this team to kick it into gear. Is it the players, coaches, or something else that has led to the struggles over the past three seasons?
Following a one-hit shutout loss to Milwaukee on Tuesday, the Cubs not only lost for the first time since opening day, but their offense is now sitting at dead last in all of baseball. That is something that needs to change and change fast for them to do anything this year.
Here are some takeaways from the game:
One lousy pitch puts a damper on Alzolay's outing
When Adbert Alzolay was announced as the teams No. 5 starter out of camp, there were many questions as to why. He didn't have a great spring, and through his limited time in the majors, he has struggled to find consistency across the board. However, when you look at how he finished the season last year and then his final start of the spring, there was some hope for the Cubs as they felt he was ready to turn the corner.
Like all young players, Alzolay will go through some growing pains, and fans need to be patient with him instead of calling for his head. Yesterday was a prime example of some of those growing pains, as one lousy pitch ruined what was otherwise a decent outing. After falling behind three of the first four hitters in the top of the first, Alzolay hung a changeup to Travis Shaw, who crushed it for a three-run homer. That was the big blow of the night for Milwaukee and all the offense they needed.
Take away that pitch, and Alzolay had a decent outing except for allowing a second home run later in the game. He lasted five innings and was efficient, throwing 77 pitches to go with four walks and two strikeouts. Following the first inning, the adjustments he made were the key to him getting through five innings as Chicago hopes he can continue to adjust.
Adbert Alzolay's first strikeout of the season is against Jackie Bradley Jr. ??

(??: @WatchMarquee) pic.twitter.com/dcWHkZrWjx

— Cubz Zone ™? (@CubsZone) April 6, 2021
Time for the Cubs to get fired up
Things got a little testy, to say the least, in the ninth inning after a Brad Boxberger pitch hit Willson Contreras. He made sure to show his frustration by calling out both the bench and the pitcher leading to both benches starting to clear. In his defense, Contreras was hit in the head last night and has now been hit in six of the team's previous 11 meetings. He also had to watch Javy Baez, Anthony Rizzo, and Kris Bryant get hit to open the series, and quite frankly, he is sick of it.
I am all for setting the tone and pitching inside, but when you hit batters with fastballs, that is falling on borderline intent. No major league pitcher has that bad of fastball command, and if they did, they wouldn't be in the bigs. If you are going to try and hit someone, don't make it obvious. Use a breaking ball as those tend to get away more so than a fastball.
Do I think Milwaukee is trying to hit the Cubs?
No, but they have been hitting several batters this series, and the Cubs are not happy about it. I feel it is time for Chicago to retaliate early in the game on Wednesday to send Milwaukee a message that they won't tolerate this anymore. With 17 more meetings between the two sides, this is only the beginning of what could be an ugly rivalry this season. Buckle up, fans, as it looks like more bad blood will continue.
ICYMI: WATCH: Benches clear after Willson Contreras gets hit by pitch https://t.co/7Prn9oyDTS

— CubsHQ.com (@ChicagoCubsHQ) April 7, 2021
Too early to worry about the offense
After a one-hit performance last night that led to a shutout loss, the Cubs offense now ranks dead last in all of baseball in nearly every category. That is not an encouraging sign when you look at their struggles the past few seasons, and when you saw what they did during spring, it is even more concerning.
I want to urge fans a little bit more patience as the season is still just five games and starting pitchers usually have the upper hand on hitters the first month of the season. For some odd reason, Cubs hitters struggle in April, with David Bote and Jason Heyward the only two players on the active roster to have an average better than 250 in April.
All this points to better times ahead as five games in is too much of a sample size. I know fans are frustrated with the production at this point, and I can see why but the team is doing things they haven't done in the last few years. They have gone back to working counts and taking walks for starters, which helps get pitchers out of the game sooner.
Secondly, they are moving guys over and bringing people in with sacrifice flies, which hasn't worked in the past. Now they need to find a way to string some hits together and come up with clutch hits when it matters.
#Cubs muster just one hit, suffer shutout loss to Brewers https://t.co/VPcMBUe7yI

— CubsHQ.com (@ChicagoCubsHQ) April 7, 2021