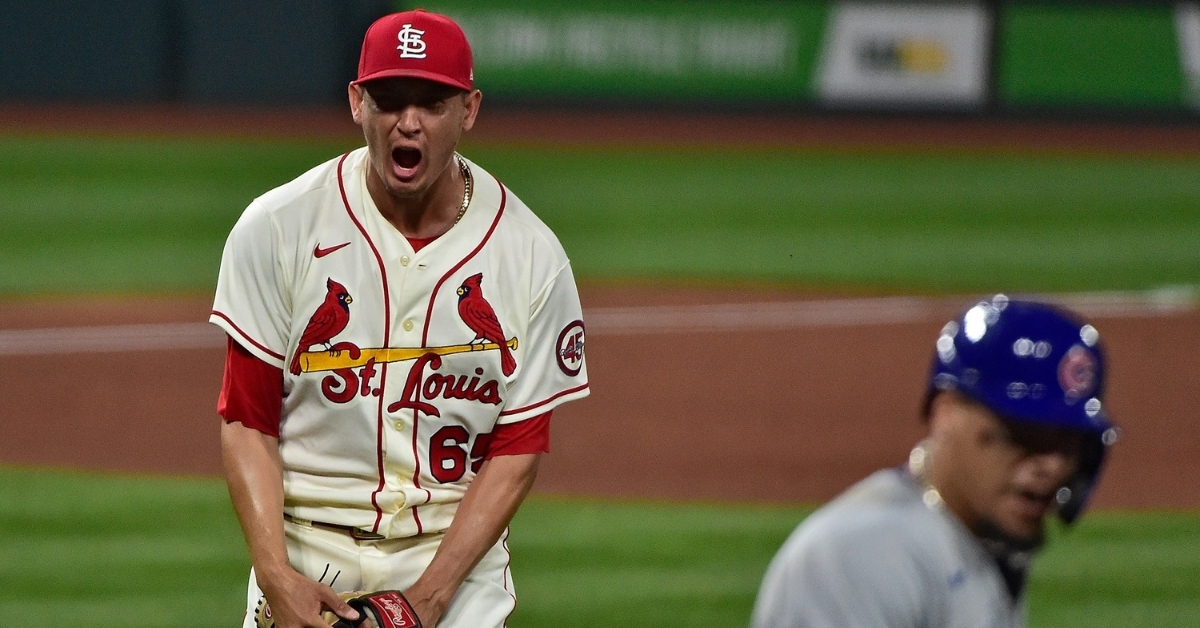 | | |
| --- | --- |
| Three takeaways from Cubs loss to Cardinals | |
---
| | | |
| --- | --- | --- |
| Sunday, May 23, 2021, 8:44 AM | | |
What makes the Cubs and Cardinals rivalry so great is the amount of intrigue and drama that comes with every game. There was plenty of intrigue and drama on Saturday as the Cardinals managed to knock off the Cubs 2-1.
From Yadier Molina's clutch game-winning homer in the seventh to a controversial fair or foul call on Nico Hoerner in the ninth, this game was everything you expected and more from this rivalry. In a matchup between Adbert Alzoaly and Miles Mikolas, pitching was certainly the story of the game as both starters were on their A-game.
For Alzolay, he notched a career-high seven innings in his outing, yielding just two runs in the process. Unfortunately, one of those runs came on the Molina homer as the long ball continues to be his only issue as of late. For Mikolas, it was the Cubs who touched him up right away in the first, with Javy Baez striking for a single to give the Cubs a 1-0 lead. However, that would be all he gave up in his season debut as he looked great through four innings.
That was the problem; Mikolas only was able to go four innings as he left warming up for the fifth with forearm tightness. He then turned things over to a bullpen struggling with walks this season, but they were ready for the challenge on this night. With Lane Thomas tying things up off Alzoaly in the fifth with an RBI single, it was only a matter of time until David Ross would lean on his bullpen to keep things close.
However, that didn't happen until the eighth, as Ross trusted Alzolay to deliver when it mattered most. For the most part, he did just that and more, yielding just those two runs on five hits in seven innings. Unfortunately, one of those seven hits happened to be the home run which proved to be the difference in the Cubs 2-1 loss to St. Louis.
Alzolay emerging into an ace
To witness the growth in Alzoaly's game this season has been impressive, and there shouldn't be any questions as to why he was named the fifth starter on this team. All season long, he has gotten better from one start to the next, which continues to be the case once again.
Not only was his command on point walking zero hitters as opposed to six strikeouts, but he now has just two walks across his last four starts to go with 25 K's. Alzolay continues to be bitten by the long ball, however, and that is something he would like to cut down on as the season continues.
Not only did Alzolay deliver his longest outing as a pro on Saturday, but Ross finally trusted him to get out of jams that he may not have been allowed to before. Given the overall stuff he has and what he has shown this season, Alzoaly is starting to show why he was the top prospect in the organization just a few seasons ago.
If he can develop, or should I say use one more pitch to compliment his fastball-slider combo, and you are looking at someone special. He is emerging as the ace of this staff at the perfect time as the Cubs have desperately lacked young starting pitching.
Molina, the Cub killer, returns
As much as Cubs fans hate the Cardinals, you have to respect not only what that organization has done but some of the players that have come through over the years. Molina is one of those players that many people may not be too fond of, but he deserves a ton of respect for what he has accomplished on the field.
Not only will he go down as a first-ballot Hall of Famer when all is said and done, but Molina is continuing to play at an elite level even at the back end of his career. His 292 average to go with seven homers and 20 RBI's so far is one of his better starts in a long time, and there is no reason to believe that will change anytime soon.
Molina has also come up with so many clutch hits against the Cubs, and his seventh-inning homer was just another one to add to the list. Molina is undoubtedly is going to be missed in terms of what he has done on the field when he does decide to hang it up. However, Cubs fans worldwide will not miss him as he has haunted them for many years.
Regular hitters are starting to find their stride
A lot of talk has been made about the Cubs offensive struggles during the first month of the season. However, since the end of April through all of May, this team has quietly turned themselves into a solid offensive team and has risen towards the top third of the league in overall production.
A big reason is that guys like Willson Contreras, Anthony Rizzo, and Baez have started playing to their potential, joining Kris Bryant and his MVP form.
Add in guys like Hoerner and Matt Duffy, who continue to impress, and the suddenly hot Joc Pederson, and the lineup is getting deeper by the day. Even Ian Happ has started to heat up as he is now hitting north of 215 after sitting in the 160 range most of the season.
The bottom line, this team is starting to hit the way Ross and Jed Hoyer envisioned, and it shouldn't surprise fans to see this team winning more games because of it. They grind out at-bats to force pitchers to work, go the other way more consistently, and even hit the ball better with runners in scoring position, although they still need tons of work in that category.
The biggest reason for their offensive improvements as a team is they have forgotten about launch angle and trying to kill the ball and instead focus on just making solid contact. I know a dull approach, but it is amazing what happens when you follow a game plan like that for an extended period. The results of this have shown, and things are certainly trending in the right direction.