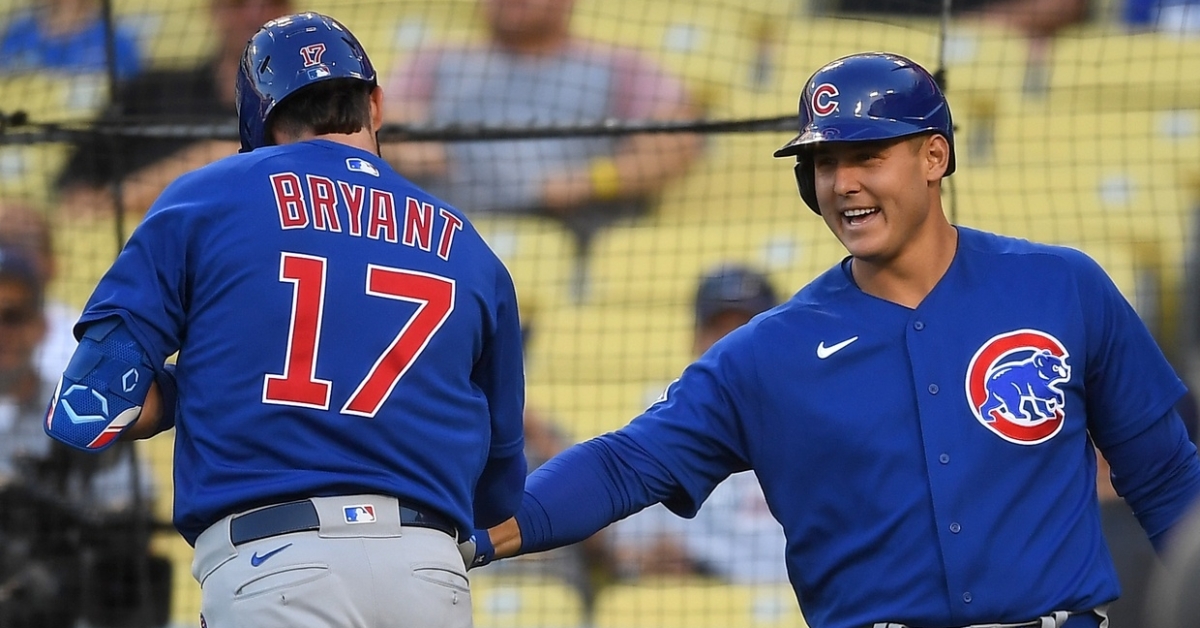 | | |
| --- | --- |
| Three takeaways from Cubs loss to Dodgers | |
---
| | | |
| --- | --- | --- |
| Saturday, June 26, 2021, 9:24 AM | | |
The fact that the Cubs have taken all four games against the Dodgers this season is an accomplishment. At some point, you knew that was going to end as the Dodgers are one of the premier teams in the National League, featuring the deepest and best lineup from top to bottom.
In a matchup that saw Jake Arrieta up against Tony Gonsolin, the Cubs gave Arrieta some early support as Kris Bryant hammered the first pitch, he saw in the top of the first over the left-field fence giving the Cubs a 1-0 lead. That was the only run Gonsolin allowed, as he settled in, to strike out seven Cubs hitters in four innings of work as he continues to remain on a pitch count.
On the other hand, Arrieta was pitching in and out of trouble all night as his command continues to be an issue at times. Despite walking three and striking out four, Arrieta gave the Cubs five innings of work for the first time in three starts while also throwing more than 90 pitches for just the third time this season. He was tagged for two earned runs as Gavin Lux picked up an RBI groundout in the second ahead of a Zach McKinstry solo shot in the third. Outside that, Arrieta battled through this lineup and gave the Cubs a decent start.
With Keegan Thompson and Andrew Chafin doing their thing out of the pen to keep things close, Joc Pederson was able to tie things up in the seventh using a sacrifice fly to get the job done. However, one inning later saw Ryan Tepera have his worst outing in a while, coupled with Tommy Nance, who discovered firsthand how good this Dodgers lineup is.
Each pitcher served up a two-run shot in the bottom of the eighth, with AJ Pollack taking Tepera deep and Max Muncy getting ahold of a Nance pitch. Those were the only runs the Dodgers would need as they were able to bounce back after being no-hit to take game two from the Cubs 6-2.
Ryan Tepera is human, after all
Since the beginning of May, no bullpen in the National League has been better than the Cubs. With the trio of Chafin, Tepera, and Craig Kimbrel taking care of things late in the game, David Ross only has to piece together one inning as the Cubs tend to be in great shape when they lead after six innings.
Outside of Kimbrel and the run he has been on, both Chafin and Tepera have been on great runs of their own, but it was only a matter of time before one of them would crack. Tepera is the first of those pitchers to give up not only a run but also multiple runs in his outing, as this was his first bad outing in over a month.
Signed as a minor league free agent late this spring, Tepera pitched his way onto the major league roster in spring but got off to a bit of a rough start. Once he was able to get through some early season rough patches, Tepera started to look like the reliever who earned an MVP vote last season, giving the Cubs a stretch of 21 scoreless innings at one point to lower his ERA to 1.87.
Now that that streak is over, Tepera can focus on a new streak as last night wasn't his best outing. Still, with a 2.43 ERA this season, Ross will continue to trust his trio in late-game situations as this team wouldn't be where they are without them.
Ryan Tepera hadn't allowed a home run since April 18. AJ Pollock ends that streak with a go-ahead two-run homer in the eighth.

— Dodger Insider (@DodgerInsider) June 26, 2021
Living dangerously doesn't always work
When you face the Dodgers lineup, you have to be ready to throw a lot of pitches and possibly be out of the game shorter than usual. Not only do they lead the league in runs scored, but they lead the league in walks taken and are towards the bottom for the fewest strikeouts. In other words, they know how to hit.
The best way to beat this team is to keep them off the bases and limit the damage they can do against you. Arrieta tried a different approach last night as he was playing with fire last night. Not only did he walk three hitters, but he surrendered plenty of hard contact despite giving up just five hits.
Granted, one of those hits was a homer, but Los Angeles loaded the bases twice against Arrieta and only came away with no runs in those situations. That is a win in itself when playing this team, but that is certainly not the approach you want to take with this team. Arrieta is not the dominating pitcher he once was, so the Cubs have come to expect starts like this.
However, if there was ever a pitcher who earned the opportunity to pitch around jams, Arrieta is the one. His career turned around once in Chicago, and he is hoping it can over the final three months of the season. Perhaps this start could be the one that gets him trending in the right direction.
Jake Arrieta's vertical release point has been much lower in his latest three starts. Why? Don't know. Velocity has also gone up. Why? Don't know. pic.twitter.com/USl6LCx8Ca

— Brendan Miller (@CubsRelated) June 26, 2021
Jason Heyward will take anything at this point
In year six of his massive eight-year contract, Jason Heyward has continued to disappoint Cubs fans from an offensive side of things as he looks lost at the plate. Yes, he has brought gold glove defense to this team, but his defense isn't what it once was, as he is now becoming a liability.
If it wasn't for his contract, there is no way Heyward would be starting over Jake Marisnick and Rafael Ortega. However, the Cubs are on the hook for a lot of money, so they need to play him in hopes he can bounce out of his funk. Across his career with the Cubs, not only has Heyward struggled to hit for average, but the power that fans expected hasn't come.
His career-high for average came in 2020 when he hit .271, while his career-high in homers was 21 in 2019. Outside of that, the Cubs have been accustomed to a guy who will hit at or close to .250 while giving them 15 homers a season. Looking at his career numbers and having a .256-career hitter who has only surpassed 20 homers three times, his performance with Chicago is right in line.
This season especially has been a struggle for Heyward as we are nearly 80 games into the season, and he is still hitting just .188. Additionally, Heyward has been bitten by some bad luck at times as he did have 43.4% of his at-bats early in the season result in hard contact only to have little to show for it.
Now, things are going back to the way they were in 2016-17 when all he did was pop the ball up or beat it into the ground. However, so far through two games against LA, Heyward has four hits even though most of them resulted in broken bats or infield singles. At this point, he doesn't care how he gets a hit as it goes down in the box score as a single. Maybe some luck is finally starting to come his way, and he can use this to get on a nice run to end the season.
Jason Heyward got a hit.

Those were all the hits left in that bat. pic.twitter.com/yvoFFPU8MQ

— Andy Martínez (@amartinez_11) June 26, 2021

Tags: Cubs Baseball
,
Jake Arrieta
,
Kris Bryant
,
Keegan Thompson
,
Andrew Chafin
,
Joc Pederson
,
Ryan Tepera
,
Craig Kimbrel
,
David Ross
,
Jason Heyward
,
Jake Marisnick
,
Rafael Ortega