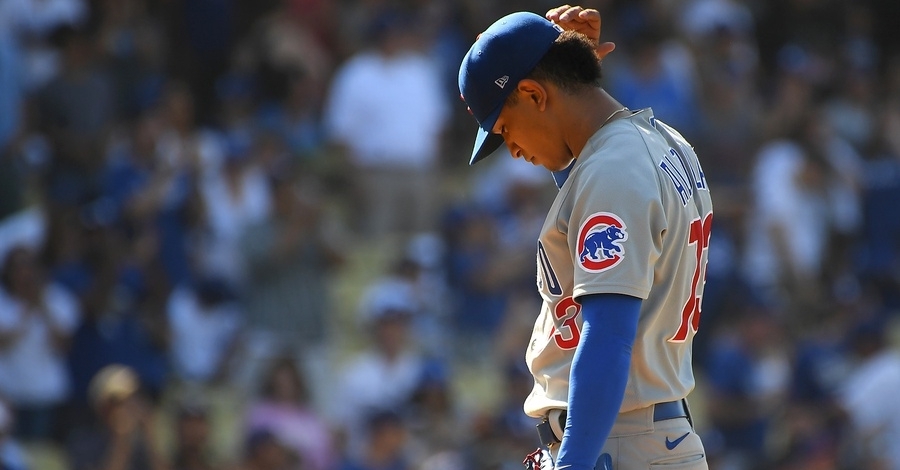 | | |
| --- | --- |
| Three takeaways from Cubs loss to Dodgers | |
---
Well, that series went about as expected as the Dodgers took the series finale from Chicago 7-1. When you have a team that struggles to win games on the road, is battling a slew of injuries, and has fallen back into an offensive slump, these are the results that will follow, especially against good teams.
One positive note to take away from this series, this was the only game where the Cubs were blown out as they managed to give the Dodgers a battle despite losing three of four. Looking to bounce back from a subpar outing against Cleveland, Adbert Alzolay took the ball against a future Hall of Famer in Clayton Kershaw.
Part of becoming a good pitcher in the major leagues is learning how to adjust on the fly, and that is something Alzolay has had to do a lot this season. This start, however, was not one of those good starts as Alzolay struggled to throw strikes and was chased after just three innings of work with the Cubs trailing 6-0. He was charged with only four earned runs, but gave up two homers in a game for the third time in his last four starts.
The big blow came from Zach McKinstry as he put the Dodgers on top 4-0 with a grand slam in the second before Cody Bellinger added a two-run shot later in that inning. The Cubs then turned to the bullpen where Tommy Nance and Rex Brothers, through the remaining five innings allowing the Cubs to save some of their arms.
Nance was charged with an earned run off a Bellinger sacrifice fly, but his no walk five strikeout performance didn't go unnoticed as he did great. Chicago did manage to push across a run in the fourth inning when Javy Baez took Kershaw deep to bring things to 6-1 at that point. However, Chicago was unable to do anything else after that as Kershaw looked like his vintage self, striking out a season-high 13 batters in eight innings of work to secure the 7-1 win.
Not what the Cubs needed
All season long, the Cubs have battled injuries, and for the most part, they have been able to overcome those injuries. We discussed yesterday that help was on the way for Chicago, even if it is still 10 or so days away. However, Chicago suffered another potential loss yesterday to the one player they couldn't afford to lose, which is not something this team needed.
Already down 7-1 in the game, Anthony Rizzo was pulled from the game in the fifth inning as he felt his lower back flare up yet again. Unfortunately, this is something that he has been dealing with his entire career, and it has forced him to miss six games already this season. While we don't know the severity of his back yet, you know that Ross and the Cubs will take their time on it, meaning he could miss some time the rest of this road trip.
That is not something you want to hear when you are sitting three games out of first place and face the first-place team on Monday. For all the good Rizzo has brought to this team, his back will always be a concern, especially at this age in his career. That could be the determining factor as to the type of contract he gets in free agency this offseason. The question is, will the Cubs see that as too much of a long-term issue.
The Dodgers have an insane amount of talent everywhere
Back when the Cubs won the World Series in 2016, there were talks of them becoming a dynasty. When you looked at the young talent, they had assembled mixed the free-agent pickups, and you could see why many felt that was the case. Instead, you have a Cubs team who, for the most part, has declined every year since while it has been the Dodgers that have become a dynasty in the National League.
Not only do the Dodgers have a ton of money which they put to good use every season, but they have an extremely deep and talented farm system that gives this team a ton of depth across the board. They have so much depth that their bench players would be starters on many teams, and that is just sickening.
As much as I envy this organization for what they have been able to since 2008, I do have to give them credit for the way they have not only built this team, but built their entire organization. Sure, they only have one World Series to show for it, but they have made the World Series three of the last four seasons, and that alone is a huge accomplishment.
I know Cubs fans would kill to get back to the World Series, but to have a run like that would be insane for this franchise. Unless the Cubs can figure out what went wrong and fix the problem, no World Series is coming anytime soon. This is a classic case of how difficult it is to win in baseball and having one team do what needs to be done to win.
A must-win series against the Brewers
Don't look now, but the Milwaukee Brewers are the hottest team in the NL Central and have opened a three-game lead over the second-place Cubs. A lot of that has to do with each team's schedule played the past three weeks, but give the Brewers credit as they won the games they were supposed to.
They are now trailing Milwaukee by three games, the Cubs head to Wrigley North for their most significant series of the season, as this is a must-win series. Not only do the Cubs face the top three arms in the Brewers rotation, but anything less than a series win could spell big trouble for this team. As great as a sweep would be to bring the teams even, taking two of three would be huge as that would be the first series win of the season for the Cubs against this team.
Losing the series would mean at least four games out heading into the weekend, but they could be six at worst. I don't want to worry fans too much as there is still three months of baseball left, but a six-game deficit against a team with the pitching Milwaukee has will be hard to make up. Being that far behind could also change the Cubs plans as to whether or not they will be buyers or sellers at the deadline.