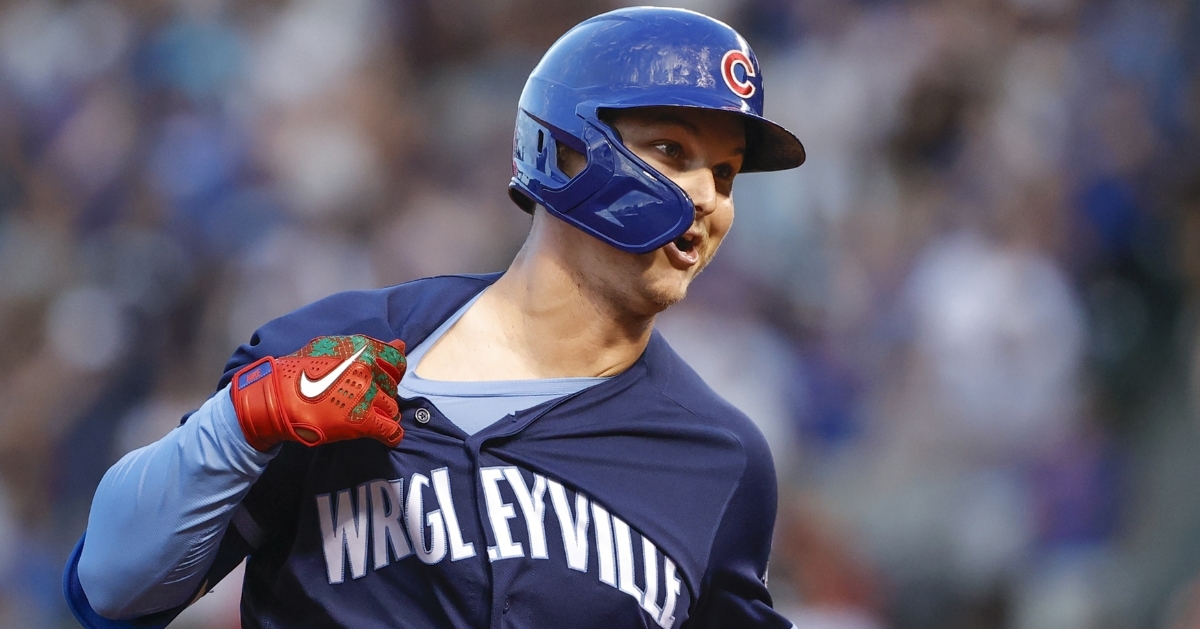 | | |
| --- | --- |
| Three takeaways from Cubs loss to Marlins | |
---
| | | |
| --- | --- | --- |
| Saturday, June 19, 2021, 10:02 AM | | |
In game one of a very winnable five-game homestand, the Cubs welcomed the Miami Marlins back to town for the first time since eliminating the Cubs from the 2020 postseason. Hoping to turn that painful memory around, the Cubs turned to Zach Davies on the mound as he looked to continue a season-best three-game winning streak.
Even with Joc Pederson connecting for not one but two homers in the game, Chicago would need a lot more offense as both of those shots were of the solo variety. That proved to be a big issue in this game as the Marlins connected for three homers of their own, leading to nine runs. Adam Duvall was the big man campus, collecting three hits to go with a pair of bombs and six RBIs. One of those homers was a grand slam which proved to be the game-winner for Miami.
The Marlins also picked up a three-run shot from Jon Berti as those three homers snapped a streak of four games without a home run. The lone run not to come home courtesy of a home run was a bases-loaded walk from Starlin Marte as the Marlins made quick work of the Cubs 10-2 on Friday.
Time for David Ross to make some tough decisions:
This has been an ongoing conversation for weeks now, but at some point, this team will get healthy. Nico Hoerner is out there doing some more drills, Matt Duffy is getting examined again next week, while David Bote will heal at some point. That means you will have three more players searching for playing time, and Ross will have to figure out how to keep everyone involved.
With tough decisions to make on the horizon, we are now at the point where this team needs to worry about production over a player's worth on this team. Fans have been seeing more of that lately with the rise of Patrick Wisdom, as he is making it difficult to take him out of the lineup. That allows Kris Bryant to move to the right, putting a slumping Jason Heyward on the bench.
While Sergio Alcantara got off to a sizzling start, he has cooled off a bit but is still better than the Cubs next best option in Eric Sogard. Another player who continues to struggle is Ian Happ, and it is only a matter of time before Jake Marisnick is back in center field on a more regular basis sending Happ to the bench.
The Cubs continue to battle despite putting a patchwork roster on the field most of the season, but things are starting to catch up to them. This team can't afford to let winnable games get away, and I wouldn't be surprised to see players who aren't producing starting to hit the bench no matter what they make.
Chris Myers isn't terrible
When the Cubs signed Boog Schiambi to be the Cubs announcer this season, they had to agree upon his ESPN contract obligations. That meant that Boog had specific ESPN games to cover, so the Cubs would need fill-ins for him during the season. Pat Hughes and Beth Mowins have already filled in for him this season, and now it was Myers turn on Friday.
Known as more of a football announcer than baseball, Myers has been in the Marquee Studio a few times this season and knows his fair share about our nation's pastime. He has a much different style than Boog or Pat, but a lot of that comes from announcing football which is much faster-paced than baseball. Myers isn't someone who will announce tons of Cubs games this season, but there could be way worse options than using him if he is indeed available for fill-in opportunities.
Time for a wakeup call:
Losing three of four in New York was a tough pill to swallow, but it wasn't a terrible series loss. Losing to San Francisco three out of four the week before was also a series loss they could handle. However, it has been the way the Cubs are losing lately that is concerning, and hopefully, they can use Friday as a bit of a wakeup call.
After going over a month without struggling offensively, the Cubs have gone back into their old ways over the past 10 days, and the play resembles that. They are striking out a lot more than they were, are failing to put the ball in play consistently, and over the past five games, all of their runs have been scored via the long ball.
This was bound to happen at some point, but it seems as if good starting pitching has done them in once again. Fans saw it early in the season when the Cubs ran into a stretch of good pitchers and seemingly couldn't do anything with them. After going quite a while without seeing elite stuff, the Cubs are trending in the wrong direction as they have seen some great pitching lately.
While Ross has indicated this team needs more starters, which they do, but they also need to hit good pitching consistently. We saw what happened to this team in the Wildcard round last year, and that is bound to happen again if they make the playoffs. To win in the postseason, you not only need good pitching and defense yourself, but you need to be able to hit good pitching too. That is something this team hasn't done the past 10 games. With the Dodgers, Indians, and Brewers all left this month, there will be plenty of good pitching to try and top.

Tags: Cubs Baseball
,
Zach Davies
,
Joc Pederson
,
David Ross
,
,
David Bote
,
Patrick Wisdom
,
Kris Bryant
,
Jason Heyward
,
Ian Happ
,
Jake Marisnick