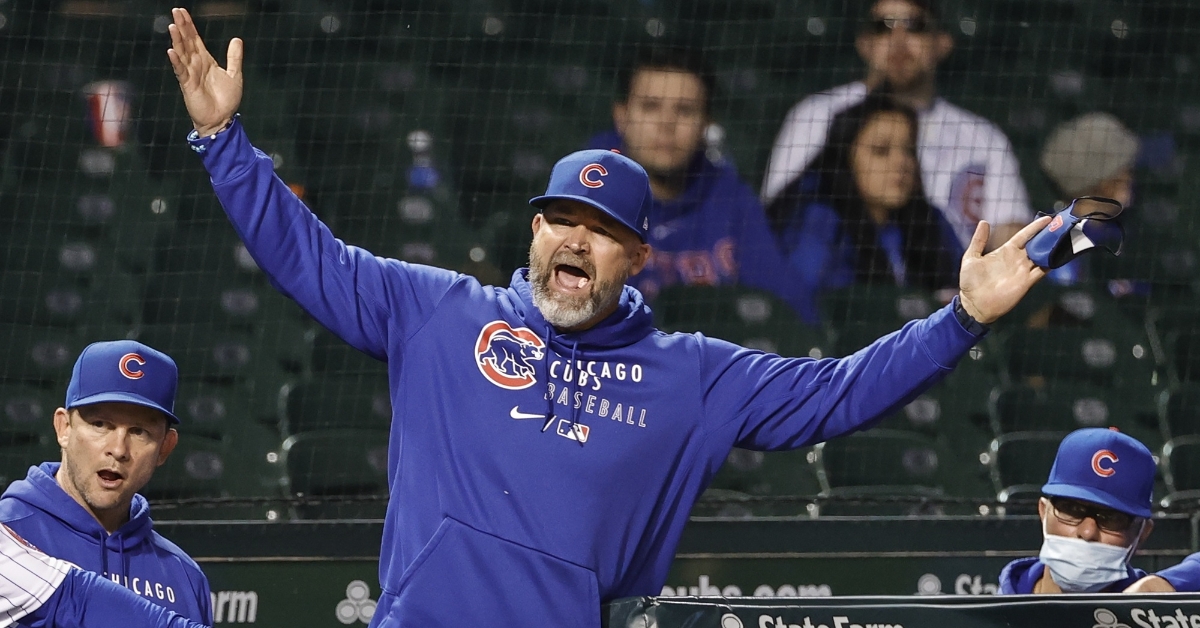 | | |
| --- | --- |
| Three takeaways from Cubs loss to Nationals | |
---
| | | |
| --- | --- | --- |
| Thursday, May 20, 2021, 12:00 PM | | |
In a matchup that featured two of the game's most polarizing pitchers since 2014, Max Scherzer took the ball as he opposed Jake Arrieta. Four years ago, this would have been the premier pitching matchup as both of these men were aces not that long ago. However, even at the back end of their careers, Scherzer is still an ace while Arrieta has settled into a middle of the rotation arm, changing how he attacks hitters.
The key to beating Scherzer is to not only make him work but get him out of the game early. The Cubs did a great job sticking to their game plan as he lasted only five innings throwing 100 pitches. His high pitch count was a big reason for his season-high four walks allowed to go with eight strikeouts as the Cubs made him work.
Unfortunately, that hard work wasn't rewarded the way they had hoped as despite several chances, especially in the fifth inning, the Cubs were only able to push across a pair of runs against Scherzer. Typically, fans would love their chances with Arrieta on the mound, but he didn't have his best stuff on Wednesday. Arrieta also lasted just five innings, but he was tagged for four runs on seven hits as the Cubs late-game rally came up short.
For the third time in the series, the Cubs were able to strike first, with Nico Hoerner blooping an RBI single to right-center in the second inning. David Bote raced around to score on the play, but Eric Sogard was nailed at home trying to get two runs on the play. Unfortunately, that would be the last of the Cubs offense for a while as the Nationals responded with four unanswered runs, which ultimately would be enough for the win.
Victor Robles got things going in the third with a ground-rule double as he came around to score on the Trea Turner single. Known for being slow to the plate, speed kills Arrieta, and that is what Turner did use his legs to put himself in scoring position. That paid off as he was able to scamper home on a wild pitch to give Washington the lead for good 2-1.
Speaking of Robles, his fourth-inning RBI single extended the Nationals lead as it was now a 3-1 game. Then, with the offense still clicking, Juan Soto got into an Arrieta slider and deposited it off the right-field video board to make things 4-1 in the fifth. That homer proved to be the game-winner as the Cubs went on the come-back trail the rest of the game.
Chicago had a golden opportunity to make things interesting in the fifth, as they loaded the bases against Scherzer. Ian Happ kept the line moving as his flare to center brought home a run to make things 4-2. Unfortunately, that was all the Cubs could get as Scherzer worked out of that jam. The Cubs offense had some chances against the Nationals bullpen the rest of the night, but it was Javy Baez and his ninth-inning homer as the only one to do anything with it. Unfortunately, that wouldn't be good enough as the Nationals pick up a much-needed win, 4-3.
2.41 ERA
Since the start of May, the Cubs bullpen has been impressive, posting a 2.41 ERA at the beginning of the game. That ranks second in all of ML/b>B only behind the Padres and their 1.96 ERA. Add in four scoreless innings last night, and that ERA is continuing to go down. Not bad for a patchwork bullpen that many felt would be a weakness for this team.
A big reason for their success has been the return to form by Craig Kimbrel and the sudden resurgence of Andrew Chafin and Rex Brothers, as they have been outstanding. Even guys like Ryan Tepera and Dan Winkler are pitching well, as David Ross has many options at this point. While those may be familiar names, you can't help but notice the rookies in the pen who have made an enormous difference.
Keegan Thompson, Tommy Nance, Justin Steele, and Trevor Megill have all made their major league debuts this season and have been near lights out in relief. Add in Dillon Maples and his vast improvement, and you have five players that were not considered contributors making a case for themselves. This pen is in better shape than anyone thought, and credit Jed Hoyer for some of these findings.
.405 average
It is no secret the Cubs struggled against left-handed hitter's last season. One player who struggled last season was Kris Bryant, and he wanted to make sure that was not the player he was. Not only is he back to his MVP form, but his 405 average against left-handed pitchers is one of the best in the game as he is dialed in against southpaws.
His ninth-inning at-bat against Brad Hand is a perfect indication as to what I am talking about. Hitting is half mental and half skill. Not only do you have to guess the right pitch, but you must make contact when you get that pitch. Bryant is certainly guessing right at this point in the season, but he is also crushing the baseball.
His single off a Hand off-speed pitch last night left the bat at over 105 MPH and, if squared up, a little more would have left the seats. His sudden return to form in virtually every aspect of his game is something the Cubs have been waiting for. Now that he is back, Chicago will face a tough decision this offseason whether to extend him longer or not. Given what he has done thus far, it would be foolish not to.
Welcome to the show P.J. Higgins
The MLB debut for the Cubs prospects continues to flow in with P.J. Higgins, the next one on the list. After the Cubs elected to designate Tony Wolters for assignment, Higgins had his contract selected from Iowa as he was called up to the show.
The 26-year-old former Old Dominion star was a 12th round pick by the Cubs organization in 2015 and has been in their system ever since. Higgins should sound familiar to Cubs fans as he saw an extended look during spring training where he put together great numbers. Had the Cubs not had Austin Romine signed to a contract or Wolters, Higgins would have made the team out of camp, and some would argue he should have anyways.
Through 13 games with Iowa this season, Higgins was off to a great start hitting a 333 with one homer and six RBI's. He also worked eight walks to go with 11 strikeouts, so he sees the ball exceptionally well. For his Minor League career, Higgins has been a great contact hitter hitting 273 with 21 homers and 193 RBIs. In addition, his 221 walks and 306 strikeouts show he does a great job making contact and isn't afraid to walk.
Higgins went 0-3 with two punchouts in his debut last night after entering the game for Jason Heyward. Of course, no one will take away from a big-league debut, but Higgins didn't enter the game the way he had hoped. Instead, the already shorthanded outfield of the Cubs could be a bit shorter as Heyward exited the game with hamstring tightness.
Jake Marisnick is currently on the IL nursing a hamstring strain, so the Cubs can't afford to be out Heyward for too long. However, should Heyward have to miss extended time, look for Bryant to take over the right-field duties for the time being. Also, consider Anthony Rizzo is nursing a sore back, and Higgins may see more time at first in the coming days.

Tags: Cubs Baseball
,
Jake Arrieta
,
,
David Bote
,
Ian Happ
,
Javy Baez
,
Craig Kimbrel
,
Andrew Chafin
,
Rex Brothers
,
Ryan Tepera
,
David Ross
,
Keegan Thompson
,
Justin Steele
,
Trevor Megill
,
Dillon Maples
,
Kris Bryant
,
Austin Romine
,
Jason Heyward
,
Jake Marisnick
,
Anthony Rizzo