| | |
| --- | --- |
| Three takeaways from Cubs loss to Padres | |
---
| | | |
| --- | --- | --- |
| Tuesday, June 8, 2021, 3:00 PM | | |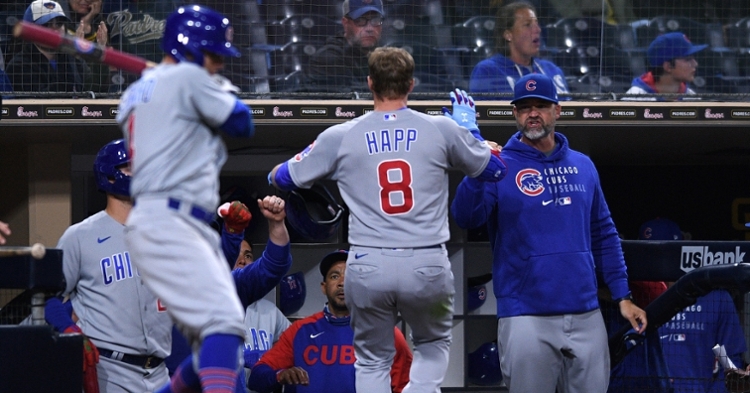 What a difference a week makes. After sweeping the Padres and climbing to a season-high nine games above .500, the Cubs have struggled over their last five going 1-4 in those contests. All five of those contests came against the San Francisco Giants and San Diego Padres as they continue their seven-game two-city West Coast trip.
The Cubs knew these next two series, and for the most part, the month of June would be challenging, but they hoped to continue their winning ways. These two series can be tough on any team, as playing out West is never easy. The time difference is the biggest issue, as 7 PM games out West are equivalent to 9 PM games back in Chicago. Add in that most parks out West are not very good hitter's parks, and it does become a challenge.
In a matchup between Adbert Alzolay and Ryan Weathers on Monday, Alzolay was not at his best as his streak of 10 consecutive starts allowing three runs or less came to an end. He didn't have the best command outside of a couple of batters in the third inning, and he battled in and out of trouble the first two innings while also getting out of a bases-loaded jam allowing just one run.
When you face a team like the Padres, you can't play with fire too long because you will eventually get burned. That happened to Alzolay in the fourth inning as he allowed a Brian O'Grady two-run shot to put the Cubs in a 4-0 hole in what summed up his night. To make matters worse, Alzolay left in the fourth inning with an injury, but that was probably his last inning of work.
The Cubs were able to make things interesting in the top of the fourth, loading the bases with no outs. Jake Marisnick returned from the IL to go 2-4, including his RBI infield single in the fourth to get the Cubs on the board. Anthony Rizzo scored on that same play as a throwing error allowed two runners to come home. Sergio Alcantara got the start for Javy Baez and pulled the Cubs within 4-3 with his sacrifice fly.
However, that was as close as the Cubs would get, as the Padres picked up five runs in five innings against the Cubs bullpen with only three of those runs earned. Ian Happ added a solo shot in the seventh inning, but at that point, the game felt like it was over, with the Cubs falling 9-4.
Concern for Adbert Alzolay
One of the biggest surprises on the Cubs staff has been the emergence of Alzolay. The once former top prospect has come into his own this season and was riding a 10-start streak where he allowed three runs or less. That helped lower his ERA to 3.62, which was the best on the team.
Alzolay has been great all season and has finally given the Cubs the young arm they have been waiting for. However, he is still young, and there will be starts he doesn't have it, with last night being one of those starts. He walked a season-high five hitters before getting pulled after walking the leadoff hitter in the fourth. Granted, his pitch count was already 82 at that point, but what was more concerning was that Alzolay was lifted for an injury.
Given his injury history regarding his elbow and shoulder, seeing him lifted was a huge concern, especially when fans continued to see his development as a pitcher. Fortunately, it was only a blister that forced him out, but even those can cause a pitcher to miss some time. According to the training staff, Alzolay has been dealing with blisters quite a bit this season, but Monday was the first time it forced him out of the game. The Cubs already down Trevor Williams can't afford to lose Alzolay too long, so hopefully, he is back out there for his next start.
Adbert Alzolay says the blister started to form during his last outing, but it felt ok during his bullpen. It started to open up in the second inning. Says it bothered him the most on the sinker and the hard slider. #Cubs

— Russell Dorsey (@Russ_Dorsey1) June 8, 2021
Getting a glimpse of the future
There wasn't much to cheer about outside that fourth inning yesterday, but Cubs fans got a small glimpse of what their starting rotation could look like in the future. With Alzolay being the primary name, other guys have stepped up in the pen, including Keegan Thompson and Cory Abbott. Both were on in relief yesterday, combining to allow three earned runs in just over three innings.
Don't let that performance fool you, Thompson has been great all season and has made one start in which he went toe-toe with Trevor Bauer, while Abbott has seen just two games as a pro. Both are considered top 15 prospects, but Alzolay was considered a top 5 prospect before the season. That means that the Cubs had three top 15 pitchers on the field last night and all of them have staring experience at the minor league level.
Given the state of the Cubs rotation where Kyle Hendricks is the only one under contract for next season, these three men could find themselves inserted into the rotation as the Cubs will look to count on their system. All three of them check-in at 26 years old or younger, and they all have the tools to be solid major league arms. While Alzolay is the only one with front-line staff, the Cubs are finally pushing some home-grown pitching, which this team desperately needs.
Keegan Thompson gets Fernando Tatis Jr. to whiff on a 97 mph fastball and a wipeout breaking ball. ?? pic.twitter.com/O8GXJebnha

— Matt Clapp (@TheBlogfines) June 8, 2021
Welcome back, Jake Marisnick
One of the more overlooked signings this offseason was the addition of Jake Marisnick. Known as a defensive specialist with great speed, Marisnick has never lived up to his offensive abilities, mainly because he has never had an everyday role with a team. Not to mention his injury history, and you can see why Marisnick is limited to what he can do.
Not only did the Cubs bring him in to replace Albert Almora's glove, but for the first time in his career, he is starting to get regular playing time, and it is paying off. He is hitting a 282 on the season, which leads all Cubs outfielders to go with four homers and 15 RBIs. Not to mention he continues to play great defense, and his speed on the bases makes him a threat every time he reaches first.
After struggling during his rehab assignment recovering from a hamstring injury, Marisnick was added to the roster last night and immediately inserted into the starting lineup. Hoping that his timing wouldn't be off, Marisnick picked up right where he left off, going 2-2 in his first two at-bats while driving in the Cubs first run.
With Joc Pederson nursing a sore back right now and Jason Heyward continuing to struggle, look for Marisnick to maybe take over the starting CF spot, which would move Happ to more of a platoon role. At some point, you need to play the hot hands and forget about what players have done for you in the past. Marisnick is the lone outfielder right now with the hot hand, and he deserves to be rewarded for that.
The #Cubs today activated OF Jake Marisnick from the 10-day IL and optioned RHP Kohl Stewart to @IowaCubs. pic.twitter.com/QRAjtPW34g

— Chicago Cubs (@Cubs) June 7, 2021

Tags: Cubs Baseball
,
Adbert Alzolay
,
Jake Marisnick
,
Anthony Rizzo
,
Javy Baez
,
Ian Happ
,
Trevor Williams
,
Keegan Thompson
,
Cory Abbott
,
Kyle Hendricks
,
Albert Almora
,
Joc Pederson
,
Jason Heyward