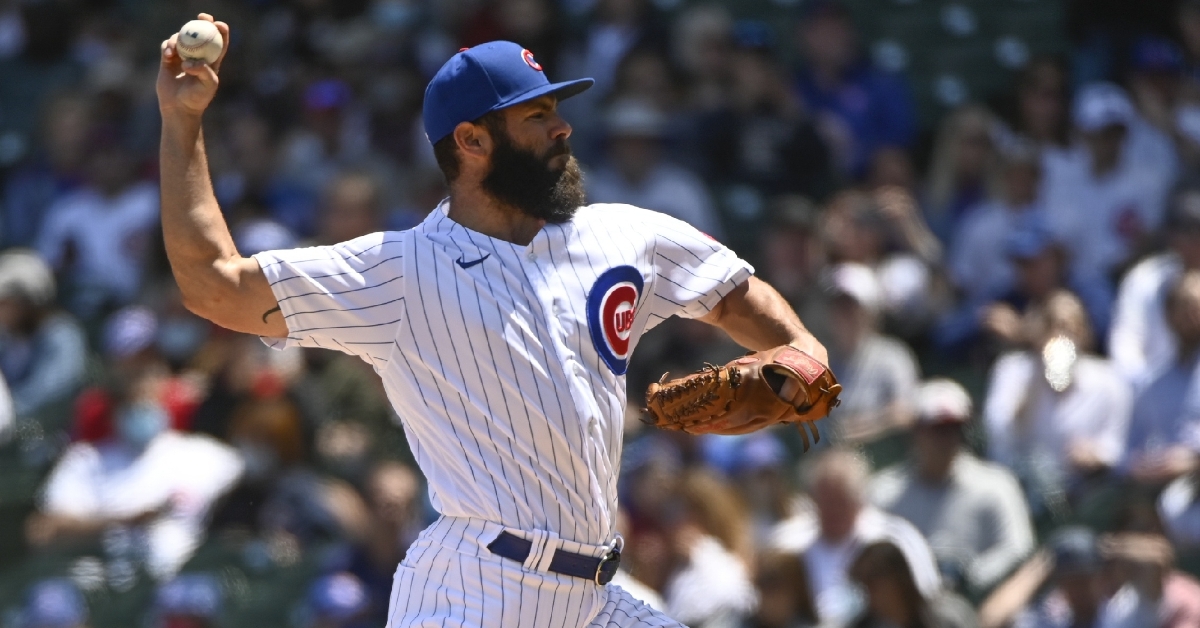 | | |
| --- | --- |
| Three takeaways from Cubs loss to Reds | |
---
| | | |
| --- | --- | --- |
| Monday, May 31, 2021, 10:36 AM | | |
The Cubs six-game winning streak ended on Sunday as the Cincinnati Reds topped Chicago 5-1. Tyler Mahle was on top of his game, not allowing a baserunner through the first four innings before working out of trouble in the fifth to secure the win. Jake Arrieta wasn't at his best either, as his lack of command was apparent all game long as he was done after just four innings.
Just like in his previous start, Arrieta allowed three early runs, with most of those runs coming on soft contact. However, he was not able to settle in and get comfortable as the Reds have hammered him in both of their looks against him this weekend. That was more than enough offense for the Reds as Kris Bryant picked up the Cubs lone RBI in the eighth inning in what was otherwise a quiet day at the plate.
Not only was this a rare loss for the Cubs as they have gone 18-8 so far in May, but this was also the first time since late April that this team has lost by more than one run. When you think of how long a baseball season and how many games you lose, it is remarkable to go 1/6 of the season without losing by more than a run, and that is precisely what this team did until today.
Cubs' quest for history comes to an end
Heading into Sunday's game, the Cubs were chasing down some National League history as they played 25 straight games without losing back-to-back games. That was the second-longest streak in National League history, only behind the San Francisco Giants, who went 29 games in a row in 1916 without losing by multiple runs.
Those same Giants only two games during that stretch while the Cubs lost seven, but it is still an impressive feat. Everyone knew how good the Cubs have been playing, but I don't think people realized how good they have been until seeing that stat. Losses are one thing, but over the entire month of May, this team has been in every game they have played and finally lost by more than one run.
The bullpen is a big reason why they led the National League and led the Major Leagues in most categories across May. They have been the saving grace at times for the team this season and will be counted on a bunch over the next six weeks to keep that going.
Cubs lose their bullpen streak (38.1 shutout IP - a franchise record) and the lead at the same time.

2-2 ballgame here at Wrigley heading into the bottom of the 6th.

— Tony Andracki (@TonyAndracki23) May 29, 2021
Nicholas Castellanos is outstanding
When the Cubs traded for Castellanos in 2019, they knew they were getting an excellent hitter who could hit for a high average and great contact. They didn't realize how much power he had in that bat, and that power was finally unleashed when he got out of Comerica Park.
After missing out on him to the Reds in free agency, not only has Castellanos continued to hit for power at the Great American Ballpark, but he is putting the National League on notice by showing them how great of a hitter he is. Castellanos is one of those rare hitters who goes up there hacking but goes up there to hit first-pitch strikes.
In the process, he has posted a 356 average so far this season which is good for tops in the National League. With that also comes the league leader in hits as he continues to lead the offense with Jesse Winkler. Castellanos was always a solid player, but no one ever expected this kind of player after seeing what he did for five years in Detroit.
Given how difficult of place Comerica Park is to hit, that could be the most significant reason as to why Castellanos has seen the power surge he has put up over the last two-plus seasons. He was a pleasure to watch in Chicago, and the Cubs knew how hard it would be watching him play elsewhere.
Another day, another hit.

16-game hitting streak for Nick Castellanos?? pic.twitter.com/obcYyqdmcr

— Cincinnati Reds (@Reds) May 30, 2021
Buckle up and get ready
While the Cubs have been great in May, many people are not giving them the credit they deserve when you look at the schedule they played this month. Well, that is about to change as the San Diego Padres head to Wrigley tomorrow, as that will be just the beginning of a month-long gauntlet.
I would argue that June is by far the most challenging month for the Cubs this season as they will see several first-place teams and will play tons of teams expected to be in postseason contention this season. With a roster that continues to be depleted by injuries, there is going to come a time when there is too much for this team to overcome, and that may come sooner than you think.
The bullpen will also be tested over the next five weeks as I expect them to see even more work than they have seen recently. If they are up to the task and continue to perform at their level, this team will be fine and could easily go .500 or better in May. Either way, fans will have a great idea of where this team is compared to the rest of the league following this month.
The Cubs now have 13 players currently injured:

Williams (appendix)
Rizzo (back)
Bote (shoulder)
Duffy (back)
Hoerner (hamstring)
Heyward (hamstring)
Marisnick (hamstring)
Mills (back)
Steele (hamstring)
Megill (forearm)
Romine (wrist)
Holder (shoulder)
Wick (oblique)

— Tony Andracki (@TonyAndracki23) May 30, 2021