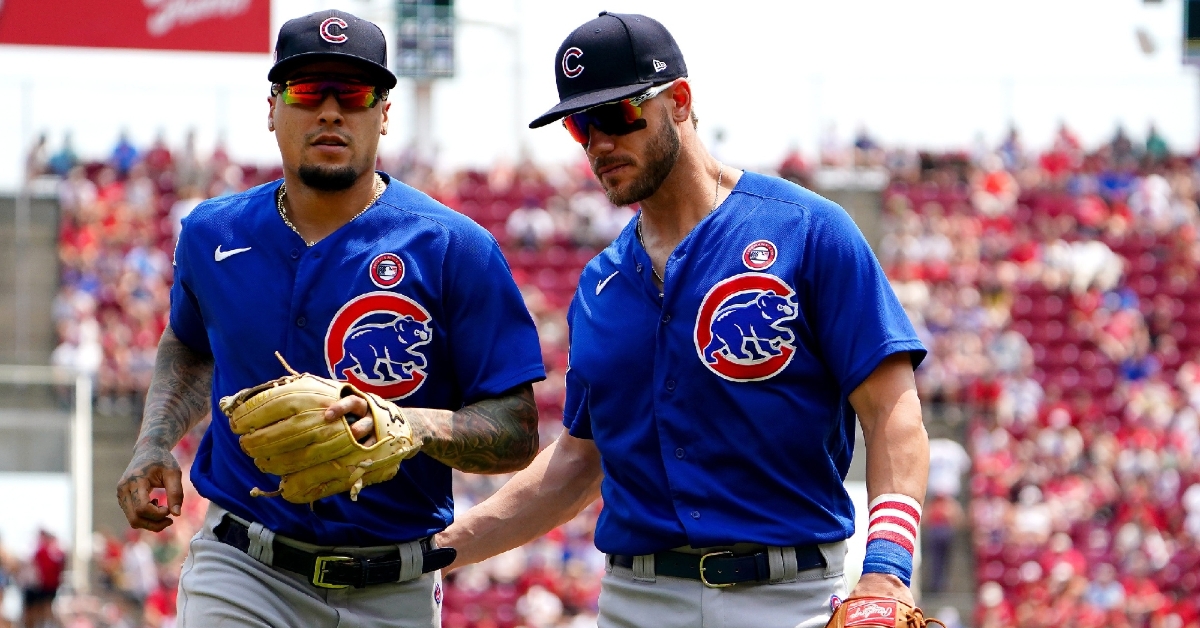 | | |
| --- | --- |
| Three takeaways from Cubs' ninth straight loss | |
---
| | | |
| --- | --- | --- |
| Monday, July 5, 2021, 9:18 AM | | |
It happened Cubs fans. For the first time since May 19, the Cubs are a .500 baseball team sitting at 42-42 on the season. That comes on the back end of a 1-9 road trip in which they lost the final nine games of that trip, including another 3-2 loss to the Reds on Sunday.
When you look at where this team has been since May 19, it is hard to believe they are .500 again and even harder to believe they hit that mark so quickly. David Ross said it best, "We have too much talent to let this continue as long as it has." Is that true? Does this team have more talent than this, or is this who they are and who they have been for the past three years?
The Cubs can't seem to put things together, which is a big reason why they have been so inconsistent this season. When they get good hitting, the pitching lets them down. When they get good pitching, the hitting lets them down. There is never an in-between and never a balance to help alleviate one of the two things going so well.
Sunday saw Kyle Hendricks take the ball against Wade Miley as he looked to end this losing streak. Hendricks was backed by some early run support as Javy Baez connected for an RBI single in the first to give the Cubs a 1-0 lead. Hendricks then took it upon himself to help his cause in the second as he picked up an RBI single of his own to double the lead 2-0.
Once the bottom of the second came, the Reds began their comeback effort as Tucker Barnhardt picked up an RBI double to make things 2-1. Getting an early lead was not a problem during this road trip, as the Cubs scored first in seven of the 10 games. The problem was holding on to those leads as once they scored those early runs as the offense went quiet after fast starts.
That put a ton of pressure on a pitching staff to be practically perfect, or they wouldn't walk away with a win. Still holding a 2-1 lead after six, Ross elected to go his pen and called upon Dan Winkler. Not only has he been overlooked this season, but Winkler entered the game with a 19th best ERA in baseball among relievers.
He has been solid for a long time now, but Sunday wasn't his best performance. Command has been an issue for Winkler this season, but he has been able to work around that. After hitting Jonathan India to tie the game up 2-2, the Reds managed to take a 3-2 lead as Jesse Winker picked up an RBI fielder's choice. It was a crushing blow to a team that played so well on Sunday, and the Cubs were unable to recover, falling again 3-2.
On a positive note, the Cubs would later find out that they would have two all-stars heading to Denver. Kris Bryant was selected to his fourth all-star game and will be a reserve, while Craig Kimbrel returns to the midsummer classic for the eighth time.
Welcome back, Nico Hoerner
It has been over a month since Nico Hoerner was last with the big-league club, but he returned to the lineup Sunday after Sergio Alcantara was optioned to AAA. Despite going 0-4 in his first game back, Hoerner is still hitting 321 on the season and is precisely the type of hitter this team needs.
In a lineup made up of home run or bust hitters, Hoerner is the exact opposite of that as he prides himself on making contact. That is what kept him in the lineup before getting hurt and what will keep him in the lineup long-term.
It seemed like this team took off offensively when Hoerner and Matt Duffy were in the lineup as their approach to the plate is what this offense needed. Hopefully, they can rediscover that success as this team needs a spark, and they need it now.
Kyle Hendricks does it all
Not only is Hendricks the best and most consistent starter on the staff, but he has become the team's stopper. Whenever the Cubs need a win or someone to give them a strong showing, Hendricks is the one they turn to, and he delivers. Sunday was a classic case of just that as he lasted six innings, allowing one run on five hits to go with five strikeouts.
Those are the kinds of outings that have earned him eight consecutive winning decisions, and he has now gone 10 starts without a loss. To make things better, Hendricks is starting to help with the bat as he picked up an RBI single in the second today. Not know for handling the bat, the Cubs need any help they can get at this point.
With the trade deadline rapidly approaching, this team is starting to look more like sellers by the day so get ready to say some teary goodbyes. Hendricks is the one starter outside Adbert Alzolay, who won't be going anywhere. He is the anchor for this rotation and is someone they want to build around next season.
Three is the magic number
The Cubs have played 84 games this season, and one stat tells the story. When this team scores three runs or more, they tend to win a lot of games. So far, the Cubs have played 31 games where they have scored less than three runs and have gone 5-26 in those games. That includes 15 of their last 20, where their record has been 3-12 during that stretch.
If this team scores three runs or more, the bottom line is that they have a great chance to win as they are 37-16 in the rest of their games. Their offense may be inconsistent, their starting rotation isn't what you would look to in a playoff series, but their bullpen has been lights out all season until lately.
If the Cubs can do just enough to get the ball to the pen in the seventh inning, you have to like their chances. The problem, those chances have come few and far between over the last month, and this team has fallen to third place in the Central because of it.