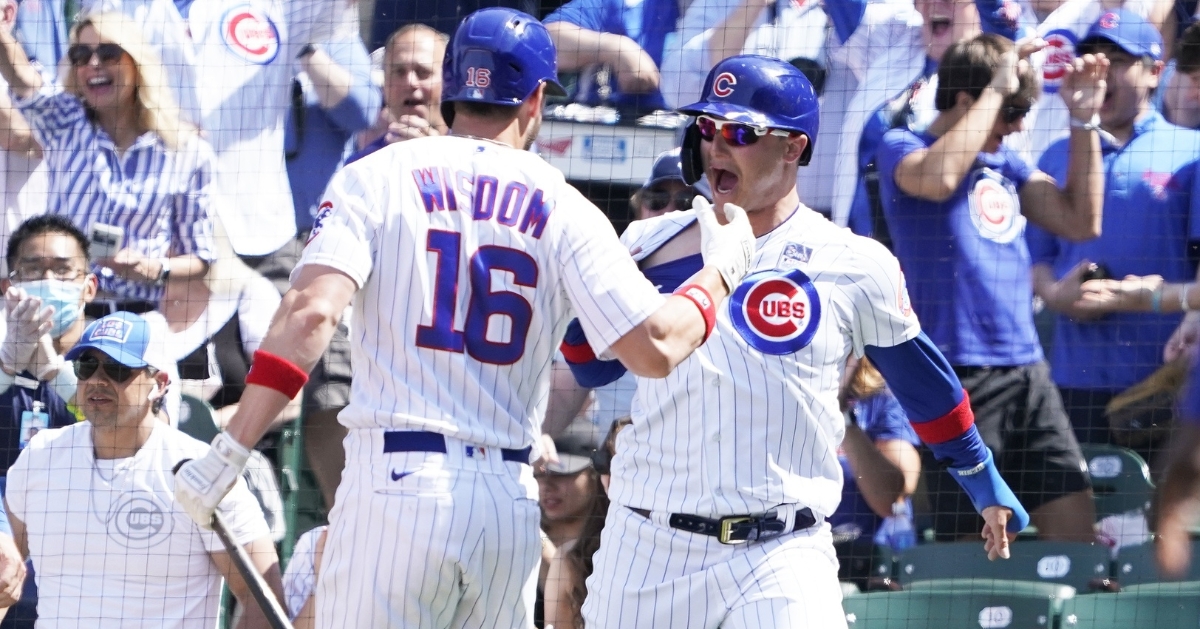 | | |
| --- | --- |
| Three takeaways from Cubs sweep of Padres | |
---
| | | |
| --- | --- | --- |
| Thursday, June 3, 2021, 9:11 AM | | |
Evidently, the West Coast teams don't like coming to Wrigley Field. Across two series, the Cubs have gone 6-0 against the NL West at Wrigley, beating both the Dodgers and the Padres in the process. The latter of the two was San Diego as the Cubs capped off a three-game sweep by topping the Friars 6-1.
Adbert Alzolay continued to impress on the mound, walking one and striking out seven in five innings of work. He was pulled after the fifth inning as the heart of the Padres order was due up for the third time. In his outing, Alzolay was crisp and had Padres hitters guessing. His lone blemish was a Ha-Seong Kim single to center, plating Jake Cronenworth for the 1-0 lead.
After that, it was all Chicago as the Padres gifted a pair of runs off some Padres miscues while Anthony Rizzo and Javy Baez delivered a go-ahead double and two run shot to pull away late. That was all the bullpen needed for the Cubs as they continue to go about their business, sending San Diego home with a 6-1 loss.
Welcome back, Captain!
I know it was only a week, but the Cubs missed Anthony Rizzo in their lineup despite winning plenty of games without him. Not only does he provide them power from the left side, but his defense at first is second to none, and his leadership abilities stand out the most. He has been the heart and soul of this team for years and is the captain of this team whether he wants to admit it or not.
With all the good that comes with Rizzo, his back will always be an issue as it tends to flare up several times a season. After missing six straight games and nine so far this season with back pain, Rizzo was back in the lineup against San Diego and picked up right where he left off. Not only did he provide the game-winning hit on Wednesday, but Rizzo also had a pair of hits Tuesday night as his average continues to climb.
That tends to happen this time of year as when the weather heats up so does, he. His power numbers may not be what you expect from him at this point, but they will be there by the seasons end. Entering his free-agent summer, Rizzo will be a hot commodity for much of the MLB, and the Cubs will certainly be one of those teams looking to sign him long-term.
Anthony Rizzo is literally the best. Find me another guy who is able to run the city like Rizzo. I'll wait. pic.twitter.com/XLv43TTKqW

— Barstool Carl (@barstoolcarl) June 3, 2021
A confusing play leads to a double play
P.J. Higgins had a great spring and was then off to a strong start in AAA. That warranted a callup to the majors for the first time in his career, and he has seen limited action so far. In his now five games, compiling two starts, Higgins is still searching for his first hit despite delivering quality at-bats.
With Dinelson Lamet on the mound, Higgins appeared to have not only his first hit but his first RBI in the bottom of the fourth. With runners on first and second and one out, Higgins blooped a flare between shortstop and second as Kim and Tommy Pham collided, going for the ball. However, what initially looked like a catch and sacrifice fly turned into a double play as there was a lot to sort out.
Higgins was then credited with his first professional hit as Kim dropped the ball on his way to the ground. Unfortunately for Chicago, none of the base runners realized what happened, and they froze on the basepaths leading to a double play. So instead of Chicago being up 2-1 with one or two outs, the inning was over with the score tied 1-1.
Given that the play was ruled a single, the base runners should have moved up, but by staying put, it added a force out across the bases, which San Diego took advantage of. There was no way the Cubs could have challenged that play as they would have lost either way you wanted to look at it.
This was the kind of play that happens a lot when players collide, but the result was uncommon, with no runs scoring and a double play ending the inning. In the end, the Cubs were able to overcome that and touched up the Padres pen for five runs.
Collision between Ha-Seong Kim and Tommy Pham allows a #Cubs pop up to drop in the 4th inning, but Padres turn a double play anyway and prevent a run from scoring pic.twitter.com/FvIJHL0afa

— Brian Cassella (@briancassella) June 2, 2021
Let the fans in?
When the season started, Wrigley Field was allowed to have 25% capacity and has now pushed that number to 60%. You can ask any player on the field that even at 60%, it sounds like Wrigley is pushing 100% capacity because the fans are letting their presence be heard. That brings up the question, should Chicago open back up and let these stadiums go to 100%?
With more and more stadiums getting rid of capacity limits, it is only a matter of time until Chicago does the same. At least you hope that is the case. With both the Cubs and White Sox sitting in first place, baseball in Chicago this summer will be exciting as both clubs will be battling for a spot in the postseason.
What better way to experience that type of atmosphere than by creating that type of atmosphere with full capacity? At this point, there are plenty of vaccinations available should you decide to get one. It is their choice for those that don't, but they also know the risks that come without them.
When you look at all these stadiums at max capacity, how many of them have recorded COVID outbreaks following a game? I don't recall one at this point, so what are you waiting for? It has been over a year since these stadiums were at max capacity, and it has been nearly a decade since both Chicago teams were equally as competitive. If you want to bring back the economy from its hit, baseball could save the day as people will spend to see these teams play.
@DOM_Frederic nothing more beautiful than being in the federal landmark and a Cubs ???? pic.twitter.com/v5khxzEltx

— Derrick Rose's Biggest Fan (@Jazelner) June 2, 2021