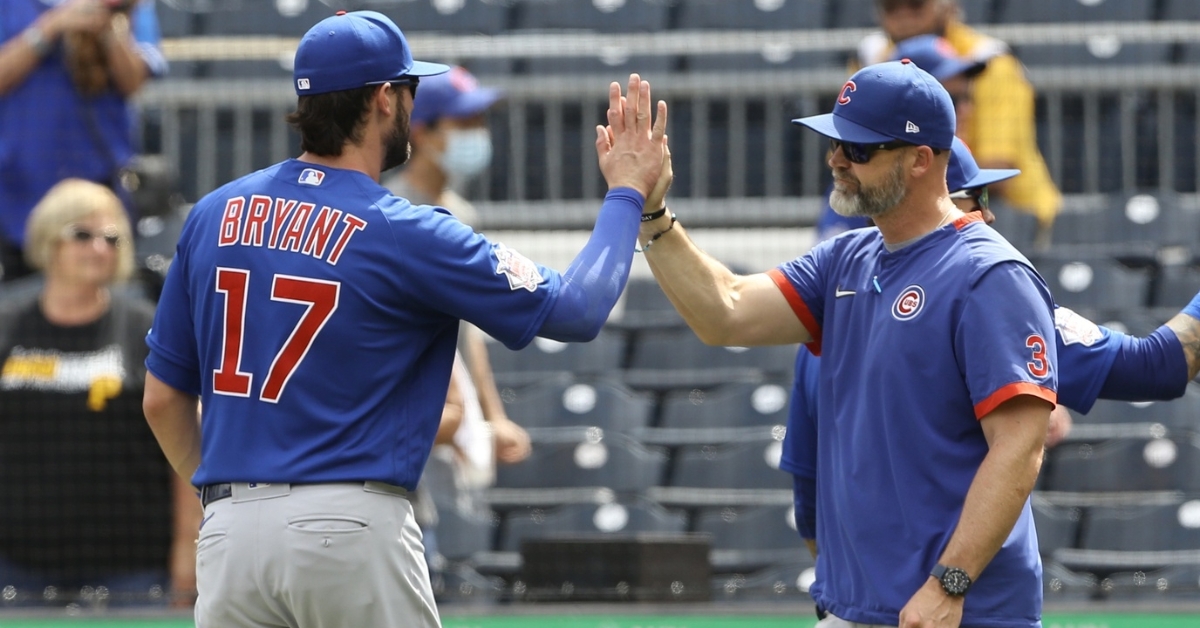 | | |
| --- | --- |
| Three takeaways from Cubs sweep of Pirates | |
---
| | | |
| --- | --- | --- |
| Friday, May 28, 2021, 9:43 AM | | |
OH, How sweep it is! For the first time since May of 2016, the Cubs have swept the Pirates at PNC Park, moving them to 27-22 on the season. It didn't come easy as the Pirates continue to play the Cubs tough, but the bottom line is the Cubs continue to win as they improve to 16-7 in May.
With the sweep, the Cubs have now won 10 of their last 13 and have won four straight overall to continue this recent surge they have been on. This is a better team than what people wanted to give them credit for, and they are playing their best baseball of the season right now. With Kyle Hendricks taking the ball against Tyler Anderson of Pittsburgh, the Professor looked to close out what has been a strong month for him.
Early on, Kris Bryant took Anderson deep in the first as he immediately gave the Cubs a 1-0 lead. Chicago wouldn't look back as they never trailed in this one and haven't trailed much this series. After a rough outing last time out against Pittsburgh where Hendricks was bitten by soft contact, it was his turn to benefit from some luck. A mental miscue by Will Craig at first allowed Willson Contreras to score from second before a bloop hit by Ian Happ extended the lead to 3-0.
Patrick Wisdom then added a solo shot in the fourth as the Cubs were off and running 4-0. However, for all the good that comes with Hendricks, there has always been some bad, and that mostly comes from the home run ball, which he tends to serve up. Thursday was no different as the right-hander yielded three solo shots to Bryan Reynolds, Gregory Polanco, and Michael Perez as the Pirates closed within 4-3.
Even with those three homers allowed, Hendricks managed to pitch seven innings yet again, walking none and striking out five. It was then time for the bullpen as Dan Winkler was the first out of a pen that hasn't given up a run in over 33 innings. Winkler struggled with his command in his entire outing, eventually loading the bases. He was pulled in favor of Ryan Tepera, who induced an inning-ending ground to keep the Cubs in front. The Cubs added a huge insurance run off Richard Rodriguez in the ninth with a Kris Bryant fielders' choice as Tepera closed the door in the ninth for his first save since 2018.
Bryant loves Anderson
Through 12 games against each other this season, the Cubs have gone 8-4 against the Pirates. This is a team that Chicago wishes they could see all the time, but now they must wait for a couple of months before they get back at it.
While the Cubs may want to keep playing Pittsburgh, the Pirates don't want to see the Cubs anytime soon, and more specifically, Anderson doesn't want to see Bryant anytime soon. In his four starts against Chicago this season, Bryant has taken him deep twice, including both times at PNC Park. That marks four career homers off Anderson for Bryant as he has the lefty's number.
There are just some pitchers a player sees very well, and Bryant likes what he sees in Anderson. After watching his first-inning homer sail out of here, I immediately thought Anderson would be walking him next time up as he hasn't been able to figure him out quite yet. Kudos to Bryant for his approach and just the overall improvement he has made as a player.
Kris Bryant - Chicago Cubs (11) pic.twitter.com/e0jeCWCWB0

— MLB HR Videos (@MLBHRVideos) May 27, 2021
Long overdue for Wisdom
For the first time since 2018, Wisdom connected on a big-league homer going deep in the fourth inning. After going hitless across his first three career Cubs games dating back to 2020, Wisdom finally broke out on Thursday with a pair of hits to go with that homer.
He is very familiar with those types of games, as he ripped three homers at Iowa in less than 10 games this season. Wisdom has always been a great power hitter who has had little trouble crushing the ball. He finished the 2019 minor league season with 31 homers, and there is more left in that tank.
For some reason, his success at the minor league level hasn't translated to the MLB, but he also hasn't seen the consistent playing time he does in the minors. When on the field, Wisdom has shown how good of a hitter he can be both power-wise and average-wise. With Anthony Rizzo continuing to battle through some back issues, Wisdom may be in line to get some starts at first base or outfield as he looks to make an impact with the Cubs.
Coming into the season, Chicago expected guys like Wisdom, Rafael Ortega, and Nick Martini to help this team at some point during the season. I am pretty sure they didn't expect these guys to help them this soon or, at the very least, have all three up at one time before September. Now that these are three players fans can expect to see, it will be curious to see the playing time they get down the stretch.
Patrick Wisdom - Chicago Cubs (1) pic.twitter.com/6x7Uj9Tz82

— MLB HR Videos (@MLBHRVideos) May 27, 2021
Baez the Magician
What can we say about Baez that hasn't already been said? He is a polarizing figure that wows fans both offensively and defensively yet frustrates them at the same time. Regardless of how you feel about him, he is a very important piece to this team and a topflight run producer who leads the team in homers and RBIs.
However, his natural instincts stand out the most as he often thinks two steps ahead of the opposition. His fielder's choice on Thursday was a prime example of precisely what I am talking about. After bouncing out to first base, Baez stopped running down the baseline and began back-peddling towards first.
All Craig had to do was touch first to end the inning, so this RBI comes from Pittsburgh's aid of a mental miscue. As Baez continued to back peddle towards home, Craig followed him until the point where he threw the ball to Perez at home plate. Baez seemed to sense a throw was coming as he took off for first and scored Contreras from third on the same play.
Baez then advanced to second on the same play as Perez's throw to first went wide of the bag. These are the type of instinct plays, aggressive or not, that pay off as he is the only one who could pull something like that off. Yes, it was a mental blunder on the part of the Pirates but had anyone but Baez been running, this play doesn't happen. El Mago lived up to his name on that play.
Javier Báez.
El Mago.
The Magician. pic.twitter.com/yZX7HgUFCU

— Chicago Cubs (@Cubs) May 27, 2021