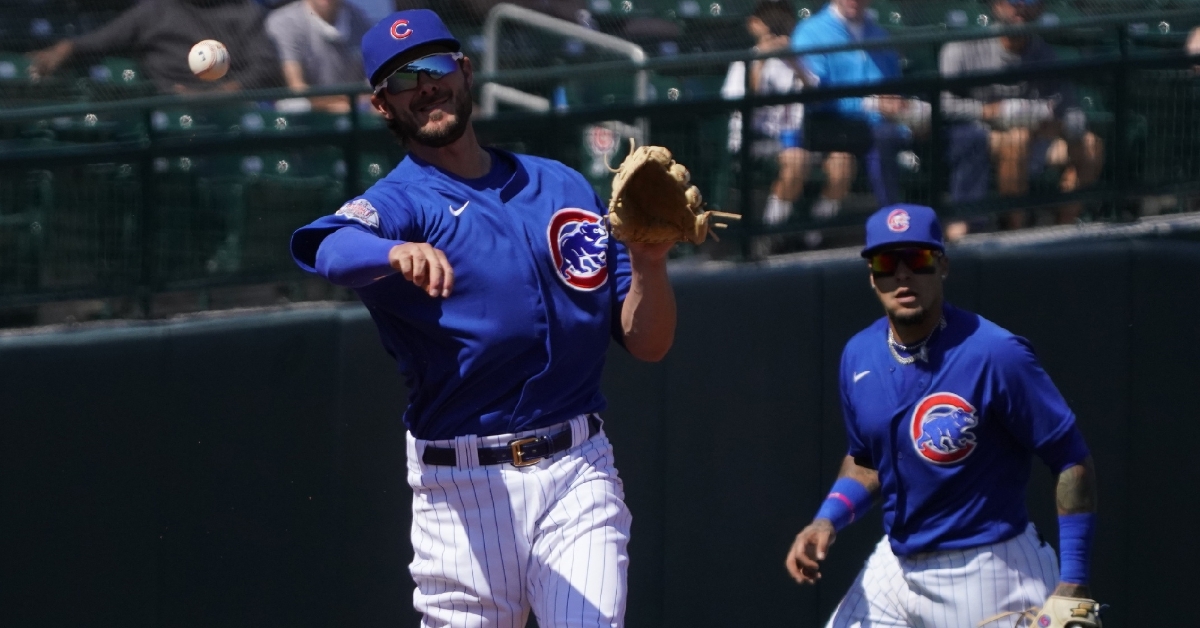 | | |
| --- | --- |
| Three takeaways from Cubs tie with Angels | |
---
March 14th was a significant day this spring as it marked the final day games would be shorter than nine innings. Although teams can agree to play seven innings ahead of time, unless agreed upon, games for the remainder of spring will be nine innings as teams get set for the stretch run of spring.
Sunday saw the Cubs match up with the Los Angeles Angels, and it was a surprisingly low-scoring affair. Featuring teams with two explosive offenses, both the Cubs and Angels played to a 0-0 tie through six innings. Anthony Rizzo delivered the lone RBI for the Cubs in the seventh with a single, while the Angels tied things up with an RBI triple off James Norwood in the ninth. Chicago didn't come to bat in the ninth, leaving things 1-1 with the Cubs moving to 7-5-2 this spring.
Making the start for the Cubs today was Trevor Williams as he continues to show flashes of his great 2018 form. Across 3 2/3 innings of work, Williams allowed just three hits to lower his ERA to 1.04 this spring. He didn't walk a batter and stuck out one as his pitch count did reach near 50. Opposing him was Dylan Bundy, who went toe to toe with Williams allowing just two hits in 4 2/3 innings of work before turning it over to a battler of the bullpens.
With Trevor Megill finishing off the inning for Williams, the Cubs trotted out Andrew Chafin, Rex Brothers, Brandon Workman, and Jason Adam across the next four innings as they dominated Angels hitters. They only allowed two hits, but the quartet walked two batters to go with six punchouts. Three of them came from Adam as he struck out the side in the eighth.
With the score tied 0-0 through six innings, the Angels sent in former Cincinnati closer Rasiel Iglesias in hopes of keeping things tied. Joc Pederson got things started by reaching on a fielding error before giving way to Ian Miller on the bases. After a Trent Giambrone punchout, Rizzo delivered the game's first RBI with a single scoring Miller as the Cubs led 1-0. Rizzo moved up to second on the play, but Chicago couldn't do any further damage.
.@ARizzo44 gives the Cubs the lead! pic.twitter.com/taRSLuZtKx

— Marquee Sports Network (@WatchMarquee) March 14, 2021
Looking to finish the Angels off in the ninth, Norwood walked the leadoff man but recovered to retire the next two men he faced. Brennan Lund made sure the Angels wouldn't go away quietly as his RBI triple not only tied the game up 1-1 but had the Angels set up for more. Norwood struck out the next hitter he faced as the game ended in a 1-1 tie.
After initially being in Sunday's lineup, Nico Hoerner was a late scratch due to lower back pain. Obviously, with this being Spring training, the Cubs will monitor his status, but hopefully, this isn't something too serious.
Outside of Pederson, Hoerner has been the team's best hitter this spring. He is making consistent contact and making hard contact while still playing strong defense in the infield. His play has erased any questions about who would be the opening day 2B as Hoerner has grabbed that job the horns.
Nico Hoerner scratched with lower back tightness#Cubs #Everybodyin pic.twitter.com/YFVNvy2pWH

— CubsHQ.com (@ChicagoCubsHQ) March 14, 2021
What is the Cubs plan for backup catcher?
Following Victor Caratini heading to San Diego as part of the Yu Darvish trade, the Cubs needed a new backup catcher. Austin Romine was signed to a one-year deal to be that guy.
For the most part, Romine has been having a solid spring belting a homer and displaying a strong defensive prowess behind the dish. However, it has been nearly a week since Romine has been in a game as he continues to deal with an injury.
The Cubs continue to insist that the injury is not serious, but the longer he is out of the lineup, the less likely he is to be ready to go on opening day. Should he have to miss time, what would the Cubs next plan of attack be? P.J. Higgins seems like a logical bet now, but Jose Lobaton brings with him some much-needed MLB experience.
Cubs backup catcher Austin Romine is day to day with a right knee sprain, David Ross says. He's going through treatment. There's no timetable. Ross says they're trying to let it calm down a little bit and move forward from there.

— Meghan Montemurro (@M_Montemurro) March 12, 2021
The new hitting approach looks better
Over the past three seasons, not only have the Cubs been home run or bust, but they have had one of the worst batting averages against fastballs. As the strikeouts continued to pile up, many fans were surprised to hear that the Cubs happened to be one of the more patient teams in baseball. Perhaps maybe even too patient.
David Ross felt that way too and has given his team permission to be more aggressive if need be. Yes, Ross wants his team to hone in on aggressive and swing at strikes, but the new approach is working so far. Not only are the Cubs continuing to take walks this spring, but their strikeouts are way down this spring.
A lot of that is because the Cubs are being more aggressive early in the count and swinging at the first good pitch they see. While they don't get hits every time, they are making more contact, which will lead to hits. This team will strike out a lot, but they will also be patient enough to take walks. Hopefully, there is a happy medium for both as more aggressiveness could lead to more hits.
Williams spot in the rotation is looking decent
When the Cubs signed Williams, he was expected to compete for the rotation, but nothing was guaranteed. After three outings, Williams has done more than enough to earn a spot as he should be the team's No. 4 come the season.
A once 14 game-winner with the Pirates, Williams has battled through some injuries the past two seasons, and his results have been terrible. Hoping to get back on track, Williams has gone more to his slider this spring, and the results have been promising. What was once looked at as a fill-in signing could end up being one of the better pickups of free agency. Who knows, maybe this turns into a Jason Hammel 2.0 where Williams goes to have his best years with Chicago.
High heat. pic.twitter.com/qWUnEdERwc

— Marquee Sports Network (@WatchMarquee) March 14, 2021

Tags: Cubs Baseball
,
Anthony Rizzo
,
James Norwood
,
Trevor Williams
,
Trevor Megill
,
Andrew Chafin
,
Rex Brothers
,
Brandon Workman
,
Jason Adam
,
Joc Pederson
,
Ian Miller
,
Trent Giambrone
,
,
Victor Caratini
,
Yu Darvish
,
Austin Romine
,
David Ross
,
Jason Hammel