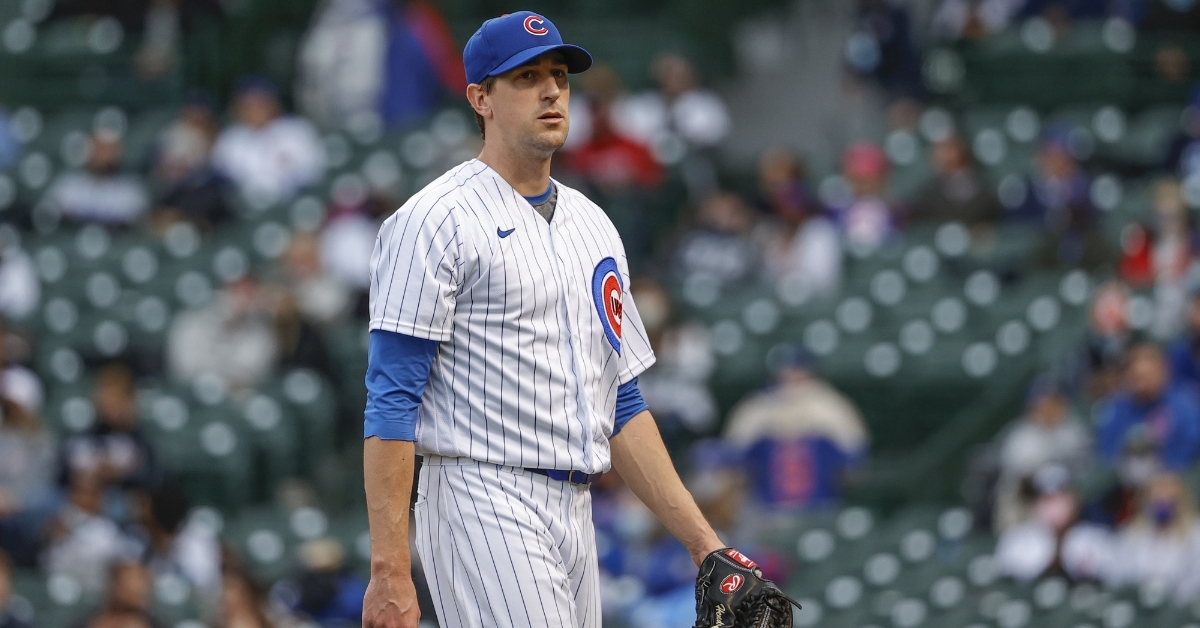 | | |
| --- | --- |
| Three takeaways from Cubs' ugly loss to Braves | |
---
After pounding out 13 runs on 14 hits on Saturday afternoon, the Cubs were hoping that was the wake-up call the offense needed. With a nationally televised game on Sunday and the wind blowing out, it was the perfect time for the offense to continue that trend as Bryce Wilson was called upon to start against Kyle Hendricks.
Instead of the offensive fireworks show that many fans thought they would see, it was the Braves getting back for a rough outing on Saturday. They used a pair of six-run innings to overpower the Cubs and down them 13-4. The first of those two six-run frames came in the first inning when Hendricks made Cubs history in the worst way.
He was the first pitcher in franchise history to allow four home runs in one inning, allowing Freddie Freeman, Travis D'Arnaud, Ehrie Adrianza, and Guerillmo Heredia all took him deep in the first to give Atlanta a 6-0 lead. It was a lead the Braves would never relinquish as Hendricks also threw 36 pitches, the most he has ever thrown in an inning.
Chicago was able to get a pair of runs back in the bottom of the first when Anthony Rizzo took a Wilson breaking ball deep over the right-field fence before Javy Baez legged out an infield single to make things 6-2. Rizzo added an opposite-field solo shot in the bottom of the third to make things 6-3, but that was as close as they could get.
With a 7-3 lead after D'Arnaud singled home a run, the Braves put the game away with another six-run inning in the top of the sixth. It started with a
Marcell Ozuna single before Adrianza picked up a sacrifice fly to make things 9-3. The big blow came from Heredia, who connected for his second homer of the night in grand fashion as his grand slam made things 13-3. Baez added an eighth-inning RBI double to cap off another ugly performance.
Concern for Kyle Hendricks
For the most part, Kyle Hendricks has been as consistent as they come, at least when it comes to getting guys out. Yes, his wins and losses don't always translate, but when you post a 3.12 ERA for your career, including a 2.55 ERA at home, you are doing something right.
Even with all the good that Hendricks has brought to the table, some concerns about him are evident this season. Not only is he losing velocity, which isn't good when you throw 87 MPH, but he is missing his spots too, which leads to hard contact. After a less than appealing spring training, Hendricks didn't get off to the best start this season only to bounce back against Milwaukee in his second outing.
After missing a start with an illness, Hendricks was back on the hill Sunday, where he became the first Cubs pitcher to allow four first-inning home runs in team history. Not only that, Hendricks walked a batter to go with several three-ball counts. Coming off a season in which he walked only nine hitters in 81 innings of work, Hendricks now has seven walks in three starts this season. It was a concern all spring long, and that has carried over to the regular season. Hendricks needs to get back on track soon if he wants to continue being the ace.
42 percent
Baseball used to be a game all about strategy. Teams were forced to bunt to move runners over, steal bases and take what the pitcher gave them to score runs. Never once were they reliant on the home run ball as much as they are now, and the game has gotten too predictable in the last decade.
When you watch baseball now, there are three true outcomes that 90% of teams deal with. Those outcomes are walks, strikeouts, and home runs. No one follows the true outcomes as much as the Cubs as 42% of their plate appearances end in one of those three ways. That is by far the most in MLB and a big reason why the offense is so inconsistent.
Chicago only had eight strikeouts last night, which is below their season average, but they also walked just three times again below their season average. They managed to hit two homers that accounted for half of their runs, but once again, if the team isn't homering, they are not winning games.
The Cubs need to get out of their way offensively and cut down on some of those strikeouts will be the biggest key. Fans heard it all night from Alex Rodriguez talking about this team. The players are talented enough and strong enough where homers will come naturally. Stop trying to hit the ball 500 feet and use a level swing. You would be surprised by what you see.
Some positive signs to build on
There weren't a whole lot of positives to take away from last night, but still, there are some things to build on. Rizzo appears to be heating up after having two RBIs through 16 games. That was his lowest total since his rookie season in 2011. Both Willson Contreras and Kris Bryant continue to hit as they have been the best hitters on this team.
Although a little bit shaky last night, Craig Kimbrel has yet to give up an earned run this season and continues to deliver out of the pen. All of these are certainly things the Cubs can build on as they head into their next series. However, one thing that may be the most critical thing at this point is Joc Pederson and the finish to his game.
After starting the night 0-2, Pederson ended the game 2-4, connecting for a single and triple off the wall. Both of those pitches were on off-speed deliveries and both were struck well. For a guy who has been struggling mightily since the beginning of the season, it was great to see Pederson not only pick up two hits but two well-struck hits.
Production aside, Pederson seems to be seeing the ball better than earlier as he is making more consistent contact. Pederson could use those last two at-bats to build some confidence going forward, and maybe that will get him back to his power-hitting ways.
https://www.youtube.com/watch?v=---pTx_1ej8

Upgrade Your Account
Unlock premium boards and exclusive features (e.g. ad-free) by upgrading your account today.
Upgrade Now