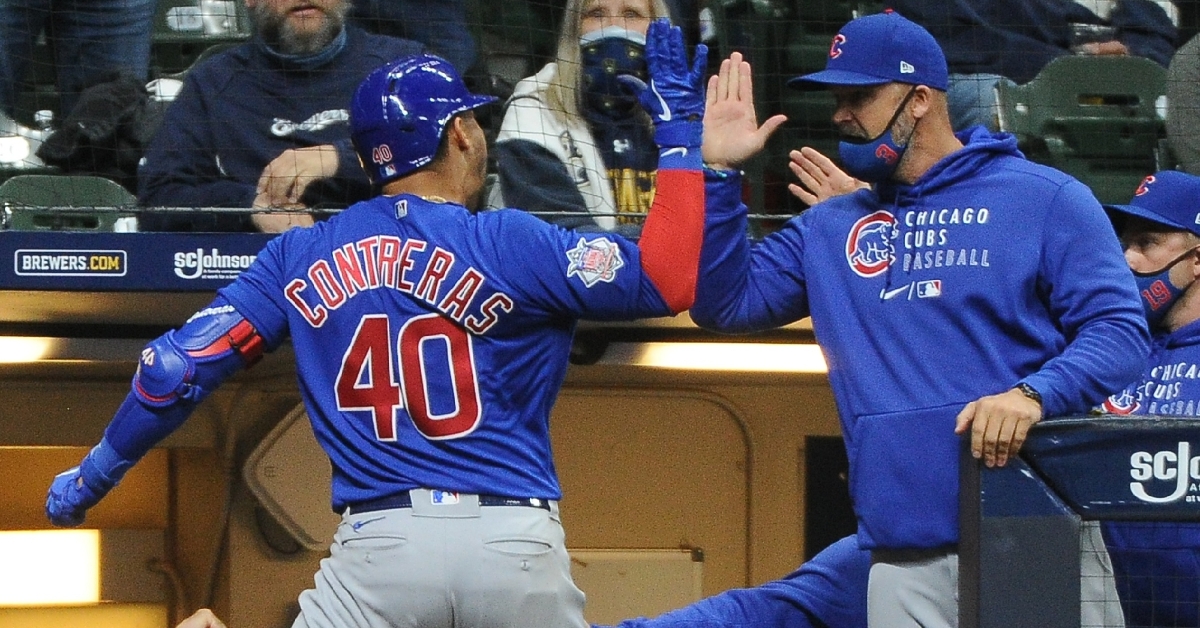 | | |
| --- | --- |
| Three takeaways from Cubs win over Brewers | |
---
| | | |
| --- | --- | --- |
| Wednesday, April 14, 2021, 8:40 AM | | |
Sometimes all it takes is one hit for a team to get going. Maybe that hit off the bat of Willson Contreras last night will be the hit to wake this sluggish offense up and get them going. After another night that saw the offense put together next to nothing for seven innings, Contreras bailed them out with a long two-run homer off Brent Suter to give the Cubs a 3-2 win.
That all came following a rough start to the game that saw another played added to the COVID IL in Matt Duffy. To make matters worse, Kyle Hendricks was scratched 30 minutes before his start for feeling ill, leaving the question is, he next to join the Covid IL.
Thankfully, the Cubs had Alec Mills ready to go for a spot stop allowing just a two-run Luis Urias homer as the only blemish in what was another low-scoring affair.
Contreras is sick of getting hit
Willson Contreras has been getting plunked a lot so far this season, and a good portion of that has come from Milwaukee. After nearly getting hit on Monday, Contreras was hit again by a Brewers pitcher on Tuesday, and he continues to be frustrated with it all.
Contreras made sure to let the Brewers know how he felt in their previous series, starting a bench-clearing altercation that resulted in just talking and nothing else. Contreras was ultimately fined 7500 for that incident but felt like MLB is not listening to his side. Getting hit this often takes its toll on a player, and the league should do something about it before it gets worse.
The Cubs and Ryan Tepera took matters into their own hands last night by throwing behind Brandon Woodruff which resulted in bench warnings. The best way to get back at someone or a team for that matter for hitting you is to get even, and Contreras made sure to get even and then some.
His two-run homer off Suter in the eighth not only lifted the Cubs to a 3-2 win, but the homer came off someone who has given the Cubs fits not only this season but in seasons past. It must make you wonder why Counsel didn't use Josh Hader in that situation or Devin Williams, and the result certainly cost him.
Bury the lead. #CubTogether pic.twitter.com/lV8lWecnU7

— Chicago Cubs (@Cubs) April 14, 2021
Are the Cubs in COVID-19 trouble?
It was bad enough to have two coaches and three relievers placed on the COVID list in the last few days, but that list keeps growing. Before the game on Tuesday, veteran infielder Matt Duffy was added to the COVID IL as he now will miss the next two weeks. Duffy was a non-roster invitee this spring but had such a strong showing that he placed himself onto the team.
Replacing him will be Ilderamo Vargas, who was designated for assignment the final week of spring but opted to return to the Cubs organization. Vargas was one of four men playing for the starting second base job and had a strong enough spring where I think he could have earned the gig.
So far, the Cubs have avoided any severe COVID cases as most of these players are being placed on the list for close contact tracing and not a positive case. However, given the news about Hendricks last night, could they be on the verge of COVID trouble?
Whenever you hear a player missing a start because they don't feel well, you immediately jump the gun and think the absolute worst. Well, when you look at how the last year-plus has gone, how can you not think that way. Should Hendricks wind up with a positive test, you can bet the Cubs will miss some time as they will have several players in close contact with him. This was an issue the team avoided last season, but so far this season, they have not been able to prevent it.
Look for an ugly Wednesday
Following the bench warning to both sides last night, Wednesday afternoon could get ugly. I am not saying the overall play will be ugly even though that is exactly what the Cubs offense has been so far, but I expect teams to exchange blows to hit one another.
Intentional or not, the Brewer pitchers have been a little chippy with the Cubs all season, especially when it comes to Contreras. The Cubs finally did something about it yesterday when Tepera intentionally threw behind Woodruff. Expect something similar today. If the Brewers hit the Cubs in the first inning, it better not be deemed intentional enough to issue bench warnings.
That would take the possibility away from the Cubs, at least getting them back one time. I usually don't condone this type of gameplay, but when the same team continues to hit one of your players, it is time you send a message. The message should be we have our players back, and if you hit us, we will hit you. It will be curious to see how a veteran like Arrieta handles things against a hard-throwing Corbin Burns.