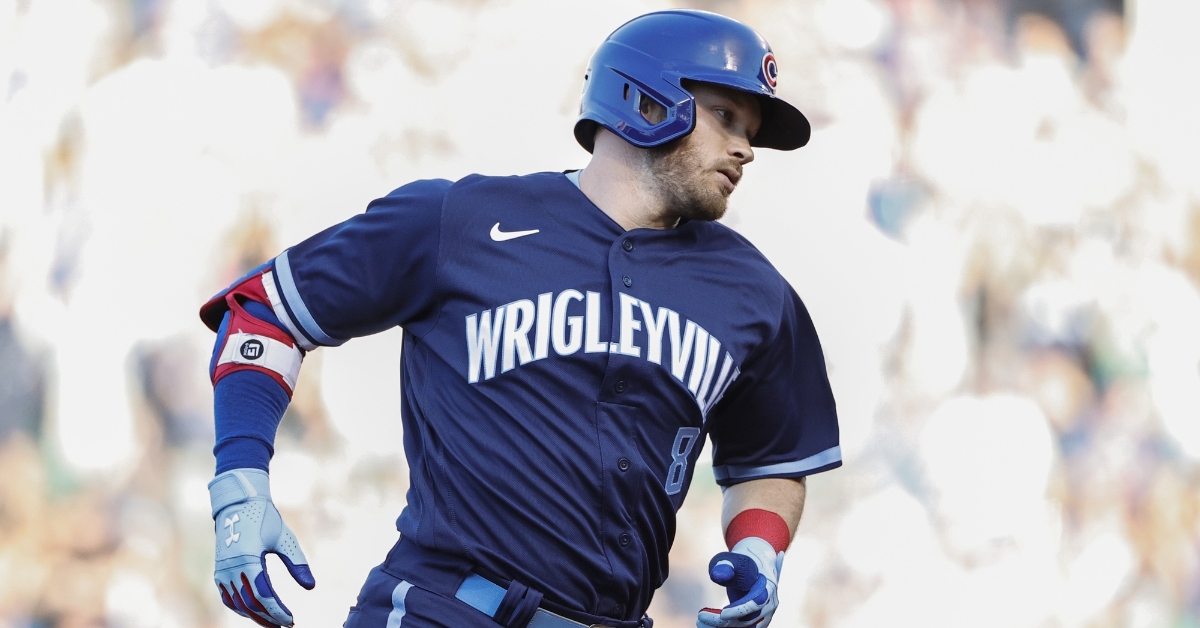 | | |
| --- | --- |
| Three takeaways from Cubs win over Cardinals | |
---
| | | |
| --- | --- | --- |
| Sunday, June 13, 2021, 9:07 AM | | |
The Cubs certainly have a good thing going right now as they take yet another series. After coming from behind to down the Cardinals 8-5 on Friday, things were a bit easier Saturday as they took the lead early and didn't look back, rolling to a 7-2 win. It is the Cubs fourth straight win and fifth in their last six games as this team continues to impress across the board.
With Kyle Hendricks on the mound, it was more of the same from him as he improved to 8-4 on the season. Not only that, but he also delivered his six consecutive quality start, which resulted in his six-straight win on the mound, a career-best streak for him. The only two runs Hendricks allowed came on solo homers by Nolan Arenado and Paul De Jong as that continues to be his main issue this season. He has now allowed 19 homers this season which leads the major leagues.
Unlike Hendricks, who has some of the best command, John Gant was all over the place as he continues to search for strikes. Coming into his start, Gant had an ERA in the 2.6 range, despite leading the major leagues in walks. For the most part, he was able to escape damage, but coming off his worst start of the season, Chicago was looking to add to it.
In what started with a Willson Contreras walk in the second, Ian Happ took him deep the opposite way, giving the Cubs a 2-1 lead. Gant would then walk four more hitters in the second, finishing that inning with five walks. Not only that but Gant was also charged with five earned runs despite giving up just that lone hit to Happ.
A Kris Bryant bases-loaded walk extended the lead to 3-1 ahead of a Javy Baez single up the middle extending the lead to 4-1. With the bases still loaded, Anthony Rizzo took one off the knee, pushing in another run as the Cubs were in complete control 5-1. Add in a Sergio Alcantara third-inning homer and Joc Pederson fourth-inning homer, and it was more than enough as the Cubs keep pace with the Brewers in the Central following a 7-2 win.
Ian Happ loves the Cards
Across what is now his fifth season in Chicago, Happ has seen his fair share of success to go along with a lot of struggles. He has gone from a fast-rising rookie to being demoted after a horrendous sophomore season to once again proving to be a legitimate threat in this offense last year.
However, things have not been going well for Happ this season as he is still hitting under 200 on the season despite looking better at the plate. If there were a team Happ could choose to face his entire career, the Cardinals would be it as he loves this team. Not only does he have a 290-career average against them, but he averages one homer every 5.9 plate appearances off them, with another one coming tonight.
Both those numbers are career bests for an opponent as Happ hits just a 237 against anyone else while averaging one homer every 20.3 at-bats. There are no definitive answers as to why he plays so well against this team. The Cardinals are just one of those teams that he loves to hit against, and he made his presence felt once again.
Ian Happ - Chicago Cubs (8) pic.twitter.com/QYsipFKeNK

— MLB HR Videos (@MLBHRVideos) June 13, 2021
Sergio Alcantara is fun to watch
Over the past several weeks, there have been many discussions surrounding the Cubs and their ability to win games despite several key injuries. A big reason for that has been the emergence of many minor league players, with Alcantara being the next one in line.
A 257-career hitter in the minors, there wasn't much expectation for him when he got called up as he was seen as a temporary placeholder until certain players healed. Instead, Alcantara is not only seeing playing time, but much like Patrick Wisdom is starting to turn heads, leaving the door open for other questions down the road.
Alcantara plays solid defense and has a great arm, but his approach at the plate has been impressive. He is not the biggest guy in the world, but Alcantara has displayed more power than anyone thought he had, as he now has two homers in his last four games. Alcantara has tremendous speed, and watching him run the bases is an absolute treat.
Should he continue the way he has over the past two weeks, how could you even think about sending him to AAA. The problem then becomes where you play him when Nico Hoerner and others come back and how many at-bats you give him. That is an excellent problem to have if you are David Ross.
Sergio Alcántara swats another home run!#CubTogether pic.twitter.com/206GcAHctw

— Chicago Cubs (@Cubs) June 13, 2021
Why do the Cubs pitch to Arenado?
The Cardinals haven't done much right this entire series, but Arenado is the one player who has done a lot of damage. After connecting for a homer and three RBIs on Friday, Arenado took Hendricks deep again on Saturday as he has two homers and four RBIs in this series. That accounts for more than 50% of the Cardinals runs as he continues to impress.
Everyone knew how good a hitter Arenado was in Coors Field, but there were always questions surrounding his ability to hit away from that park. Needless to say, he has answered those questions in a big way and is producing the way the Cardinals expected him to when they acquired him.
Arenado has always hit the Cubs well at Coors Field and at Wrigley, which is what he has done so far. Given that he plays here three times a season instead of just once, look for Arenado to put up strong numbers all season against this team. Should the Cardinals continue to struggle the way they have been, you would have to consider pitching around him until others can beat you.
An Arenado solo shot gets the scoring underway in Chicago! ?? pic.twitter.com/KUMkwV87on

— FOX Sports: MLB (@MLBONFOX) June 12, 2021

Tags: Cubs Baseball
,
Kyle Hendricks
,
Willson Contreras
,
Ian Happ
,
Kris Bryant
,
Javy Baez
,
Anthony Rizzo
,
Joc Pederson
,
Patrick Wisdom
,
,
David Ross