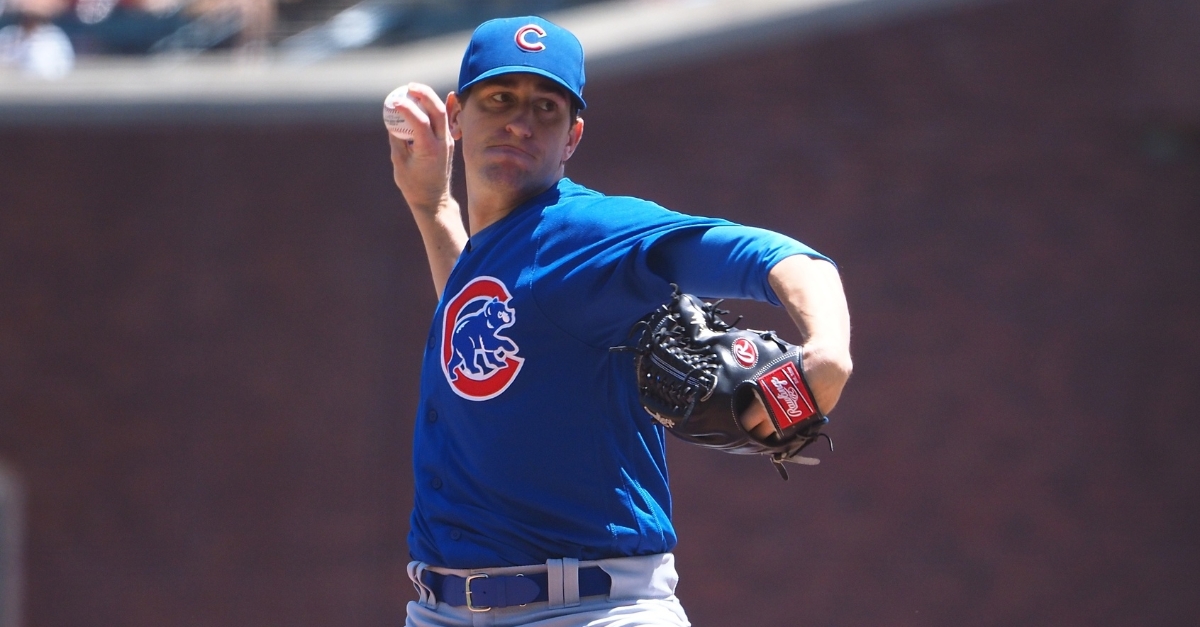 | | |
| --- | --- |
| Three takeaways from Cubs win over Giants | |
---
Looking to avoid the sweep against the MLB best San Francisco Giants, the Cubs turned to their ace Kyle Hendricks as he looked to keep rolling. However, against a former ace in Johnny Cueto, Hendricks found himself trailing early on as he looked to be off mechanically in the first couple of frames.
That led to a Lamont Wade Jr. leadoff homer in the first before Donovan Solano added a single a few batters later to give the Giants a 2-0 lead. Given what the Cubs have seen from the Giants all series, trailing them at any point is not a good thing but today felt a little different. Hendricks allowed a third run in the second inning off a Buster Posey double, but after that, he was able to settle in and lasted 6 1/3 innings conceding just those three runs.
The length the Cubs got from him in his start was much needed, and it gave the offense a chance to squeak this one out if they could find a way to hit Cueto. One person certainly found a way to hit Cueto as the fantastic start of Patrick Wisdom continues. Not only did he hit a solo shot in the second, but he came right back around, delivering a two-run shot to tied things up in the fourth. It was his third homer in two days against Giants pitching and his seventh homer in 14 games with the Cubs this season as Wisdom is enjoying life on the diamond right now.
With the bases loaded and one out in the fifth, Javy Baez bounced a chopper to shortstop Mauricio Dubon who fired home to try and get Hendricks at the plate. While the throw did appear to beat him, Posey could not corral the throw allowing Hendricks to score and giving the Cubs a 4-3 lead. That was all the Cubs needed as the bullpen of Ryan Tepera, Andrew Chafin, and Craig Kimbrel came on in relief of Hendricks to slam the door picking up the 4-3 win and avoiding the sweep. The win was significant as the Cubs remain the only team to have not been swept in a four-game series since 2019.
Hendricks riding a personal best stretch
While his start wasn't as crisp as he would have liked, Hendricks was able to get through six gutsy innings en route to picking up his seventh win of the season. It was not only a much-needed start in terms of length for this team but a much-needed win as they needed to avoid that sweep.
Lost in the shuffle of his start is the fact that Hendricks is on a personal best five-start winning streak, winning each of his last five starts. Of course, that doesn't mean his previous five decisions either, as he has taken the ball five consecutive times, which have all translated to wins. He is now 7-4 on the season despite his ERA still in the mid 4's, but he is getting the job done, which is what you want your ace to do.
When you look at how consistent Hendricks has been in his career, it seems rather hard to believe that he has never won five consecutive starts until this season. A big reason could be his lack of run support in some of his outings or the fact that he looks awful when he is off mechanically. However, keeping him on the level he is currently pitching at is critical for this team, and it will go a long way in determining how far the Cubs go this season.
Kyle Hendricks has won five consecutive starts!#CubTogether pic.twitter.com/2YTCy8yUU7

— Chicago Cubs (@Cubs) June 6, 2021
Wisdom is on cloud nine
In his wildest dreams, even Wisdom couldn't have dreamt of a better start to his 2021 MLB season, or should I say the start to his Cubs career. The once top prospect in the St. Louis system, Wisdom has fallen to a minor league journeyman hoping to find an organization to stick with. The Cubs took a shot on him last season, although he only saw three games of action, but they re-signed him this season, and he appears to have a home.
Not only did he connect for his second multi-homer game in a week on Sunday, but Wisdom now has seven homers for the Cubs in just 14 games of action. Add that to his minor league total before the call-up, and he has belted 10 homers in 25 games this season. That is an incredible pace, and if he keeps that up all season, Wisdom would be on pace for 50 plus homers.
The kind of start he has gotten off to is something many dream about but typically don't come true. Given the power numbers he displayed in the Minors, everyone knew that Wisdom had the potential to deliver these kinds of numbers if given a chance. Outside of that, he has also played strong defense at the hot corner, making him a must for David Ross to keep in the lineup.
Sometimes one just isn't enough. #DailyWisdom #CubTogether pic.twitter.com/hPAZeIFoZO

— Chicago Cubs (@Cubs) June 7, 2021
Mr. Versatility to the rescue
Perhaps the biggest knock against Kris Bryant outside his health has always been what position does he fit long-term. A third baseman by trade, Bryant has always been viewed as a player who could move to the outfield later in his career in hopes of eliminating the nagging injuries of the past.
Given the injury issues the Cubs have dealt with this season, Ross has wasted no time making Bryant an everyday outfielder as he hasn't started at third since April. Bryant has also seen time at first base when Anthony Rizzo missed time with a back injury as he is becoming the Cubs new version of Ben Zobrist.
Given his ability to play so many positions on the diamond, Ross can trust Bryant anywhere, and he came up with the play of the game on Sunday. Getting the start in left for Joc Pederson, who was out with lower back stiffness, Bryant made the play of the game in the ninth inning, robbing Dubon of a game-tying homer to preserve the Cubs win.
Those are the types of plays that often get overlooked in Bryant's game, as he really can do a whole lot more than hit the ball. He is a good defender in a variety of positions and is one of the best, if not the best, baserunners on the team. Now that he is playing at an MVP level once again, his future status with the team will be the most critical topic going forward, as the Cubs need to decide what to do with him.
ICYMI: WATCH: Kris Bryant robs potential game-tying home run in bottom of ninth https://t.co/wCGW0iM7ro

— CubsHQ.com (@ChicagoCubsHQ) June 7, 2021

Tags: Cubs Baseball
,
Kyle Hendricks
,
Patrick Wisdom
,
Javy Baez
,
Ryan Tepera
,
Andrew Chafin
,
Craig Kimbrel
,
David Ross
,
Kris Bryant
,
Anthony Rizzo
,
Ben Zobrist
,
Joc Pederson