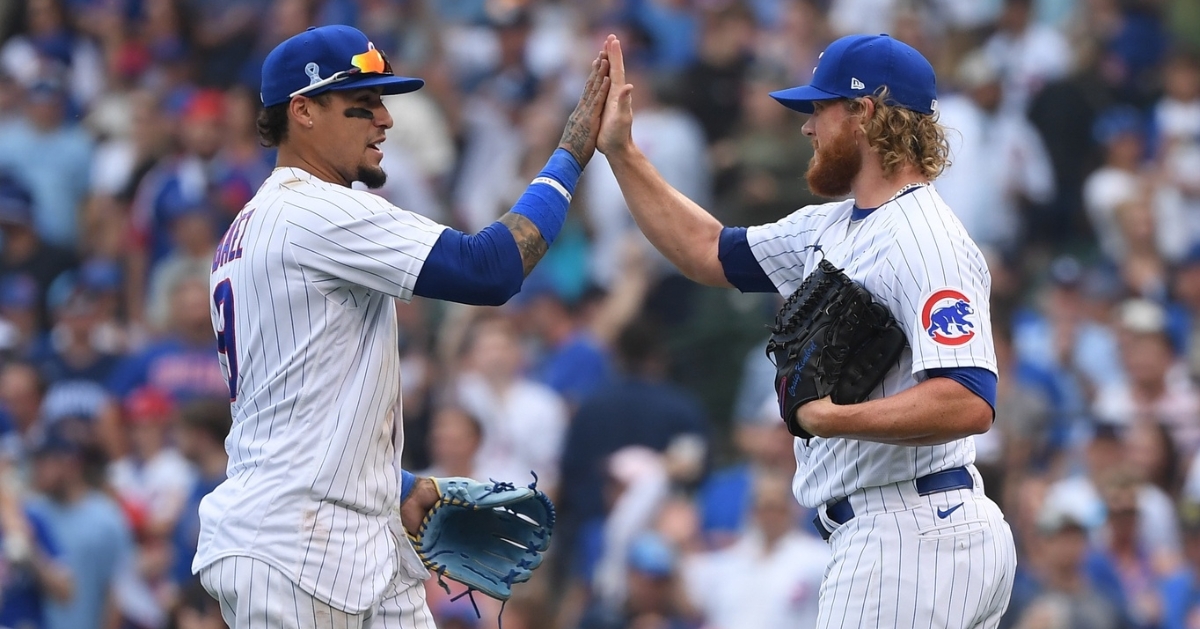 | | |
| --- | --- |
| Three takeaways from Cubs win over Marlins | |
---
Happy belated Father's Day, Cubs fans.
After a disappointing showing during the first two games of this series, the Cubs turned the tables on Sunday and took the series finale 2-0 over Miami. Making his second start since returning to the rotation, Alec Mills appears to be settling in nicely, holding the Marlins scoreless across five solid innings while striking out three.
Mills then turned things over to the three-headed monster of Ryan Tepera, Andrew Chafin, and Craig Kimbrel, who took care of the Marlins the rest of the way to secure the shutout and pick up a much-needed win. The Cubs continued to struggle offensively, but they did just enough today to pick up a win. Joc Pederson was involved in both runs, striking out in the bottom of third on a passed ball which allowed Jason Heyward to score, before ripping an RBI single past Jesus Aguilar in the fifth.
Ian Happ, Patrick Wisdom, and Jake Marisnick each added hits later in the game as the Cubs were held hitless through five and were outhit in the contest. Wisdom had an incredible at-bat after entering the game as a pinch hitter, fouling off 10 pitches and picking up a single on the 15th pitch. He continues to be the jolt of energy this team needs while several others continue to struggle.
Javy Baez flashes the leather
While Baez may be slumping at the plate this month, his defense is certainly not, and that was on full display all series long. After making a couple of great plays on both Friday and Saturday, Baez upped the ante on Sunday by making three incredible plays on defense, with one possibly saving the game.
It was in the second inning when Baez dove to his right to snare a Jon Berti one-hopper. Baez then got to his feet and fired to second to record the out and end the inning. That play was critical as it appeared to help settle Mills down a bit. Who knows what happens if he doesn't make that play?
For all the bad that Baez has had at the plate, there has been plenty of good with his glove, and he continues to play at a gold glove level. Baez will start to hit again at some point this season, but for now, the Cubs will rely on his glove to help anchor the infield defense.
WHAT KIND OF SORCERY IS THIS FROM JAVY BAEZ pic.twitter.com/pvdkbQBAsr

— Ben Verlander (@Verly32) June 20, 2021
Anthony Rizzo with a rare unimpressive day
For the bulk of his career, Rizzo has been one of the most reliable Cubs on this roster as he continues to produce at a consistent level. Even during his slow starts or season slumps that he often gets into, Rizzo will always pick his team up by playing strong defense and giving the Cubs the vocal leader they need in the clubhouse.
However, Rizzo had a rare rough day on Sunday and perhaps his worst day as a pro when it comes to running bases. To go with his average slumping over the past few weeks, Rizzo was picked off not once, but twice on the bases, and both came in consecutive trips on the base paths.
Rizzo is not a burner by any means, but he is typically an intelligent baserunner who makes excellent decisions. Seeing mental errors like that are very surprising coming from him, but those things tend to happen when you are struggling the win games. The Cubs have been sloppy in their best 10 games, and the results are showing on the field. They need to get back to the basics and stop the mental errors both in the field and on the bases.
Jorge Alfaro throws behind Anthony Rizzo and guns him down at 2nd!

Marlins down 1-0 after 4...#MIAvsCHC #MLB #JuntosMiami pic.twitter.com/G5RHl4JOXP

— Bally Sports Florida: Marlins (@BallyMarlins) June 20, 2021
Moving on up
The resurgence this season by Kimbrel has to go down as one of the bigger stories in baseball as he is pitching lights out. Not only did Kimbrel lower his ERA to 0.61 after earning his 20th save on Sunday, but he is pitching the best he has in years. Not only does he appear to have the comeback player of the year locked up, but he could be in line for reliever of the year also.
At 33 years old, Kimbrel has been around the block a few times and could have plenty of seasons left in the tank. Following his save on Sunday, Kimbrel moved into a tie for 9th all-time as he joins Jonathan Papelbon on that list. Next up is Joe Nathan, who is just nine in front of Kimbrel.
Should Kimbrel knock down 13 more saves this season, that would put him at 390 for his career and land him tied for seventh with Dennis Eckersley. He then can focus on becoming just the seventh player ever to reach 400 saves by early next season or perhaps this season, depending on what he ends up with.
Either way, look for Kimbrel to pass Billy Wagner, John Franco, and Francisco Rodriguez sometime next season as he approaches top-five status. Before Kimbrel decides to call it quits, I feel he passes Lee Smith for third all-time, but that may be it as Trevor Hoffman, and Mario Rivera will be hard to catch. Even if he ends up third all-time, you are looking at a first-ballot Hall of Famer as he should be one of three players to secure 500 or more career saves.
Craig Kimbrel, 87mph Knuckle Curve and 97mph Fastball, Individual Pitches + Overlay. ?? pic.twitter.com/EfS4vZ8m5T

— Rob Friedman (@PitchingNinja) June 20, 2021

Tags: Cubs Baseball
,
Alec Mills
,
Ryan Tepera
,
Andrew Chafin
,
Craig Kimbrel
,
Joc Pederson
,
Jason Heyward
,
Ian Happ
,
Patrick Wisdom
,
Jake Marisnick
,
Javy Baez
,
Anthony Rizzo