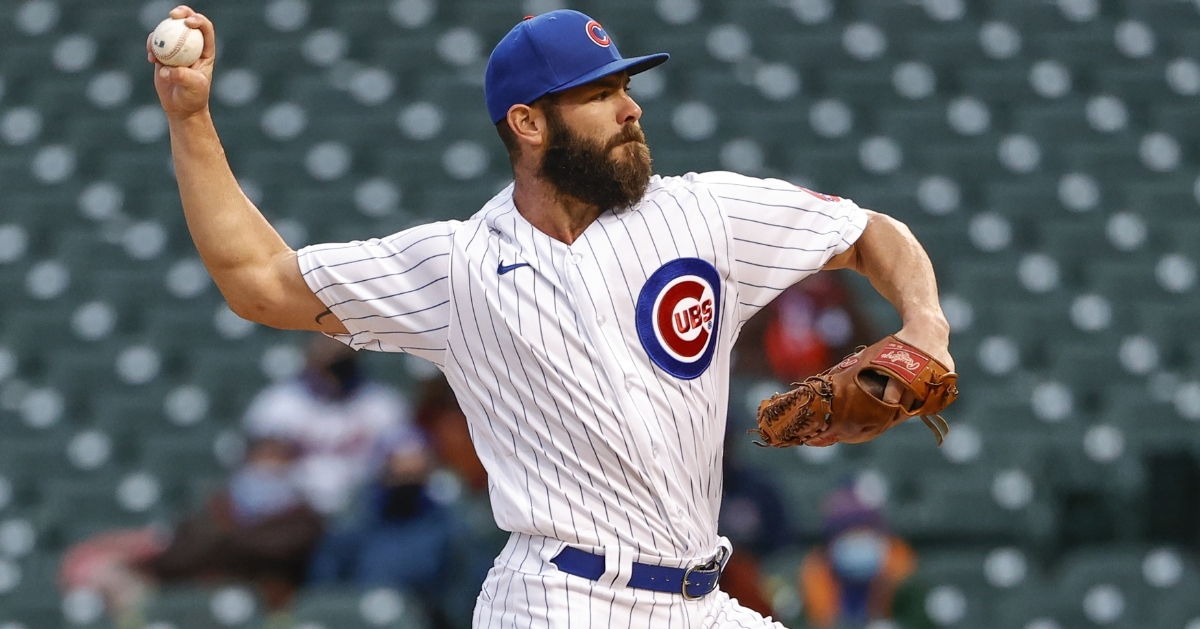 | | |
| --- | --- |
| Three takeaways from Cubs win over Mets | |
---
| | | |
| --- | --- | --- |
| Wednesday, April 21, 2021, 8:25 AM | | |
In a frigid winter-like evening on the North Side, the Cubs hoped Jake Arrieta could deliver some home cooking as he faced Taijuan Walker and the Mets. Something about stepping on that Wrigley Field mound brings out the best in Arrieta as he was at it again. Despite walking three and striking out four, Arrieta was solid once again, getting through five innings to secure his third win of the season.
He allowed just one earned run on three hits in his outing as his ERA lowers to 2.86. Arrieta is not the strikeout pitcher he once was, and his command certainly isn't as sharp, but if he continues to pitch this way all season, the Cubs will be fine with him. On the other hand, Walker struggled even more with his command as he walked six batters to go with seven punchouts in 3 2/3 innings of work.
A lot of that had to do with a defense that let him down, with Willson Contreras reaching on an error in the third to bring home the games first run. The Cubs then played small ball in the fourth to push across their second run with Jason Heyward singling before stealing second and then coming home on an Eric Sogard single. Sogard had a nice night for the Cubs, picking up a pair of hits to go with a couple of nice defensive plays.
Later in the fourth, Walker's frustrations started to show as the strike zone appeared to be shrinking. With him struggling to get some calls, he walked Contreras with the bases loaded, forcing in the game's third run, and then was ejected following his departure. The Mets added their lone run in the top of the fifth when J.D. Davis got every bit of an Arrieta cutter and crushed it to left. New York would have a chance to tie things up, but Arrieta finished them off.
The Mets had a golden opportunity in the ninth to tie things up as they loaded the bases against Craig Kimbrel. As dominant as Kimbrel has been, Tuesday was not his best performance, and the Mets had him on the ropes. Thankfully, Francisco Lindor continues to struggle, beating one into the ground for Anthony Rizzo, who stepped on first to secure the 3-1 win.
Small ball does work
One of the biggest knocks on the game of baseball is the unwillingness for teams to play small ball to manufacture runs. With an emphasis on the big inning or home runs, teams have gone away from small ball, and the terrible offensive numbers have followed.
Tuesday saw the Cubs play small ball not once but twice as it led to a pair of runs. First was the third inning, where Sogard singled to lead things off. Arrieta then dropped down a sacrifice bunt with two strikes moving Sogard to second. With two outs, Contreras hit a chopper to third and was safe via a throwing error. Sogard scored on that play, and it wouldn't have been possible without the bunt attempt.
One inning later saw Heyward rip a single to center field. Looking to get something going, Heyward stole second with a great slide setting things up for Sogard. He took care of the rest with an RBI single up the middle, and once again, that doesn't happen without the small ball. Home runs and everything is great, but sometimes I wish teams would go with a small ball approach like the old days. Chicago did that on Tuesday, and it worked to perfection.
Stealing a run! pic.twitter.com/Zjtr6zD8iL

— Marquee Sports Network (@WatchMarquee) April 21, 2021
April weather in Wrigley is so much fun
Wrigley Field is one of the best, if not the best, ballpark in the game when it comes to a baseball experience. That is unless we are talking about the weather, where April weather in Chicago is fun, to say the least. During their last homestand, the Cubs saw above-average temperatures throughout, with most of the games in the upper 50's or low 60's.
That was a trend of some abnormal above-average highs early in the season as it was nice to see great weather. However, fans who live in the Chicago area know that kind of weather doesn't last, and it has been an indication to start this homestand. So far, the Cubs have seen temperatures hovering in the 40's with last night's game sitting at 35 degrees for the first pitch. I don't care who you are; that is terribly cold for a baseball game.
I know fans don't want to hear the excuse that weather plays a factor in a team's success. I will never use that as an excuse, but sometimes it does play a factor on the mental side of things. When players are cold, they tend to tense up and focus on nothing but being cold. You could see it at times in the game last night where both sides just wanted the game to be done.
That is part of the fun of playing at Wrigley Field. While some teams have elevation and wind tunnels as home-field advantage, the Cubs have Lake Michigan, changing how a game is played more than once during the contest. The Cubs offense averages two runs less per game at home for a reason, and the weather is a big reason for that.
0-8 with 7K's
That was the start line for Joc Pederson and Javy Baez as the Cubs five, and six hitters went 0-8 with seven strikeouts on Tuesday. Baez wore the golden sombrero following a four-strikeout night where Pederson at least made contact in his last at-bat. Rough games like this will happen as there have been 30 players who have struck out four times in a game already this season.
However, it is the way both struck out that is concerning for fans. Not only did they go down on five pitches or less most of the time, but they looked lost and overmatched at the plate. Both were late on fastballs, chasing breaking balls, and it seemed like they were guessing what pitch was going to come next.
Baez has never had a good approach at the plate, and his eye has never been good. However, this season seems to be the worst it has ever been as he leads the majors in strikeouts to go with just one walk. Fans should be concerned with Baez and what they see. Not only is he hitting under .100 against fastballs which he hit .314 against three years ago, but he has no pitch recognition in the box.
Javy Baez now has 31 strikeouts in 60 at-bats this season, including four tonight.. After hitting .203 and striking out at a 31.9% clip in 2020, the concerns are warranted.

— Chris Emma (@CEmma670) April 21, 2021
That means he isn't picking up the ball out of the pitchers' hands and is making up his mind to swing before he can recognize it. That is a problem that can't be fixed overnight and will hurt him when it comes to his next contract. Pederson, on the other hand, is striking out but not like Baez.
He is at least willing to take his walks and has shown better plate discipline. For the Cubs to start winning games consistently and for their offense to take the next step, these two need to pick it up. They are middle of the order bats paid to produce, and outside of a few timely hits from Baez, they have not done that.