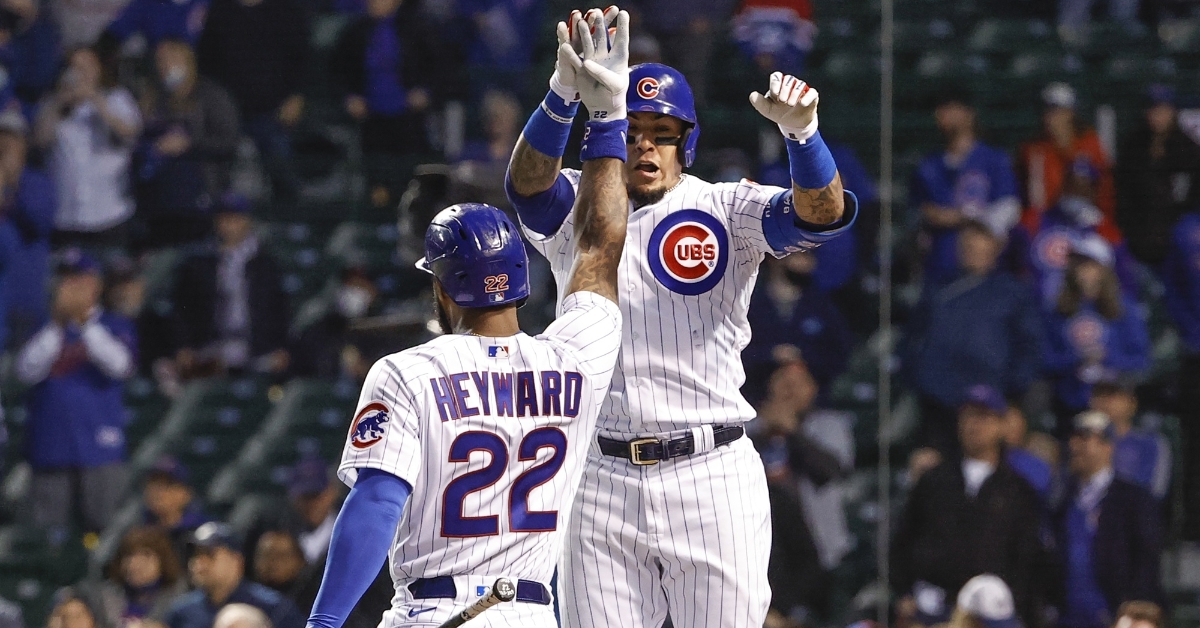 | | |
| --- | --- |
| Three takeaways from Cubs win over Nationals | |
---
| | | |
| --- | --- | --- |
| Tuesday, May 18, 2021, 2:16 PM | | |
It was an emotional night at Wrigley last night as the Cubs welcomed the Nationals for game one of a four-game set. This series also happens to be the first time Kyle Schwarber and Jon Lester returned home after playing for the Cubs since 2015.
With no fans in attendance in 2020, this was the proper sendoff they needed as Cubs nation made sure to show their love for these two. Even after the pregame tributes, standing ovations, and clear emotions taking over, there was still a baseball game to play where silly antics were bound to happen at some point.
Lester has had a ton of success at Wrigley Field, but not against the Cubs as he is now 0-3 in three career starts against them. Lester was a little amped up in the early going, which is why the Cubs were able to push across three runs in the first two innings. The first of those was an Anthony Rizzo sacrifice fly in the first before Jason Heyward went oppo for a two-run shot in the second to give the Cubs a 3-0.
A three doesn't seem like a lot, but when you consider how well Adbert Alzolay has pitched lately, that is more than enough. Alzolay didn't last long, getting through five innings, but he did just enough to secure the win allowing three earned runs off a Trea Turner solo shot in the third and a Kyle Schwarber two-run shot in the fourth. Thankfully for him, Willson Contreras took Lester deep in the third as he left with a 4-3 lead before turning things over to the pen.
That was when the combination of Rex Brothers, Ryan Tepera, and Andrew Chafin continued to shine as they were able to keep the National bats in check. Add in a solo homer from Javy Baez, mixed in with RBI singles from Eric Sogard and Heyward, and the Cubs were on cruise control heading to the ninth up 7-3. 30-year-old rookie Tommy Nance entered in the ninth to slam the door, and the Cubs took game one 7-3.
Finally, the proper sendoff
Long before COVID delayed the start of the 2020 season, Lester came to terms that last season could be his last with the Cubs. In what will go down as the greatest free-agent signing in team history, Lester's six-year run in Chicago was nothing short of spectacular as he gave the fans everything on the field.
Once baseball returned with no fans, Lester never seemed to rise to the occasion as the energy level wasn't there. Add in the Cubs losing 2-0 in the Wild Card Playoff round, and Lester never had the opportunity to pitch in the postseason making his final season with the Cubs an eventful one but one he would like to forget.
Lester expressed his desire to remain a Cub all offseason but also knows this is a business. Unfortunately, from a business side of things, it didn't work, so the Cubs declined to pick up his seventh-year option, which allowed him to pursue the open market. He eventually signed with the Nationals on a one-year deal where he returned to his home last night.
Everyone knew going into that game that it would be emotional for everyone involved, but it was the least the fans could do for Lester. The way they took to him from the moment he arrived in Chicago through last night shows how beloved he is with Chicago nation. Although he wasn't pitching for the Cubs last night, it was finally the proper sendoff Lester deserved after putting together six incredible seasons with the Cubs.
Congrats Tommy Nance
Baseball is a game about determination, and nothing describes determination more than Nance. At 30 years old, Nance was drafted back in 2012, where he spent his entire career in the minor leagues. He even spent one season in the Independent league as his MLB career seemed to be over before it truly began.
Not about to give up, Nance continued to work hard, eventually coming to the Cubs minor league system in 2016. Since then, Nance has bounced around the system quite a bit but has been a reliable arm for them, going 8-7 with a 3.33 ERA and eight saves in 71 games. His 45BB to 122K ratio is impressive, as he was often overlooked when it came to calling up players.
Well, overlooked no more as Nance finally made his major league debut at the age of 30 last night, throwing an impressive scoreless inning of relief. Not only did he have great stuff needing just 11 pitches (9 strikes) to get out of the inning, but he showed much better velocity than expected, hitting 98 MPH. His stuff was crisp, he was able to throw strikes, and he looked like he belonged.
Time to take of the training wheels
When the Cubs were deciding who to give the No. 5 spot in the rotation to, there were many factors to consider. One of those factors to consider was the lack of innings under Alzolay's belt and his overall injury history. Even with that in the back of their minds, the Cubs made him the No. 5 starter, and he has rewarded them with that decision thus far.
Alzolay is not only the hardest thrower in the rotation but the youngest who brings with him incredible stuff. He has gotten better each start and is proving to be exactly what the Cubs expected of him. If he can cut down on allowing the long ball, his results will get much better. However, it is time the Cubs take off the training wheels and truly see what he has.
I understand the Cubs will monitor his innings this season which is evident when they pulled him after just five innings last night and have only allowed him to go six one time this season. The problem I had with last night is that he was only at 64 pitches, so it wasn't like his pitch count was in bad shape. Say what you want about analytics and facing an order a third time through, but Alzolay was doing just fine and deserved to come back out.
Monitoring his innings this season will be a huge factor when it comes to keeping him healthy. However, if he is cruising along and keeping a low pitch count, stop pulling him and just let him go until he starts showing signs of fatigue. The only way for a young pitcher to learn is to be left in there to learn from his mistakes.
The longer you keep the training wheels on, the longer it will take for them to develop. If the Cubs truly see him as a front-line starter or at the very least a middle of the rotation arm, they need to start treating him that way. Monitoring his innings may have seemed like a good idea early on but for now, let him go and let him develop into the top starter fans have hoped for.

Tags: Cubs Baseball
,
Kyle Schwarber
,
Jon Lester
,
Anthony Rizzo
,
Jason Heyward
,
Adbert Alzolay
,
Willson Contreras
,
Rex Brothers
,
Ryan Tepera
,
Andrew Chafin
,
Javy Baez