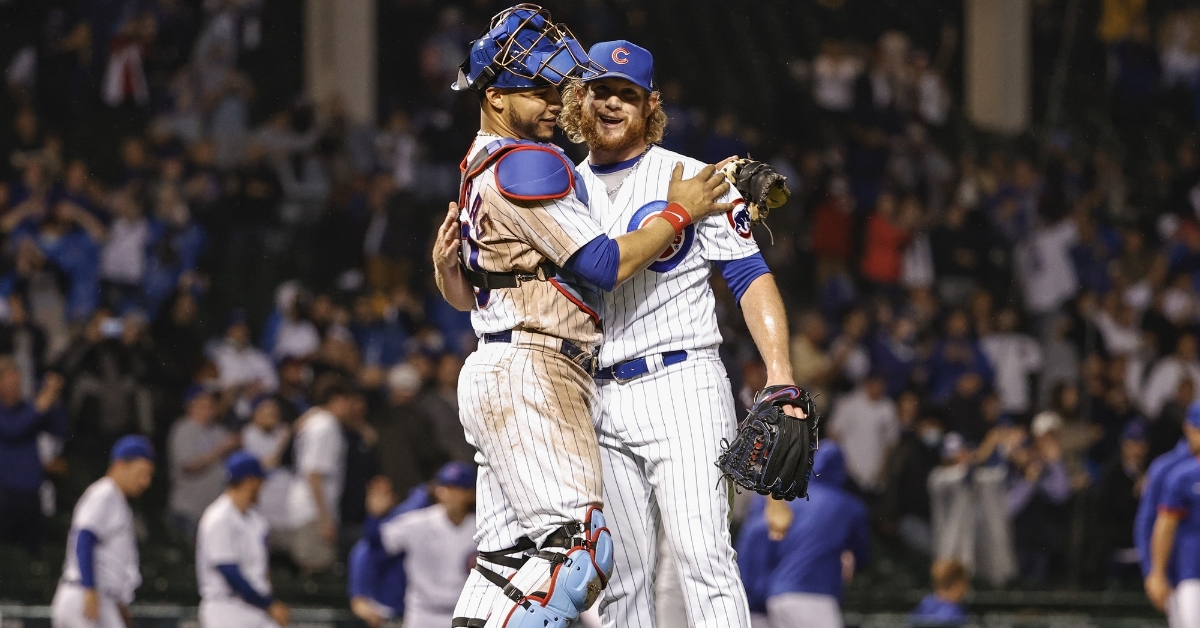 | | |
| --- | --- |
| Three takeaways from Cubs win over Nationals | |
---
| | | |
| --- | --- | --- |
| Wednesday, May 19, 2021, 12:41 PM | | |
It took a while, but the Cubs finally climbed back over .500 last night following a 6-3 win over the Nationals. Zach Davies delivered a five-inning performance that kept his team in the game long enough for the offense to finally solve Patrick Corbin, who has been known to dominate them on the mound.
Once the Cubs had the lead in the sixth inning, it was game over as they turned to Keegan Thompson, Justin Steele, Dan Winkler, and Craig Kimbrel to slam the door as the bullpen continues to be impressive this season. Willson Contreras singled home a pair of runs in the third to get things started as the Cubs opened a 2-0 lead.
After his rough April, Davies has settled in nicely so far in May and has pitched much better lately. He was able to keep the Nationals off the scoreboard for four innings until Trea Turner connected for an RBI single in the fifth as part of a two-run fifth to tie the game. Kris Bryant answered with an infield single in the bottom of the fifth to give the Cubs a 3-2 lead, only to see Starlin Castro snap an 0-21 steak with a solo shot to tie things up 3-3 in the sixth.
It was all Chicago after that as their bullpen not only shut down the Washington offense but their offense connected for a pair of late-game homers. David Bote was responsible for the first in the bottom of the sixth as his two-run shot was the game-winner putting the Cubs up 5-3. Ian Happ would then add some late-game insurance with a solo shot in the eighth as the Cubs have taken the first two from Washington, winning 6-3.
There are several things you can count on from Rizzo every year. Along with gold glove defense and the consistent production, you can also count on him warming up once the weather warms up. That has been the case over the past two weeks, and that shouldn't change.
However, one thing that has hampered him for years is his back, as he continues to have back issues. That veered its ugly head again yesterday as Rizzo was removed from the game with lower back stiffness. Right now, it doesn't seem too serious as David Ross said the move was more of a precautionary thing, so it didn't get worse.
However, Rizzo has a history of a bad back, so anytime he leaves with a back injury, it is concerning. Typically, when this happens, he tends to miss a few games waiting for it to loosen up. He has gone on the IL twice because of it, and the Cubs are hoping that doesn't happen here. They need his bat in the lineup, especially when you look at how challenging their schedule is here in May. Don't expect him to be in the lineup on Wednesday or Thursday, as the Cubs hope he is good to go by Friday.
ICYMI: Anthony Rizzo leaves game due to injury https://t.co/kSEHPKdLqR

— CubsHQ.com (@ChicagoCubsHQ) May 19, 2021
David Bote loves the Nationals
Ever since arriving on the MLB stage, Bote has had a flair for dramatics coming through in several clutch situations. However, none were as clutch as his walk-off grand slam against the Nationals in 2018, as that is still one of the top 10 moments for the Cubs over the past three years. Since then,
Bote has had his share of struggles but still managed to lead the Cubs in RBI's last season and has come up clutch this year.
Last night was a prime example of a clutch hit as his homer proved to be the game-winner last night. Some players love to face specific teams, and Bote loves to face the Nationals. Not only will his walk-off homer against them be a memory he never forgets, but his homer last night is another memory he can chalk up against this team.
If this were a team he could face 19 times a season instead of six or seven, I would be curious to see what kind of numbers he would put up. Take his .193 average aside from this season, and Bote has done very well against Washington, where he is hitting north of .300. With Rizzo mostly likely down the next few days, look for Matt Duffy to slide to first base, with Bote getting more reps at third.
WATCH: David Bote slugs go-ahead two-run 'Bote Bomb' https://t.co/lfg6QTMgcX

— CubsHQ.com (@ChicagoCubsHQ) May 19, 2021
What else do we need to see from Thompson?
This new wave of Cubs pitching is refreshing to see, especially when they are homegrown talent. Thompson is especially refreshing to see as he continues to rise to the occasion. Not only does he have one start under his belt where he went toe-toe with Walker Buehler, but he has continued to pitch amazing out of the pen while displaying excellent command.
In 1 1/3 innings last night, Thompson silenced the Nationals bats, walking one and striking out three as he now has seven punchouts in his previous three innings of work. He continues to show his worth to this team, and Ross is starting to trust him more by throwing him out in difficult situations.
At this point, I don't see how there is any way you could send him down unless he goes through a terrible rough stretch. Thompson has proven to the Cubs he can be valuable across the board, but his future is still a starting pitcher. It is only a matter of time until the Cubs let him start, as I think he becomes a permanent member in the rotation sometime in late July.
A note from the Cubs:

Rookie Keegan Thompson has spun 11.2 consecutive innings without allowing an earned run to begin his MLB career.

That's the third-longest streak in Cubs history, trailing only Larry Cheney (28 IP in 1911-12) and Vern Olsen (15.1 IP in 1939-40).

— Jordan Bastian (@MLBastian) May 19, 2021

Tags: Cubs Baseball
,
Zach Davies
,
Keegan Thompson
,
Justin Steele
,
Craig Kimbrel
,
Willson Contreras
,
Kris Bryant
,
David Bote
,
Ian Happ
,
Anthony Rizzo
,
David Ross