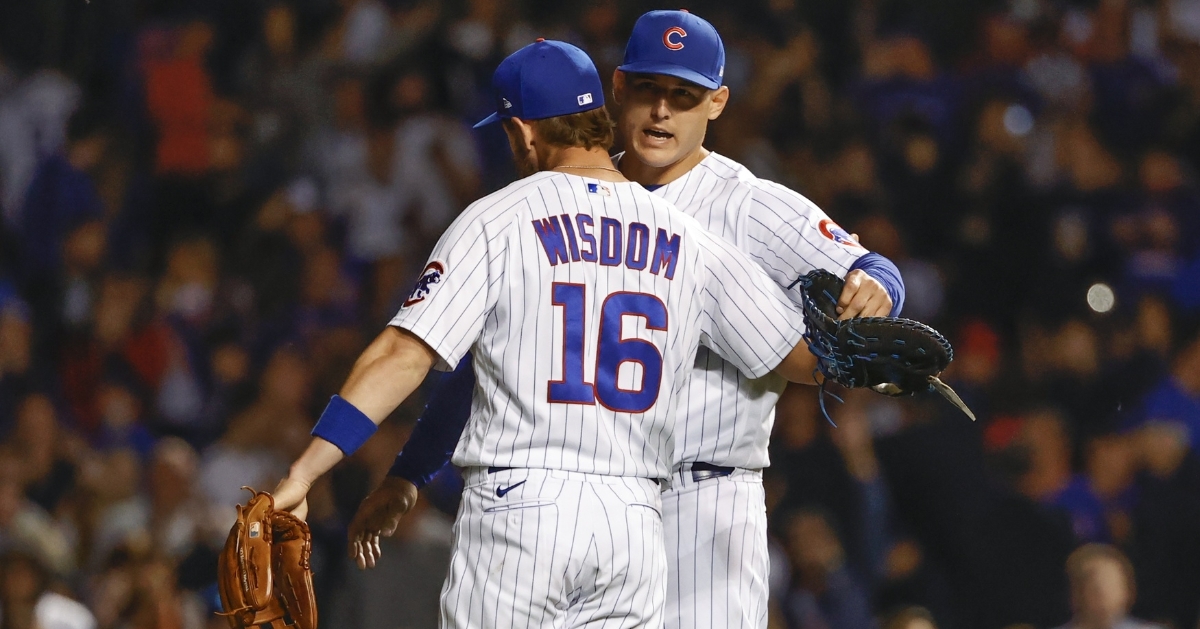 | | |
| --- | --- |
| Three takeaways from Cubs win over Padres | |
---
| | | |
| --- | --- | --- |
| Wednesday, June 2, 2021, 10:30 AM | | |
Whoever this Cubs team is, has been a breath of fresh air as they are much better than what most expected. After beating the San Diego Padres 4-3 on Tuesday after beating them on Monday, they have won another series, and this one has come against an outstanding Padres team. In fact, they are 5-0 against the Dodgers and San Diego so far and 10-1 against teams who would currently be in the NL playoff picture with the Giants coming up.
The bottom line is, not only are the Cubs beating good teams, but they are a good team themselves as they are finding a variety of ways to win from the top down. They are doing all this with a roster depleted by injuries and realistically haven't been healthy for a single game this season. It is scary to think about where this team could go when fully healthy, but it also becomes a challenge for David Ross as he will be forced to find playing time for everyone.
It was a home run derby for the second day in a row, as all seven runs came from homers last night. Patrick Wisdom connected for his third in two days and fourth in 10 games with the Cubs this season, while Willson Contreras unloaded a game-winning homer in the fifth to back another strong Kyle Hendricks start.
Despite Hendricks serving up homers to Victor Caratini and Tommy Pham, giving him 16 homers allowed on the season, he has now won four consecutive decisions for the second time in his career, with the only other time happening in 2016. All 11 runs for the Cubs this series have come on seven homers as they have lived off the long ball this series. It is working so far, but it would be nice to see them get back to that small ball approach once again.
Another thing that was on center stage heading into this series was a battle between two of the best bullpens in the national league. For the most part, both units have lived up to that billing, but it has been the Cubs who have been slightly better once again. Craig Kimbrel was the best he looked as a Cub last night, striking out the side on just 13 pitches in the ninth to secure the win.
Who is this Patrick Wisdom guy?
Typically, when you talk about a 29-year-old journeyman minor leaguer, you tend to think about someone bouncing around hoping to stick. However, that is not the case for Wisdom, as he always had the potential to be a solid player. Drafted by the Cardinals, Wisdom never found a home on the Major League roster as some felt he never received the chance he deserved.
When you look at his Minor league stats, it is hard to fathom why they haven't given him a chance as he can flat out hit belting 31 homers in AAA a few seasons ago. With all the injuries this Cubs team has sustained this season, Wisdom is finally getting a chance to be an everyday guy right now and is making the most of that chance.
Not only does he have three homers in the past two games, but four over his first 10 with the team making him just the 17th player in franchise history ever to do that. Eventually, Wisdom will cool off, but for now, the team will ride his hot streak. The problem then comes what happens to Matt Duffy when he returns.
Much like Wisdom, Duffy was a journeyman player who never was given much of a chance at a starting job. Once the Cubs inserted him as the everyday third basemen, he started to look like the hitter many felt he was over his career. Ross will have some difficult choices to make soon, and Wisdom will be one of those choices.
Patrick Wisdom is 9-for-18 with 4 homers since rejoining the Cubs. #CubTogether pic.twitter.com/6eLYXdT9R1

— Chicago Cubs (@Cubs) June 2, 2021
26-1 record
With the win last night, the Cubs are now 26-1 on the season when leading after seven innings. That is second in major league baseball, only behind the Cardinals, who are 27-0 when leading at any point after seven innings. That is an impressive stat when you look at how bad this offense struggled the first month of the season.
A big reason for those numbers has been this bullpen who continues to pitch well and is establishing a new scoreless streak as we speak. While they may not surpass 30 scoreless innings this season, if they are giving up one run every four or five innings, they will have a regular-season ERA somewhere in the low 2.00 range, and that is impressive.
If they continue to pitch the way they have over the last month to preserve the leads the Cubs have, this team will not only win a lot of games but will be buyers come the deadline. Chicago is about to embark on a brutal stretch of games, and depending on how they come through after this stretch will give us a great idea of what the team's plan is come July and for the future.
*Sweet Child O' Mine plays* pic.twitter.com/ByItQYmBL9

— Marquee Sports Network (@WatchMarquee) June 2, 2021
This team is the real-life version of Major League
One of the best baseball movies is Major League. Those who haven't seen that movie are a comedy movie based on a Cleveland Indians team that was picked to finish dead last based on a terrible offseason and history. Instead, they not only turned into a first-place team but turned into a World Series contender as the pieces they had in place surpassed any expectation.
I compare the Cubs of this season to that movie, especially when you look at their offseason. Not only did they lose a lot of key pieces from 2020, but they filled their roster with a cast of what people would call has-beens or minor leaguers just to put a full roster together.
What felt like a rebuilding season is quickly turning into a special one as this team is looking like one of the best teams in the national league. The players they acquired are playing a ton and producing much better than even they had hoped as they continue to survive the injuries they sustained.
Ross is doing an incredible job with this team, and fans are starting to become believers in this group again. Even with a bunch of stars ticketed for free agency this fall, the Cubs are positioning themselves to not only add to this team this summer but to bring some of these players back as they are better than what nearly everyone thought they would be.