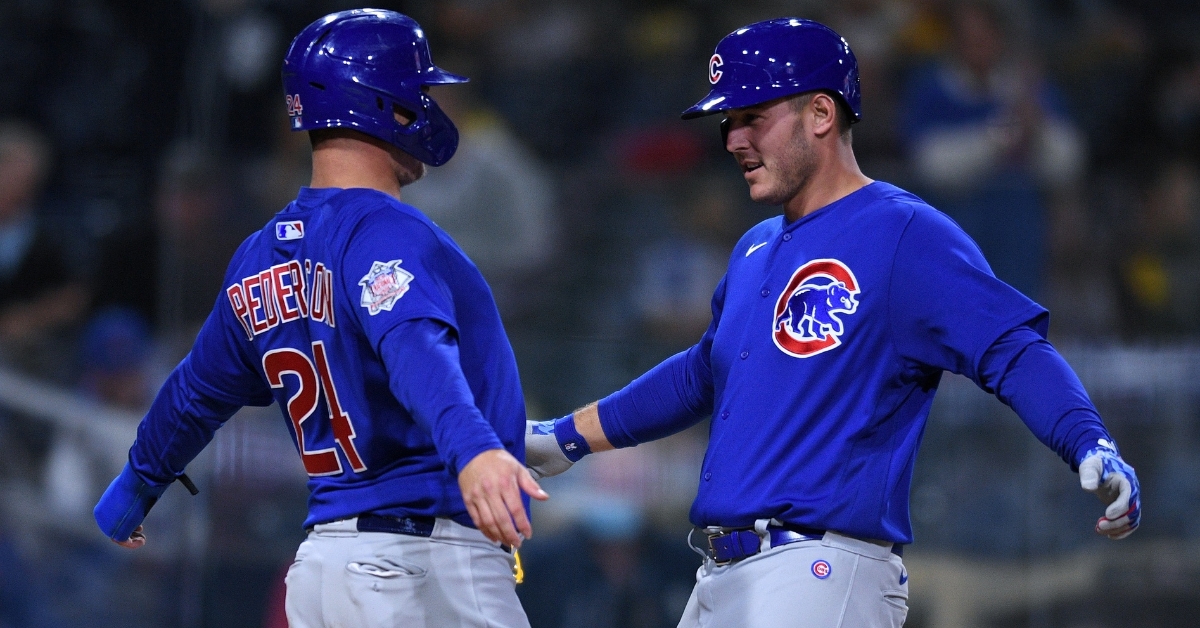 | | |
| --- | --- |
| Three takeaways from Cubs win over Padres | |
---
| | | |
| --- | --- | --- |
| Wednesday, June 9, 2021, 8:55 AM | | |
It was a great night for the Cubs in San Diego as they disposed of the Padres 7-1 to even up the series. Led by a fantastic pitching performance from Zach Davies and a trio of homers from the Cubs, Chicago was not only able to grab the lead on Dinelson Lamet, but pour it on later to secure the win. That win also guarantees them the season series win against this Padres team which is a massive statement if you ask the Cubs.
Much like Monday, Davies was living on the edge early in the game as his command wasn't where he would like it to be. Still, Davies was able to recover nicely as he limited the Padres to just one hit in six innings of work, walking two and striking out four. This was his best start of the season, and it wasn't close as Davies is finally starting to look like the pitcher the Cubs hoped he would.
After a scoreless game through three innings, the Cubs did some major damage across the next four frames which all seven of those came. The first of those was in the fourth inning when Willson Contreras got into a hanging Lamet slider and hammered it over the left-field fence for the 1-0 lead. Lamet, much like Davies, delivered his best start of the season, getting through not only four innings for the first time but five innings also.
Looking to pad their lead in the sixth, the Cubs erupted for four runs on the strength of an Anthony Rizzo two-run double and Patrick Wisdom homer pushing their advantage to 5-0. However, Rizzo wasn't quite done, as he got in on the homer fun with a two-run shot in the seventh, capping off a four-RBI Day with the Cubs leading 7-0.
With the Cubs bullpen in firm control, this game was all but over. Even so, San Diego wasn't going to go away quietly as Ha-Seong Kim connected for an RBI double off Alec Mills in the ninth to break the shutout and making things 7-1. Mills didn't allow anything else from that point on as the Cubs shorthanded or not continue to impress with a 7-1 win.
Happy homecoming:
It was a happy homecoming of sorts for a couple of Cubs as Davies and Rizzo stole the show. Starting with Rizzo, the once former San Diego Padres farmhand made his major league debut with San Diego at Petco Park nearly a decade ago.
Although he struggled in his brief time on the field, Rizzo still connected for his first-ever home run with the Padres before he was traded to the Cubs in exchange for Andrew Cashner and others. That trade changed the Cubs' future forever as he was the first of many puzzle pieces that Theo Epstein and Jed Hoyer were putting together for a world series run.
Given that San Diego was the team he made his debut with, Rizzo has also loved coming to Petco Park and has excellent numbers whenever he comes to play. He continued that on Tuesday, belting a homer and connecting for a double as he put together a four-RBI night and one of his best efforts of the season.
Anthony Rizzo, Padres killer pic.twitter.com/ZNEdRylgHX

— Barstool Chicago (@barstoolchicago) June 9, 2021
On the other hand, Davies didn't come through the Padres system but was instead traded there last season for Luis Urias and Eric Lauer. Once a member of San Diego, Davies went on to have his best season as a pro, even if it was a shortened season. His ERA was in the top five in the national league and quietly earned recognition of being a top pitcher in the game last season.
Seeing the Petco mound again brought back the Davies from last season and the ones the Cubs were hoping to get all season. Take away his horrible April, and Davies is looking like the pitcher he was last season. That will be huge for this Cubs team the rest of the way as he continues to deliver good outings.
Since May 1, Zach Davies has a 2.16 ERA.#CubTogether pic.twitter.com/YzVzVf2HXI

— Chicago Cubs (@Cubs) June 9, 2021
Patrick Wisdom makes Cubs history
The Cubs are not only one of the oldest but one of the most storied franchises in the game, filled with tons of history. From Sammy Sosa as the only player to have three 60 homer seasons to Kerry Wood's 20 strikeout game, it is all part of history that led up to the first world series title in 108 years during the 2016 season.
Even with all that history over the years, Wisdom took it upon himself to make more history last night, setting a Cubs record. The defending National League player of the week has been on quite a tear as of late, and he is showing the Cubs why he was a top prospect in the Cardinals system not too long ago.
Not only is he taking plenty of pitches per at-bat, but he is connecting for power as he went deep yet again last night for his eighth homer of the season. That was his eighth homer in 10 games which set a Cubs record for the most homers in a player's first 10 games.
There is no way Wisdom will keep this pace up all season, but when you look at how many great players have come through this organization, seeing your name on top of any Cubs list is excellent to see. Wisdom has left his mark with the team this season, and now he may have a record that doesn't get broken for a while.
Patrick Wisdom continued his torrid hitting with a 6th-inning HR tonight against the Padres.

His 8 HR in his 1st 10 starts for the Cubs are tied with Aristides Aquino (2019 for Reds) for the most HR in a player's first 10 starts with a team in modern MLB history (since 1900). pic.twitter.com/ifWn753k70

— ESPN Stats & Info (@ESPNStatsInfo) June 9, 2021
Tommy Pham is a great player
When playing for the Cardinals, Tommy Pham was a good player, but was often considered a role player at that time. He was part of a roster crunch that saw him, platoon, across the outfield grass with several other players but managed to gain more playing time with constant production. The Cubs know firsthand the production he was capable of as he had several big knocks against them over the years.
Once he was traded to Tampa Bay, Pham finally got the everyday opportunity he deserved, and it worked out well. So well that he became an All-star and is now playing at what seems like an all-star level every season. Not only does Pham bring with him a great eye at the plate, but he has surprising power to go with great speed and defense.
In other words, he is your ideal leadoff hitter, and the Padres offense is benefitting from him at the top. Over his career, Pham has had great numbers against the Cubs and has continued that trend this season. Chicago is fortunate enough now to see him six or seven times a year instead of 19 had he remained a Cardinal. I can only imagine how the Cardinals offense would look if he were still a part of that team.
In 88 plate appearances since May 15, Tommy Pham has a .432 on-base percentage.

— Kevin Acee (@sdutKevinAcee) June 8, 2021