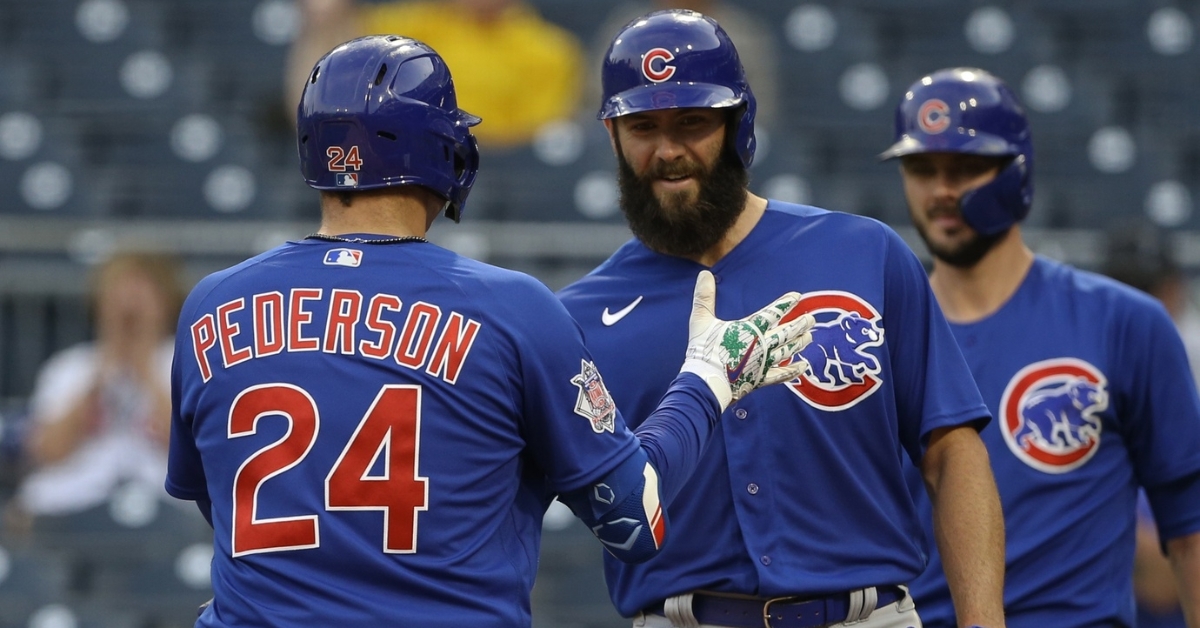 | | |
| --- | --- |
| Three takeaways from Cubs win over Pirates | |
---
| | | |
| --- | --- | --- |
| Wednesday, May 26, 2021, 8:17 AM | | |
Heading into this series, the Cubs have posted a 5-4 record against the Pirates so far this season. Once this three-game set is concluded, the teams will have played 25% of their regular-season games against one another, which is extremely odd this early.
Looking to remain unbeaten against the Pirates this season, Jake Arrieta took the ball against Cody Ponce, who was making his first start of the season. Historically, the Cubs have had trouble facing pitchers they are unfamiliar with. Early on, that was the case as the Pirates had the Cubs in a 3-0 hole early as Jacob Stallings and Ben Gamel recorded RBI singles to go along with a passed ball.
Once the Cubs came to bat in the third, things changed as Joc Pederson took Ponce deep for his third homer of the season. Pederson was just getting started as he went deep a second time in the fifth ahead of an Anthony Rizzo single, and just like that, that Cubs were up 4-3. Arrieta settled in nicely after his rough start and managed to get through five innings to be in line for the win.
What became a battle of two good bullpens, the Cubs continued to do their thing, keeping the Pirates scoreless the rest of the way. However, it didn't come without some drama in the ninth inning as the Pirates managed to put a runner on third base against Craig Kimbrel with just one out only to see him workaround that jam to secure the save and 4-3 win.
Those darn hamstrings
The Cubs are one of the more injured teams in baseball right now, and it got worse before the game. After nursing a back injury for the last week, Matt Duffy was placed on the 10-day IL as Patrick Wisdom comes aboard to take his place. With several other players already on the IL, Nico Hoerner may be heading their next after an ugly-looking injury.
Hoerner was off to a great start going 2-2, and was bidding for a 3-3 start. As Hoerner was looking to leg out an infield single, he started to grab the hamstring and then crippled over in pain after crossing the base. He was unable to continue, and the original diagnosis is a left hamstring strain. He now joins Justin Steele, Jason Heyward, and Jake Marisnick as players who are already on the IL with hamstring injuries.
Any injury is terrible at this point, but hamstrings are always the worst ones to see. Unfortunately, even the slightest of hamstring injuries can force a player to miss upwards of two months as they take time to fully heal. Hopefully, it will be less severe after further tests than they anticipated, but right now, it doesn't look good.
Prayers for Nico Hoerner ???? pic.twitter.com/cGY05X5qqc

— Cubs Zone ™? (@CubsZone) May 26, 2021
Pederson is playing like he is in Mesa
Pederson was undoubtedly the story of spring training putting together one of the more impressive showings in quite some time. Once he arrived in Chicago and the cold weather was abundant, Pederson not only saw his production go way down, but he struggled to do anything offensively the first month of the season.
That then led to a trip on the IL where once he returned, he has looked like a completely different player. Not only has he risen his average risen nearly 140 points, but he ranks second in the majors in exit velocity, only trialing Aaron Judge. Now, the power is starting to come back as Pederson is looking like the player from Mesa. It has been a long-time coming, but this is the player the Cubs expected to get when they signed him as a free agent this offseason.
Who knew all it would take was a trip to the IL followed by getting inserted into the leadoff role as the biggest reason for his improvement? Now that he is reaching the level he is playing at, Pederson is starting to prove he is worthy of staying in the lineup every day, including against lefties.
16th career 2-homer game for @yungjoc650!#CubTogether pic.twitter.com/Wda5t6Fyj1

— Chicago Cubs (@Cubs) May 26, 2021
Give the Pirates credit
Despite the Cubs 6-4 record against Pittsburgh so far and the Pirates being under 500, but I must give them some credit. They are a scrappy bunch of players who don't give up, and they have given the Cubs fits this season. Even though they have a losing record, seven of those 10 games have been decided by two runs or less and have often come down to a battle of the bullpens.
These are the games the Cubs need to win if they want to be true division contenders at the end of the year, but Pittsburgh certainly isn't making it easy on them. In the end, a win is a win, and that is exactly what the Cubs have been doing. Hopefully, the Cubs can keep that momentum going tomorrow, and it would be nice to have a blowout win to give some guys a much-needed day off, especially with all the injuries.