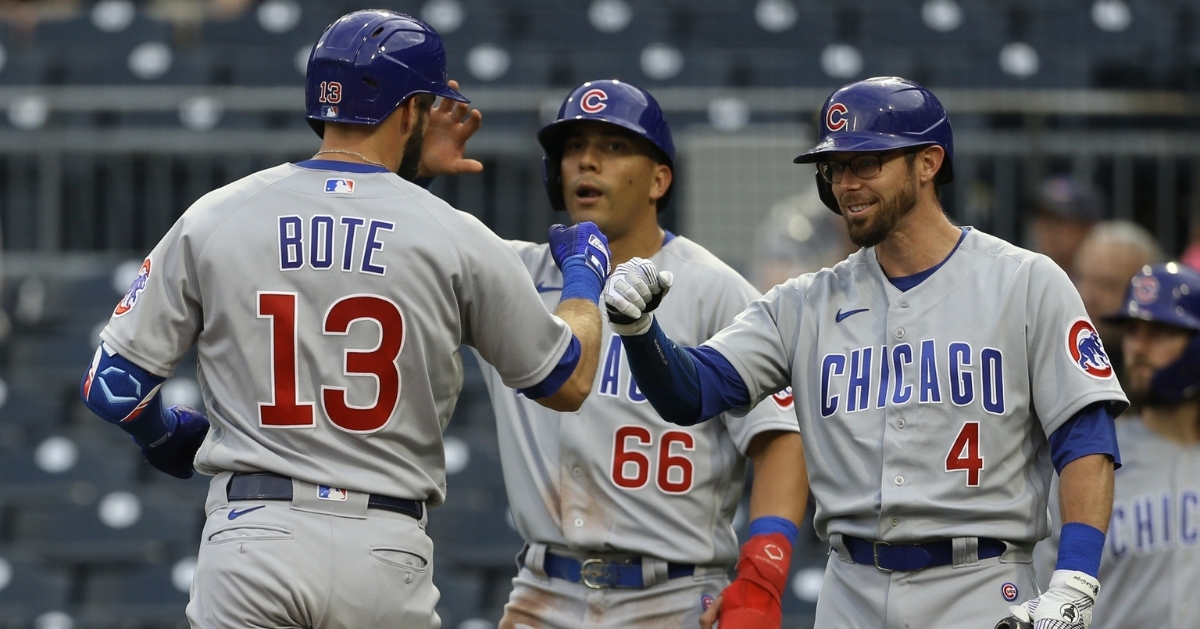 | | |
| --- | --- |
| Three takeaways from Cubs win over Pirates | |
---
| | | |
| --- | --- | --- |
| Thursday, May 27, 2021, 7:56 AM | | |
Another series underway, and another series win for the Cubs as they continue their red-hot stretch in May. This makes six series wins over their last seven and six straight series wins of three or more games.
In a match-up of pitchers desperately looking for a win, Trevor Williams took on youngster Will Crowe as he returned to the field, he spent his first five years on. Williams, who has struggled to find wins of late, looked like a completely different pitcher tonight as David Ross loosened the leash slightly and let him get through six innings.
A big reason for that was his effectiveness in throwing strikes early in the count, as he was able to keep the pitch count low. Williams finished the night allowing one run on three hits to go with seven punchouts and no walks. That was plenty good enough to secure the win as David Bote provided the game-winning homer in the second with a two-run shot before Kris Bryant followed that up with an RBI single. Bryant added a second RBI later in the game as the Cubs picked up another good 4-1 win.
Trevor Williams have a day
Not only has Williams struggled to make it deep into games, but he hasn't won a game since mid-April. So, needless to say, he was due for a win and finally got that win against the Pirates on Wednesday. Williams was impressive on the mound in his six innings of work as he allowed just three hits in the game. He also added two hits at the plate as he nearly out-hit the Pirates himself.
After Ross seemingly lost confidence in Williams a while ago, it seemed as if he gained a bit more confidence tonight as he let Williams not only get through the fifth but finish off the sixth in the process. Given his struggles away from Wrigley this year, this was an excellent start for Williams, and it should land as a confidence booster the rest of the way.
Williams looked the best he has all season on Wednesday, and this is the player the Cubs brought in. Hopefully, this is a sign of things to come for the right-hander, as he was in total command in this one.
Trevor Williams was phenomenal tonight. 6 IP, 3 H, 1 ER, 7 K's & went 2-3 at the plate ??????

(??: @WatchMarquee) @MeLlamoTrevor pic.twitter.com/SfQbFRZOh9

— Cubs Zone ™? (@CubsZone) May 27, 2021
Injuries with Chicago/Iowa Cubs
Injuries are always going to be part of the game of baseball, given the longevity of the season. However, the Cubs are dealing with more injuries than almost every team in baseball, and it is starting to get frustrating. What frustrates fans the most is that most of the injuries are hamstring injuries which affect every player a little bit differently.
In the process of so many people hitting the IL, the Cubs have had to count on their minor league system to fill in for extended periods, hence the Chicago/Iowa Cubs headline. Rafael Ortega was the newest name added to the roster as he joins P.J. Higgins, Patrick Wisdom, Tommy Nance, Keegan Thompson, Justin Steele, and several others who have all made their MLB or Season debut in the last month.
The only positive side from seeing so many minor league players is that it proves the Cubs have talent in the minor leagues, even if it isn't as prominent as other organizations. If it wasn't for the depth, the Cubs acquired this winter, who knows where this team would be at this given moment. Jed Hoyer deserves a ton of credit for how he has put this team together, as he knows a little more than what most fans thought he did when the offseason started.
Some of the @Cubs who have been on the IL are working their way back towards game action while at @SloanParkMesa - @ChrisAllen1622 @kohlrf Joe Wieland and @RowanWick pic.twitter.com/Os4juNS5Ls

— Rich Biesterfeld (@biest22) May 27, 2021
Thank you, White Sox
Although the Cardinals knocked off the White Sox 4-0 on Wednesday, they did help the Cubs along the way, taking the first two games from the Cardinals. That was coming off a weekend series win for the Cubs over that same Cardinals team as the Cubs have been able to close the gap in the division by 2.5 games in the process.
Instead of being potentially four-plus games out of first, this same Cubs team is now just .5 games behind St. Louis, and they are playing great baseball. This team is getting production from the top down in the lineup, and the starters are starting to come together and pitch much better and deeper into games.
Of course, this recent resurgence wouldn't be possible without this bullpen, which suddenly has become one of the best if not the best in the game. While there is still tons of baseball left this season, it is great to see the fight this Cubs team has shown in recent weeks. They are proving to everyone that they still have the talent to make some noise this year.
If they can continue to take care of business when teams like the Cardinals lose, it gives them more confidence going forward. This team knows they can play with anyone at this point and are starting to look like the team Ross envisioned they would during spring training.
WATCH: Joe West confiscates Cardinals pitcher's hat, ejects Mike Shildt https://t.co/9y9echaPcr

— CubsHQ.com (@ChicagoCubsHQ) May 27, 2021