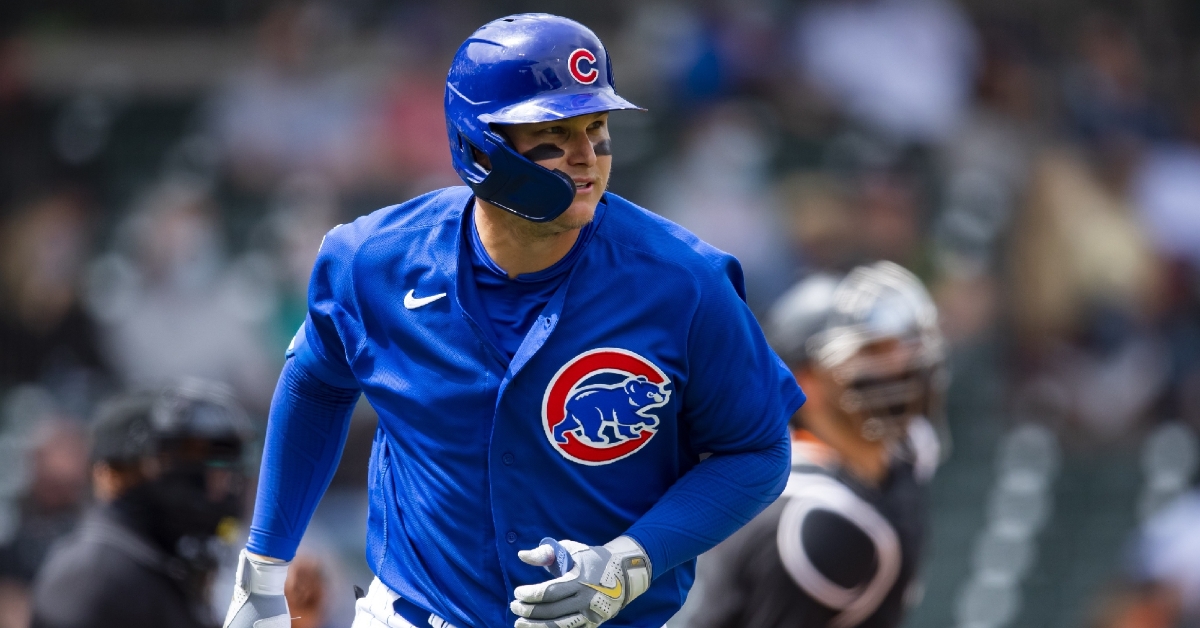 | | |
| --- | --- |
| Three takeaways from Giants tie with Cubs | |
---
We are getting down to the nitty-gritty here as the Cubs are in the final four games of Spring training. Looking to finish the spring on a high note, Kyle Hendricks took to the mound one last time, hoping to use this as a tune-up game for the regular season. His spring hasn't been that impressive, posting a 6.39 ERA after allowing three runs in just 4 1/3 inning of work today.
While his start may not have been great, Joc Pederson certainly has been playing great connecting for two, two-run shots in this game, bringing his total to seven this spring. That has him tied for the Cactus League lead with Corey Seager with a chance to take the lead this weekend. If it wasn't for a late-game let down by Jake Jewell, the Cubs win this game, but instead, they play to a 5-5 draw and push their record to 13-8-4.
You want to talk about a good start for this offense, look no further than the first inning. After Hendricks worked around some trouble in the top half of the inning, Ian Happ led things off with a double off Nick Tropeano before moving to third on a Javier Baez ground out. That set the stage for Pederson as he turned on an inside fastball and crushed it over the right center field wall to make things 2-0 Chicago.
Joc Jams, volume 6. pic.twitter.com/jKc46A27K6

— Chicago Cubs (@Cubs) March 26, 2021
While the Cubs offense was undoubtedly playing with confidence once again, Hendricks certainly wasn't as he continued to deal with traffic on the bases. After finding a way to wiggle out of it in the first, Austin Slater made sure that wouldn't happen twice in a row as his three-run homer to dead center gave the Giants a 3-2 lead. Hendricks would settle down after that, finishing with no walks and four strikeouts, but the damage was done to cap off what was a rough spring.
Listen to Anthony Rizzo mic'd up from yesterday's game! pic.twitter.com/FBQYvuN0AD

— Marquee Sports Network (@WatchMarquee) March 27, 2021
Down by a run in the bottom of the fourth, the Cubs bats once again came to life using a Nico Hoerner sacrifice fly to tie things up 3-3. The very next inning, it was time for Pederson to go yard again as they took a second pitch out to right-center to give the Cubs a 5-3 lead. After a quiet last few games for him, Pederson certainly woke up with a bang as his great spring continues.
Pitching with the lead, both Tommy Nance and Andrew Chafin were able to keep the Cubs in front as they turned things over to Dan Winkler in the seventh. Unable to harness his command, Winkler ended up walking two hitters and surrendered a Mike Yastrzemski RBI groundout as the Giants were within one at 5-4.
The next inning saw the Giants tie things up when Joey Bart got into a Jewell pitch for an RBI double, plating Brandon Crawford to tie the game up 5-5. A 1,2,3 bottom of the eighth and top of the ninth had the Cubs batting one last time with a chance for another walk-off in front of the fans. Despite a one-out Rafael Ortega single to give them a baserunner, Chicago couldn't do anything with it as they settled for a 5-5 draw with the Giants.
Hendricks with the rough spring
Before his start on Friday, David Ross announced that the Professor would indeed be the opening day starter once again, followed by Jake Arrieta and Zach Davies. A move that didn't come as a surprise when you look at his track record but one that may be questioned soon.
I know many times, people look at spring training and say that numbers don't matter. For the most part, they are correct, but these are still big-league players playing for a job and getting ready for the season. Granted, Hendricks may be prepared for the season, but his Spring showing has to have Cubs fans a little bit concerned.
Not only did he struggle once again, but his 6.91 ERA is the highest among all seven pitchers buying for a start in the rotation. If the results of his spring showing indicate what his season will be like, the Cubs ace is in trouble. Everyone knows Hendricks is a better pitcher than what he has shown, and hopefully, this is a case of some mechanical mistakes that can be ironed out in a week.
If you notice Kyle Hendricks never turns his back to the batter while pitching until the at-bat is over, per @BoogSciambi. #Cubs pic.twitter.com/UD7qAB30p8

— Cubs Zone ™? (@CubsZone) March 26, 2021
Pederson wants the HR crown
The Joc Pederson signing continues to pay off and could pay off beyond this season. After hitting two more homers on Friday, not only did he break out of a mini-slump, but he moved into a tie for first with Seager in terms of Cactus League home run leaders.
There may not be an award for leading the Cactus League in home runs, but you know Pederson wants to achieve that to not only give him confidence but bragging rights against everyone on his club. Not to mention the guy is tied with happens to be a former teammate of his from Los Angeles. How sweet would that be for him to show the Dodgers up by beating out Seager for the Spring Training Home run crown.
Joc's got a new pair of socks. pic.twitter.com/rh78EE38SI

— Chicago Cubs (@Cubs) March 26, 2021
Is Pedro Strop a lock to make this roster?
Fair or not, Strop may be the favorite to lock down one of the bullpen spots despite missing the first three weeks of spring. Should this be the case, it wouldn't be based on spring training results but more on what he has done over his career with the team.
Capping off a two-strikeout performance, Strop has posted a 6.00 ERA allowing two ERs in three innings of work. Both of those runs came in his last outing when he served up a homer, but that won't keep Ross away from most likely giving him a shot. Say what you want about how his Cubs tenure ended and how he wears his hat, but Strop produced in Chicago and did quite well.
In his eight years with the team, Strop had an ERA over 3.10 just once, which was in 2019 when he dealt with various hamstring injuries. Even with that season, Strop has posted a 2.72 ERA with the Cubs, the second-lowest ERA in team history. Take away his 2019 ERA, and you are looking at someone in the 2.60 range.
Along with that ERA, his 120 holds ranks number one all-time with the franchise, so the proof is there regarding how successful he was. I don't understand the hate for Strop and the people that say he stinks and should never have been brought back. To those that feel that way, why do you think that way?
Do you not like him for how he wears his hat, or do you not like him as a player. If fans knew the numbers he put up, then they would realize how good he has been for so long. I think getting back to Chicago will motivate him much like Arrieta, and it will be interesting to see what he has left in the tank at 35 years old.
2 strikeouts from Pedro Strop! pic.twitter.com/VKNjotAxC4

— Marquee Sports Network (@WatchMarquee) March 27, 2021

Upgrade Your Account
Unlock premium boards and exclusive features (e.g. ad-free) by upgrading your account today.
Upgrade Now

Tags: Cubs Baseball
,
Kyle Hendricks
,
Joc Pederson
,
Jake Jewell
,
Ian Happ
,
,
Andrew Chafin
,
Rafael Ortega
,
David Ross
,
Jake Arrieta
,
Zach Davies
,
Pedro Strop