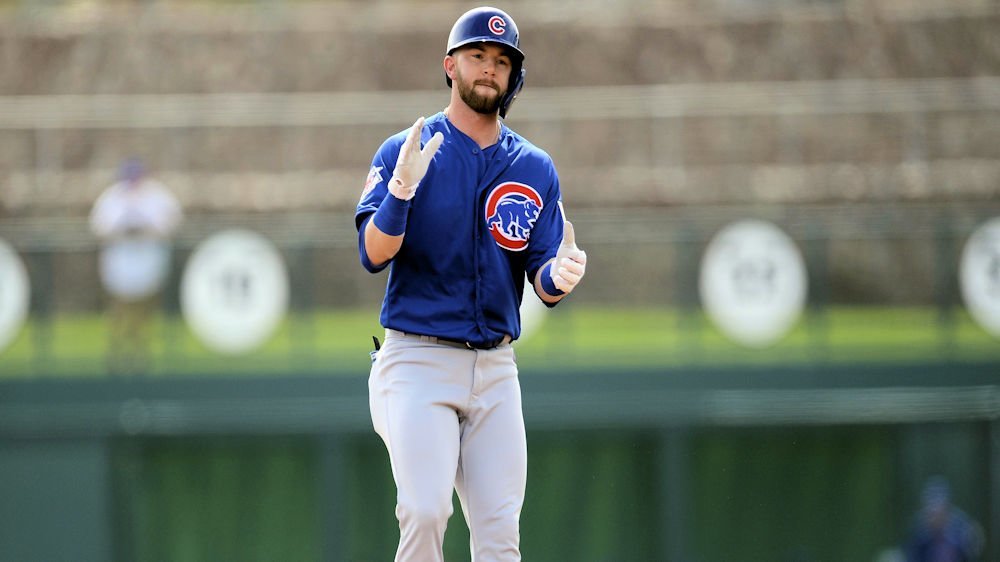 | | |
| --- | --- |
| Top 10 Cubs prospects to watch in 2019: Part 1 | |
---
| | | |
| --- | --- | --- |
| Sunday, March 17, 2019, 7:54 AM | | |
We are getting to the point in spring training where rosters begin to get trimmed down in preparation for opening day.
For some, that may be an outright release as they know they won't make the big-league club. For others, it is down to minor league camp as their time with the MLB rosters has come to an end for the spring season.
When it comes to fans during this time, all those prospects that are hoping to recharge the Cubs farm system will not be as visible in terms of spring games making it harder for some fans to see them in action.
We know the Cubs have a depleted Farm System in terms of what it was before. Whether the depletion came through trades or promotion to the big-league club, the minor league system is a shell of what it once was in the Pre-World Series run. Still, the Cubs are in the best position they have been in terms of overall pitching talent and depth in the farm system in probably the past five years and have plenty of notable prospects that you could call Wrigley Field home soon.
Here are ten prospects that I have my eye on for the 2019 season.
No. 10 prospect - Reivaj Garcia: Ranked #21 in one ranking list, Reivaj Garcia is a long way away from making an impact in Chicago but a name you want to watch. At just 16 years old a season ago, Garcia found himself in 40 Rookie League games in Arizona where his bat showed great potential.
Zero home runs and just 13 RBI's may not be something to get you excited about, but 52 hits in 172 at-bats while striking out just 36 times should grab your attention as that translates to a .302 batting average. Remember, that was only at 16 years old so those numbers will continue to get better.
The reason why I put him on this list is because of his age and what he showed last season. Garcia will not turn 17 until August and may not be on the North side for another five years or so, but if that batting average continues to stay in the 280-plus range this season, you can begin to ask the question as to what level of A ball will Garcia be on at age 18.
No. 9 prospect - Keegan Thompson: Another pitcher who is moving up on the prospects is AA Tennessee starter, Keegan Thompson. Unlike most starters in the Cubs system, Thompson had a strong season proving once again pitching help is on the way.
In 25 starts and tossing 130 innings in two levels a season ago, Thompson finished 2018 with a 9-6 record and 3.61 ERA which are solid numbers for a middle of the rotation guy. His 115/34 strikeout/walk ratio is better than 3/1 showing that Thompson not only has command of his pitches but has no trouble throwing strikes either.
One of the things many of the Cubs starters lack is high velocity on their fastballs which Thompson could touch 95. That 95 is not as frequent since his TJ Surgery at Auburn in 2016 as he sits between 90-92 for that pitch now. It is his consistent barrage of breaking pitches that make Thompson a tough matchup for hitters.
Not only does he feature a changeup with natural sinking motion, but he also has a low 80's slider and high 70's curveball forcing hitters to change their eye levels in every which way. He uses all those breaking pitches to his advantage to keep hitters off balance. If he can continue to pitch, the way he has since 2017, expect him to be a workhorse in the back of the rotation in a couple of seasons.
No. 8 prospect - Trent Giambrone: Another name Cubs should be familiar with this spring is middle infielder Trent Giambrone who comes in at No. 20 on the prospect list. Giambrone certainly showed some power potential in AA Tennessee a season ago hitting 17 HRS in 116 games. His 251 Average and 49 RBI's were a little concerning, but with 26 stolen bases, Giambrone could give the Cubs a future stolen base threat which is something they have not had in a while.
Giambrone is like David Bote but is smaller at 5-8 175 lbs. His aggressive approach at the plate allows him to make surprisingly hard contact to all fields for a guy his size. He is not going to be a high average type hitter but is also a hitter willing to make contact as he doesn't strike out a ton.
In terms of player motor and IQ, Giambrone has no trouble with that as the Cubs get the most out of his play every day. That has shown up in spring this season as he continues to hit well leaving the Cubs with a tough decision of where to send him on March 25th.
No. 7 prospect - Cole Roederer: The Cubs No. 3 hitting prospect is outfielder Cole Roederer. At a young 19 years old, Roederer has yet to see full season ball, but the hype surrounding him is not to be denied.
In 36 games in Arizona rookie ball, Roederer showed great promise hitting .275 with 5 HRS and 24 RBIs. He also worked 18 BB's and 37 K's showing good patience while his 13 stolen bases proved he has some speed in those legs. The biggest question with him is where he will head to for his full-season debut.
With the Cubs set on outfielders for the for seeable future, Roederer will have plenty of time to develop so the Cubs shouldn't have to rush him along. However, should he hit anywhere close to his player comparison Andrew Benintendi, the Cubs may have another position player to push through the system at a high rate.
No. 6 prospect - Dakota Mekkes: The unknown prospect a few years ago has quickly turned heads and is now a pitching piece on his way to the bigs. Ranked 24th in the system, the tall 6-7 250-pound righty has done nothing but impress in the minors going 12-3 with a sub 2.5 ERA during that time.
It was last year when Mekkes made a name for himself and established himself as quite possibly the best reliever in the system. In 41 games between Tennessee and Iowa, Mekkes tallied 54 innings going 4-0 with a microscopic 1.17 ERA. His .188 opponents' batting average to go along with a 71/29 K/BB was equally as impressive especially for a guy who doesn't throw hard.
With a fastball sitting around 92-93, Mekkes uses his height and large frame to create deception making it hard for hitters to pick up the ball. He also mixes in a changeup and slider to give hitters different looks, but Mekkes will rely on his fastball as his out pitch. With the sudden number of injured relievers piling up in camp, the Cubs may have no choice to give him a shot opening day and see what happens.
Next up is the top five prospects tomorrow in another story.