| | |
| --- | --- |
| Trade deadline going to be intriguing for Cubs | |
---
| | | |
| --- | --- | --- |
| Sunday, May 9, 2021, 2:01 PM | | |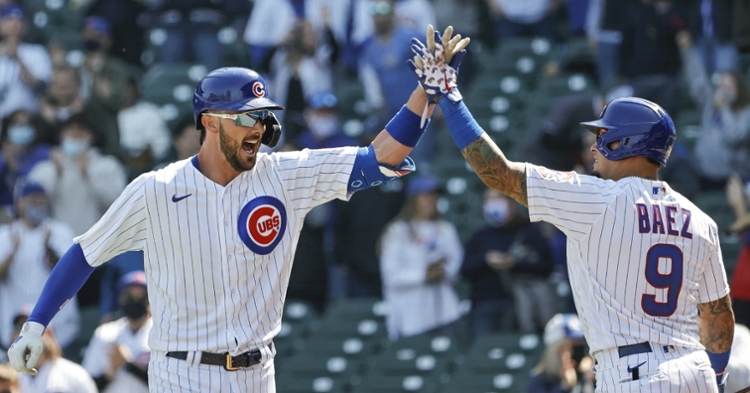 The Cubs have seen their fair share of ups and downs this far this season, as the Cubs hover above .500 after about five weeks into this season.
The way the Cubs' roster is constructed is peculiar as Jed Hoyer built this roster with a lot of financial flexibility and not a lot of future security.
This Cubs team has just under 20 players due to become free agents after this season, including Javier Baez, Kris Bryant, Anthony Rizzo, Joc Pederson, Craig Kimbrel, and more. What makes this season especially interesting is the questions marks surrounding players like these.
With the financial flexibility, the Cubs have, good seasons from these players could lead the Cubs to a solid season. As a result, this could provoke potential contract extensions and even perhaps some additions at the trade deadline as the Cubs try to win their second consecutive NL Central Division Title.
However, the Cubs could also struggle in 2021, with a largely unchanged offense and an unpredictable pitching staff, mostly what we have seen so far this season. This could lead Jed Hoyer and the Cubs to be selling at the trade deadline, with close to 20 pieces that are one-year rentals that are potentially attractive to opposing teams. The bottom line, the trade deadline will be pivotal for Jed Hoyer and the Cubs.
For players off to an excellent start like Kris Bryant and Craig Kimbrel, that could mean their days in Chicago are numbered. Especially if the Cubs continue to struggle, Jed Hoyer would love to maximize his potential return on these players. Kris Bryant is off to a scorching hot start, slashing .308/.395/.673 with nine home runs, 22 RBI, and 12 doubles. Not to mention, Bryant is providing versatility in the field, having already played five positions this season.
Kimbrel has five saves and is pitching to the tune of a 0.69 ERA thus far in 2021 through 13 appearances. His velocity is up where it should be, and Kimbrel is striking out nearly two batters per inning.
Both Bryant and Kimbrel have value that is as high as it has been since 2018. And should net the Cubs some good returns if the team starts to fade.
The Cubs would be less hesitant to move one of these players instead of a Anthony Rizzo or Javier Baez (although both have still not yet been extended) because Bryant is represented by Scott Boras and seem unlikely to extend. Kimbrel's long-term value does not coincide with where the Cubs are heading.
Other players on that list who could provide some value to contenders include Andrew Chafin (3.21 ERA), Jake Marisnick (.356 OBP), Matt Duffy (.308 average), and others on one-year deals — although those are some of the Cubs biggest contributors at the moment.
However, the Cubs also have their fair share of players on one-year deals who have struggled massively. For example, Joc Pederson has accumulated a -0.5 WAR so far during his prove-it deal — and has one home run and a .143 average to show for it.
Zach Davies has an ERA of 8.22 through six starts, and Trevor Williams isn't that much better with a 6.00 ERA of his own — as both are on track to hit free agency when the season ends in October.
So while the Cubs may have tried to use the season as a way to boost these players' stocks and sell-off at the trade deadline — it is much harder to do when these players are struggling.
The Cubs' flexibility in their payroll also makes it possible for the Cubs to add at the trade deadline if their sweep of the Dodgers propels the Cubs toward the top of the NL Central. That flexibility could make it more feasible to extend a hot player like Kris Bryant or Craig Kimbrel — or other stars like Javier Baez or Anthony Rizzo.
The bottom line is, July 31st will be a massively important date for the Cubs' future.
It could be an opportunity to shore up some holes and attempt to win a second consecutive NL Central title. The deadline could also be a chance to sell off some assets and require some pieces to help the next great Cubs team. On the other hand, the worst-case scenario could hand-cuff Jed Hoyer to hold close to 20 players on one-year deals into free agency and have to let go more than half the roster.
Keep an eye on it; July 31st is going to be a very telling day.