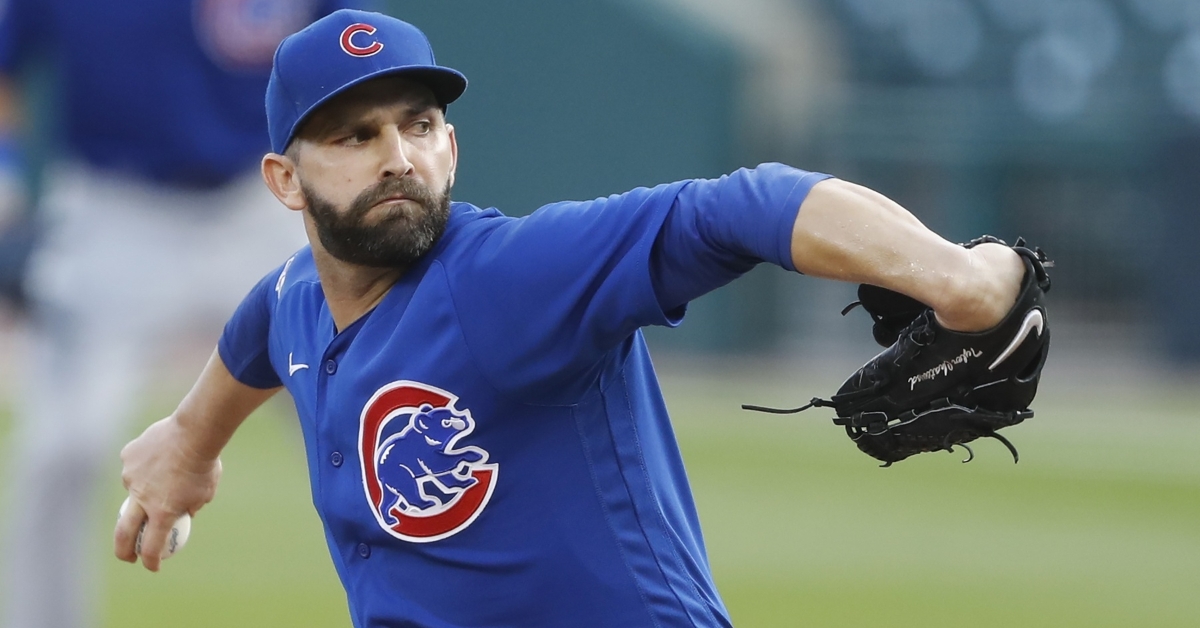 | | |
| --- | --- |
| Tyler Chatwood, Jose Quintana return to action in Cubs loss | |
---
| | | |
| --- | --- | --- |
| Tuesday, August 25, 2020, 11:00 PM | | |
DETROIT — Two notable pitchers returned to action for the Chicago Cubs (18-11) on Tuesday, and neither one experienced a memorable outing, as the Cubs were nearly shut out by the Detroit Tigers (12-16). Fresh off the injured list, Tyler Chatwood and Jose Quintana toed the rubber for the North Siders and were charged with a combined five runs in a 7-1 Cubs loss.
The Tigers ran away with the second installment of the three-game set at Comerica Park, with a sixth-inning grand slam by Jonathan Schoop highlighting their offensive performance. At the plate for the Cubs, Willson Contreras drove home the lone run with a solo home run in the top of the ninth. Chicago garnered just four hits and went 0-for-6 with runners in scoring position.
---
Inning-by-Inning Breakdown:
---
T1: Spencer Turnbull started on the bump for the Tigers and gave up a two-out single to Javier Baez in a scoreless first.
Score: Cubs 0, Tigers 0
---
B1: Chatwood made his first start since returning from a back injury. He was taken for two runs in first, with an RBI single by Miguel Cabrera and and a sacrifice fly by JaCoby Jones driving two across. Former Cubs prospect Jeimer Candelario doubled in the frame. Baez capped off the inning with a laser of a throw from shortstop after gloving a chopper, as he outed Austin Romine at first in the nick of time.
Score: Cubs 2, Tigers 0
---
T2: Turnbull struck out a pair in a 1-2-3 second.
Score: Cubs 2, Tigers 0
---
B2: Chatwood walked three batters his second time out before being yanked with one out and the bases loaded. Duane Underwood Jr. bailed the Cubs out by recording back-to-back swinging strikeouts to escape the jam.
Score: Cubs 2, Tigers 0
---
T3: Typically a third baseman, Candelario manned first base and did not fare too well defensively on the night. He coughed up a Jason Kipnis ground ball and was charged with an error. A fielder's choice and an Anthony Rizzo single followed, but Baez flied out to usher in the bottom of hte third.
Score: Cubs 2, Tigers 0
---
B3: Quintana made his first appearance of the season after serving a lengthy IL stint due to a freak dishwashing injury suffered in the offseason that required thumb surgery. After coming out of the bullpen, he tossed a three up, three down third inning.
Score: Cubs 2, Tigers 0
---
T4: With two outs, Jason Heyward hit his second triple of the season. Victor Caratini struck out after that, though.
Score: Cubs 2, Tigers 0
---
B4: Quintana doled out a leadoff single, but Schoop grounded into an inning-ending double play a few at-bats later.
Score: Cubs 2, Tigers 0
---
T5: Turnbull issued two walks but kept the Cubs off the scoreboard.
Score: Cubs 2, Tigers 0
---
B5: Candelario hit a base knock prior to being thrown out by Contreras on a steal attempt that finished off the inning.
Score: Cubs 2, Tigers 0
---
T6: Kyle Schwarber was successful in his steal attempt, however, tallying his first stolen base of the year after drawing a leadoff walk. With two outs, Turnbull was relieved, and Caratini went on to suffer another inning-ending strikeout.
Score: Cubs 2, Tigers 0
---
B6: Detroit plated five runs in the sixth. Jones led off with a single and went home on an ensuing double hit into the left field corner by Cameron Maybin. Baez had an opportunity to throw Jones out of the plate after receiving a relay throw from Schwarber, but his throw home was off the mark. Baez was charged with an error on the play, which saw Maybin reach third. Quintana walked Romine thereafter and was taken out. Casey Sadler took the mound and walked former Tigers prospect Isaac Paredes to load the bases. A couple of at-bats later, Schoop took Sadler deep on a grand slam that carried 400 feet out to left.
Score: Cubs 7, Tigers 0
---
T7: The Cubs went down in order in the top of the seventh.
Score: Cubs 7, Tigers 0
---
B7: Reliever Kyle Ryan kept the Tigers off the bases in the bottom of the seventh.
Score: Cubs 7, Tigers 0
---
T8: Having not collected a hit since Heyward's triple in the fourth, the Cubs failed to reach base in the eighth.
Score: Cubs 7, Tigers 0
---
B8: Paredes tabbed a leadoff single against Dan Winkler but did not score.
Score: Cubs 7, Tigers 0
---
T9: With his first homer since Aug. 4, Contreras skied a leadoff blast off Buck Farmer. Contreras' third dinger of the season sailed 418 feet over the fence in left-center. Farmer registered three straight outs after that and put a bow on the Tigers' 7-1 victory.
Chatwood fell to 2-2 after lasting just 1 1/3 innings on the hill. Turnbull picked up the win, becoming 3-2, and Tigers reliever Bryan Garcia attained his first hold of the summer.
Final Score: Cubs 7, Tigers 1
---

Tags: Cubs Baseball
,
Tyler Chatwood
,
Jose Quintana
,
Willson Contreras
,
Javy Baez
,
Jeimer Candelario
,
Duane Underwood
,
Anthony Rizzo
,
Jason Heyward
,
Victor Caratini
,
Kyle Schwarber
,
Casey Sadler
,
Kyle Ryan
,
Daniel Winkler