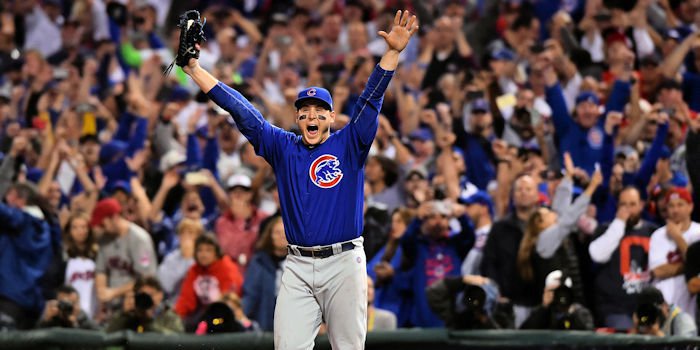 | | |
| --- | --- |
| Vegas odds on Cubs winning 2020 World Series, Cubs' win totals, more | |
---
| | | |
| --- | --- | --- |
| Friday, January 31, 2020, 11:48 AM | | |
With January coming to an end, the regular season is getting closer and closer for the Chicago Cubs and other Major League teams. For many fans, this means a growing excitement for spring training. However, for those of us who enjoy betting a few dollars, this means paying close attention to the odds as they change before opening day and finding the perfect time to place a bet.
I need you to keep in mind, the numbers I'm sharing today are going to change, some of them drastically within the next few weeks. The North Siders have already made a couple significant additions recently, and there's a ton of talk about what will happen with Kris Bryant.
Personally, I don't make a bet on a team's over/under until the night before opening day. There's too much that happens as spring training gets underway and comes to an end. Not only that, but the odds also change as the public bets on the odds as the season approaches. The bookmakers adjust the numbers accordingly to make sure they win a little regardless of what happens.
Yes, I've made the mistake of not placing a bet soon enough and ended up with numbers that weren't as high in my favor. I've also put down some cash too early instead of waiting for numbers with a bigger payout. Like I said, knowing which bet to make is only half the battle. Making a bet at just the right time is equally important.
As of Thursday night, according to vegasinsider.com, an American League team winning the World Series is -160. For those who aren't familiar with the sports betting industry, this means you have to bet $160 to win $100. As of now, the American League is the favorite. The National League is +150. This means that if you bet $100, you win $150.
The Cubs are currently one of the three teams with 30 to 1 odds of winning the World Series. The other two teams with the same numbers, get ready, the Cincinnati Reds and the Los Angeles Angels. Not exactly an attractive group.
As for winning the National League pennant, the North Siders are sitting at 15 to 1 odds, alongside divisional rival Cincinnati. Chicago is being given 3 to 1 odds to win their division.
As far as a win total, the Cubs have an over/under of 88 and a half. Just in case you can't remember, they finished the 2019 campaign with 84 wins. As for the rest of the NL Central, both the Reds and Brewers are sitting on a win total of 82 and a half this season. The red birds are sitting alongside Chicago at 88.5.
As a lifelong Cubs fan, I want to believe they win at least 92 games this year, winning their division and representing the National League in the World Series. Both 30/1 and 15/1 odds have a great payout, even at just $100 a pop. That being said, as someone who works as an analyst and handicapper in the sports betting industry, I also know how big of a mistake it can be betting on your favorite team.
I've been making bets on baseball games since before it was legal in the state of Indiana. I remember the days of meeting a bookie in the back of a bar. As I mentioned earlier, I've made bets on the outcome of a season too, soon, and I've also waited too long. Here are a few things you'll want to consider before placing a bet.
How will Ross handle being a first-year manager?
In my opinion, David Ross will always be one of the all-time greats for the Cubs. Not because of the game seven dinger or his abilities from behind the plate. I put him in this category based on his leadership on the field and the role he played as a teammate.
During the 2016 season, the Cubs roster was full of a group of young studs. Some of Ross' old teammates still play on the team, and there's plenty of new faces he's had to get familiar with. Still, a few of the critical roles from that team are in the lineup now but maybe gone before the first pitch of the season, mainly Bryant.
As amazing as a teammate as Ross was in 2016, that doesn't always equal success as the manager of a team. There's going to be plenty of ups and downs in 2020. How will Ross handle this new spotlight? Is he going to have the right words and moves to get the Cubbies out of a funk from inside the dugout?
There's no longer a middle man between Ross and Theo Epstein. When things don't go well, Ross is going to catch the heat. How will grandpa respond to this pressure? Because he is already close with some of the players and will more than likely grow close to the rest of the team, how he handles his position will have a direct effect on the number of games Chicago wins this year.
Will there be more moves for the Cubs?
The Cubs have recently signed both Jeremy Jeffress and Steven Souza Jr. to one-year deals. Brandon Kintzler is gone and relievers Ryan Tepera and Travis Lakins will both be playing their first season for Chicago. Other than that, it's been a relatively quiet winter for the Cubs.
Still, there's a lot of big moves that could happen before the end of spring training. Kris Bryant easily could be in an Atlanta or Colorado jersey this season or playing somewhere else. Will there be any fall out with the rest of the team if Chicago deals Bryant away?
Probably not, but it could happen. While it may not be an issue for the average fan, if I'm putting some cash on the end of the season numbers, you better believe I want to know about the possibility upfront.
Just how good are the Reds going to be this season?
I'm just going, to be honest. With the payouts being as high as they are, I'm going to have some change on the Cubs winning both the National League and the World Series. They won't be big bets, just enough to make the season a little more exciting to watch. If the odds stay as they currently are, that's a $3000 return on a $100 bet if they win it all and $1500 on the same bet for them winning the NL.
Before making a bet on the number of wins the Cubs will have during the regular season, I'll spend some time studying the teams they play the most, the NL Central. There's a lot of talk surrounding the Reds this winter.
That being said, both the Brewers and that team in St. Louis also have a great shot at winning the division. I honestly believe the NL Central will be one of the most competitive divisions in the majors this season. If I'm going to put my hard-earned money on the line, I want to study these other three teams as much as I can before making a bet.
I don't have a schedule in front of me, but at what parts of the year will Chicago play key series against divisional opponents the most, and are they on the road or at Wrigley? I take betting seriously. Not just on individual games, if there's money to be made, I want in on the action. Don't merely bet on the Cubs to win over 88 and a half games this season because you're a fan and want them to do well. Make sure you know exactly what you're up against.
I look forward to writing betting previews for many Cubs' games for this website this upcoming season.
Before I forget, this is the most important information and betting advice you'll find all season. Baseball is a game for entertainment purposes. It's a way to enjoy time by yourself or with friends and family.
If you're making bets with money, you can't afford to lose, that's a stupid bet, regardless of what the odds or payout will be. Don't be that individual who puts your family's finances in jeopardy by playing with money you don't have. That's not fun for anyone. That's not entertainment. It's stupidity.
***DISCLAIMER: The following Vegas odds article is for entertainment purposes only as CubsHQ.com has no responsibility or liability for any personal bets.

Upgrade Your Account
Unlock premium boards and exclusive features (e.g. ad-free) by upgrading your account today.
Upgrade Now