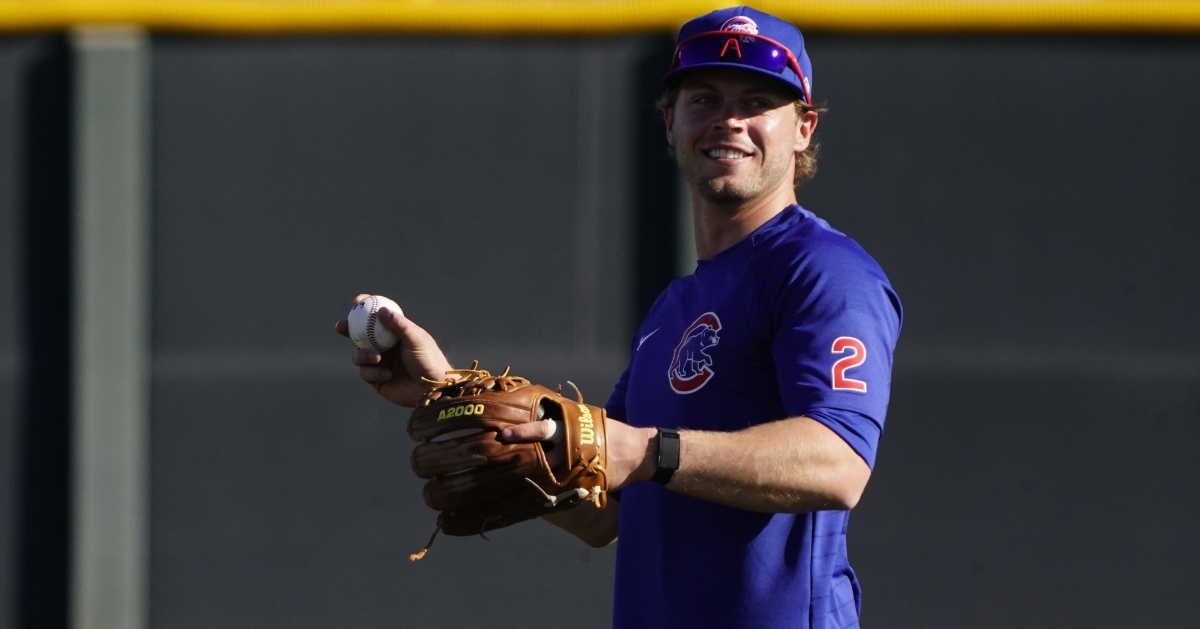 | | |
| --- | --- |
| Cubs News: Where does Nico Hoerner fit in 2022? | |
---
| | | |
| --- | --- | --- |
| Thursday, October 21, 2021, 8:38 AM | | |
As we continue to move along with questions the Cubs must answer this offseason, we have come to perhaps the most intriguing one. While figuring out what to do with the starting staff is the most significant need this team has, the biggest question inside the organization circles around Nico Hoerner and what to do with him going forward.
Drafted in the first round of the 2018 MLB draft, Hoerner was known as a contact first hitter with the potential to be a leadoff hitter in the future. Although limited experience in both the minors and the majors thus far, Hoerner, for the most part, has lived up to his scouting report making him a must keep for the Cubs.
Not only did the Cubs aggressively push Hoerner through the system, but he only has 98 games of minor league experience under his belt as he was hampered with two wrist injuries early on. Despite the small sample size, Hoerner proved to be a contact first type of hitter, posting a .294 career average in the minors while connecting for five homers and 30 RBIs. He also took 31 walks compared to 40 strikeouts while adding 14 steals.
In 2019, the Cubs fast-tracked him to the Majors and saw him put up great numbers in just one month with the team. 2020 was an entirely different story as Hoerner was never able to get in a groove before once again showing up in a big way in 2021. After putting together a great spring, many people felt Hoerner did enough to make the team out of camp.
Unfortunately, that wasn't the case, as Hoerner didn't join the Cubs until May. From the moment he arrived on the roster this season, all the kid did was hit, finishing the season with a .302 average to go with zero homers and 16 RBIs. However, with the good comes the bad, and the injury issues continue to hamper Hoerner's career as he suffered both a hamstring and oblique injury this year and was limited to just 44 games.
Hoerner is a big part of the Cubs future plans, but his injury history is undoubtedly a growing concern as the Cubs need to figure out if he is durable enough to last an entire season. Entering this season as the team's second baseman, the Cubs acquired Nick Madrigal from the Chicago White Sox as part of the Craig Kimbrel deal in July.
Madrigal will most likely enter 2022 as the team's second baseman, health permitting, which would then push Hoerner back to his natural position of shortstop. While that may be the ideal plan, many people don't think Hoerner has the arm for shortstop, and considering he was a gold glove candidate at second base in 2020, and it may not be his best position.
Given the shortstop free-agent class of Trevor Story, Carlos Correa, Corey Seager, and Javier Baez, there is no guarantee that Hoerner even sticks at short should the Cubs pick up one of those names this offseason. If that is the case, it would ultimately leave Hoerner without a starting spot which would make him trade bait, you would think.
That is far from the truth, and you can look at what the Cubs plans are for him to see that. Not only are they high on Hoerner, but they believe in his abilities. Injuries are part of the game, and Hoerner has been bitten with bad luck. Even if he doesn't have a set position going into 2022, expect him to see lots of playing time as the Cubs may turn him into a new version of Ben Zobrist.
Ideally, you would love to see him play second or short, but it may not happen that often depending on what other moves are made. You have third base as a possible option, but his arm would be hard-pressed to stick at third, and that alone is a huge problem. Hoerner has also seen time in both center and left field. Although limited, it does give you options surrounding him.
There is no question that the Cubs want Hoerner on this roster, and if you ask Jed Hoyer and the rest of the Cubs front office, they believe he will be a significant piece to this team in the future. The only problem is they don't know what position, which may not be a bad thing. Should he prove he can play multiple positions and become a super-utility player, it will give Ross and his offense many different options.
Not only do you keep his bat in the lineup every day, but it gives other players days off who need it the most. Fans saw the difference in the Cubs offense with both Matt Duffy and Hoerner in the mix, so you can see why the Cubs will do whatever they can to find a spot for him. Not to mention Madrigal is one of the best two-strike hitters in the game, and the Cubs may have found their top two hitters in the lineup next season. Hoerner is not only a table-setter, but a spark plug that makes this offense tick. Now he needs to stay healthy and prove he can play an entire 162 game season.