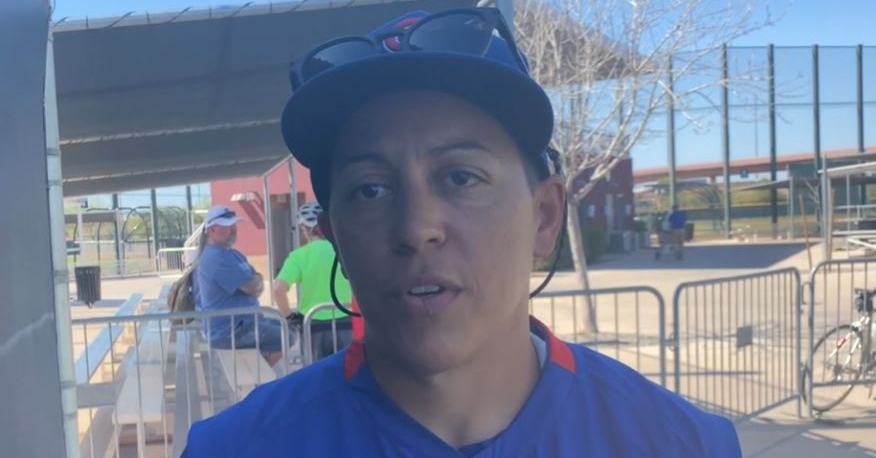 | | |
| --- | --- |
| Will Rachel Folden help the Cubs bats come to life? | |
---
Over the last several seasons, we have seen a dramatic overhaul with the Cubs coaching staff as they try and improve all aspects within the organization. The most significant overhaul came at the minor league level, where the player development side of things was lacking, so the front office wanted to change that.
Not only was their goal to bring in new faces, but they wanted to bring in a bunch of people with the same mindset to help coach the players the same way throughout the system. In part with a dramatic turnover within the organization, you have to look at the baseball landscape to see what has been happening for two years.
As minority and gender equality continues to be a real issue at the professional sports level, you have seen more and more teams across the major sports landscape hire women to give a different approach to the game. While most of those women are coaches with a small and undefined role on the team, you are seeing more women get a more prominent role with teams as their viewpoints are finally being taken seriously.
Last spring, the Cubs followed that trend and added Rachel Folden to their minor league coaching staff. Less than a year later, she is now the minor league hitting coordinator, and she is calling the shots at the minor league mini-camp this spring. Folden made history last year by becoming the first on-field female coach in Cubs history, and now with a new role, she hopes to inspire more females to branch out into the coaching ranks.
Folden is no stranger to the baseball world as she grew up playing little against all boys as she was often the only girl on the field. It was back then when you made a promise and vowed not to be the only girl on the field. Folden is no stranger to the Cubs organization as she was hired in 2019 as a minor league hitting coach to become the first on-field female coach in team history. Since then, hard work, dedication, and trust have allowed her to go through the system the way she has.
Considering that the MLB is still at a stalemate with no signs of improvement anytime soon, the MILB landscape has now taken center stage as their season is not only set to start on time but will operate as normal with the lockout having zero effect on them. That is great for the MILB landscape as the center of attention they now have will help bring in more money than they have ever seen, as they will be the only baseball for the foreseeable future.
Knowing that we are now a month away from minor league baseball, teams and players are starting to get their work in as the Cubs have opened their Mesa facility for these players. Not an official spring training and more like a mini-camp for the time being. Upwards of 50 of the Cubs, best prospects have been getting their work in as they prepare for a new season.
That number will grow in the coming days once the actual minor-league training begins, but for now, fans have been able to keep tabs on a lot of their key players. One of the best things about this minicamp is that it provides a workout regime for players on a challenging level. It also gives players from all different minor league levels a chance to work together learning the same system.
For as good as the Cubs were when it came time to churning out prospects, the developmental side of things lacked as the team became a home run or bust one trick poney. In hopes of getting away from that, the Cubs appointed Folden as the Minor League Hitting Coordinator, and now it is her viewpoint these players are leaning on.
With an organization turning over a new leaf when it comes to player development, Folden has the coaching staff listening to her and the entire minor league landscape. That means over 150 players will learn the same way with her guidance and could take that with them to the Majors. Once they get there, things will change, but instead of having different viewpoints at each level, Folden is making sure each stop follows the same teachings.
If everyone buys into what she is teaching, you will have a vastly improved system as the player development will show up from day one. The more everyone learns together, the better they will be when it comes time to branch into the major leagues. We have seen guys like Pete Crow-Armstrong, James Triantos, Brennen Davis, Owen Caissie, and Chrisitan Hernandez taking swings at spring camp.
All have looked very impressive, and a lot of that is credited toward Folden. She has challenged the Cubs prospects all spring and offseason long to get better, and it appears their work is paying off. Folden knows what she is doing, and if this next wave of Cubs prospects comes through and does what the last wave did at a more consistent level, you will have her to thank for it.
https://www.mlb.com/cubs/video/rachel-folden-on-cubs-camp

Upgrade Your Account
Unlock premium boards and exclusive features (e.g. ad-free) by upgrading your account today.
Upgrade Now