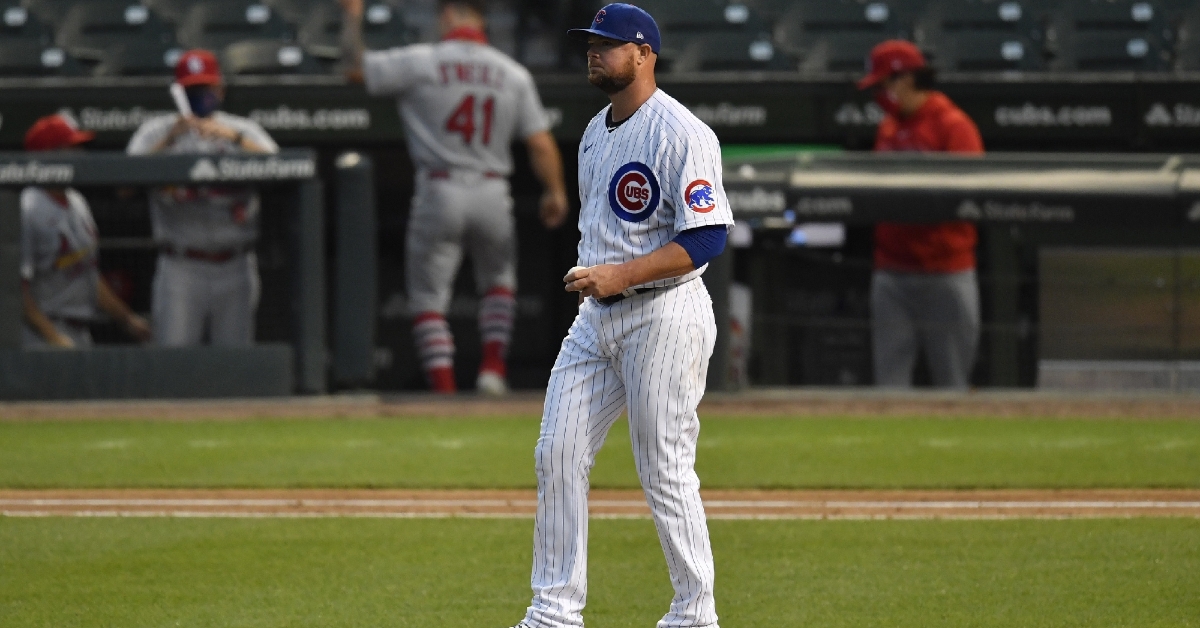 | | |
| --- | --- |
| Windy City woes: Cubs drop third straight on windy night in Chicago | |
---
| | | |
| --- | --- | --- |
| Sunday, September 6, 2020, 11:14 PM | | |
CHICAGO — Once the wind died down, so did the offense of the Chicago Cubs (23-18). That is a succinct summation of how the Cubs fared in their third straight loss to the St. Louis Cardinals (17-15) on Sunday. Gale-force winds in the early innings at Wrigley Field resulted in a combined four home runs being hit in the first 2 1/2 innings of play, but the wind conditions calmed as the game progressed.
The Cubs plated three runs through two innings of play, with Anthony Rizzo and Jason Kipnis homering in the first and second frames, respectively. St. Louis erased its 3-1 deficit via a four-run third inning, though, and the Cardinals went on to win 7-3. Cubs starter Jon Lester was roughed up in 3 1/3 innings of work, and the wind blowing out did him no favors. The Redbirds outhit Chicago 12-6 and assured themselves of a series victory.
---
Inning-by-Inning Breakdown:
---
T1: The frenetic wind evinced itself from the start, as Kolten Wong popped up into foul territory, only to have the wind catch the baseball and drift it into fair territory. Rizzo was fooled by the wind, as he expected to catch the popup in the air, but he was able to field the ball and get the force out at first. On the very next pitch, Tommy Edman lined a 400-foot dinger that carried out to center.
Score: Cardinals 1, Cubs 0
Kolten Wong grounds out to first baseman Anthony Rizzo. pic.twitter.com/2eh3hN7M3x

— Chicago Cubs (@Cubs) September 6, 2020
---
B1: Similar to Edman's homer, Rizzo swatted a line shot that the wind lifted beyond center field for a 430-foot solo shot. Dakota Hudson, who started on the mound after having his weekend started moved from Saturday night to Sunday night, gave up the round-tripper with two outs.
Score: Cardinals 1, Cubs 1
Rizz goes down and gets one! #TeamRizzo@BinnysBev pic.twitter.com/irIBBzO8gg

— Chicago Cubs (@Cubs) September 6, 2020
---
T2: Lester worked a 1-2-3 second inning.
Score: Cardinals 1, Cubs 1
---
B2: Willson Contreras led off the second with a walk and was plated via a two-out home run by Kipnis, which sailed 426 feet to right.
Score: Cardinals 1, Cubs 3
.@TheJK_Kid offers a go-ahead blast! pic.twitter.com/CHwSFvXreJ

— Chicago Cubs (@Cubs) September 6, 2020
---
T3: The Cardinals racked Lester in the third. Harrison Bader was hit by a pitch to start it off, and Wong then clubbed a double. Next, Bader was thrown out at home on a fielder's choice, but Paul Goldschmidt proceeded to crush a monstrous three-run home run to left. The 443-footer put the Cardinals on top, and St. Louis added to its lead with two outs. After a single by Tyler O'Neill, Rangel Ravelo smacked an RBI double that drove O'Neill home.
Score: Cardinals 5, Cubs 3
---
B3: With the wind beginning to subside, the Cubs' bats cooled off. Hudson sat the North Siders down in order in the third.
Score: Cardinals 5, Cubs 3
---
T4: Bader led off with a double to the wall in right-center, and Lester was removed not long afterward. Dan Winkler relieved Lester and prevented the Cardinals from adding to their lead.
Score: Cardinals 5, Cubs 3
---
B4: A couple of singles did not pay dividends for Chicago in the fourth.
Score: Cardinals 5, Cubs 3
---
T5: Winkler gave up a leadoff base knock but recorded three straight outs thereafter. Cameron Maybin took over for Jason Heyward in right field. Heyward struck out in the bottom of the fourth and was subsequently taken out of the lineup because he was feeling under the weather.
Score: Cardinals 5, Cubs 3
---
B5: Kris Bryant singled with one away and stood at second with two away. However, Javier Baez grounded out to leave Bryant stranded.
Score: Cardinals 5, Cubs 3
---
T6: Lane Thomas singled off Josh Osich, and Bader tallied another double in the next at-bat. Wong then reached on an infield single that scored Thomas. Bader made it to third because of an ill-advised throw to first made by Baez. Baez's error contributed to Bader scoring with ease on a two-out single by Paul DeJong.
Score: Cardinals 7, Cubs 3
---
B6: The Cubs failed to reach base in the sixth.
Score: Cardinals 7, Cubs 3
---
T7: Craig Kimbrel struck out a pair as part of a three up, three down seventh.
Score: Cardinals 7, Cubs 3
---
B7: The Cubbies were hapless at the plate again in the seventh, going down in order.
Score: Cardinals 7, Cubs 3
---
T8: Bader led off with a single against Duane Underwood Jr. but did not score.
Score: Cardinals 7, Cubs 3
---
B8: A leadoff double by Bryant was followed by three strikeouts in a row. Baez was rung up for the second out and had some choice words for the home plate umpire as he headed to the dugout.
Score: Cardinals 7, Cubs 3
Loving that Cubs ENERGY!! #STLCards pic.twitter.com/4tcTgtcaqh

— Willis Kern (@wekern) September 7, 2020
---
T9: Matt Dermody toed the rubber in his Cubs debut, which also marked his first big league appearance in just under three years. He registered a strikeout and drew two groundouts in a solid inning of work.
Score: Cardinals 7, Cubs 3
---
B9: A 1-2-3 bottom of the ninth finished the game off. Lester dropped to 2-2 with the loss, while Hudson improved to 2-2 with the win. After starting the season 13-3, the Cubs have gone 10-15 in their last 25 outings.
Both teams played with heavy hearts, as Hall of Fame left fielder Lou Brock, who played for the Cubs and the Cardinals in his illustrious MLB career, passed away on Sunday afternoon at the age of 81. Brock is the National League's all-time leading base stealer, having amassed 938 stolen bases in his big league tenure, which spanned 1961-79. The Cubs traded Brock to the Cardinals during the 1964 season, and Brock went on to produce a Cooperstown-caliber career in St. Louis.
Final Score: Cardinals 7, Cubs 3
Played with a heavy heart, but got the job done.

Just what Lou would've wanted. pic.twitter.com/xNjN8yMDcN

— St. Louis Cardinals (@Cardinals) September 7, 2020
---
Statistical Breakdown:
Chicago Cubs: Batting: 3 R, 6 H, 1 2B, 2 HR, 3 RBI, 3 2-Out RBI, 1-7 RISP, 5 LOB; Fielding: 1 E; Pitching: 12 H, 7 R, 7 ER, 2 BB, 11 K, 2 HR, 1 HBP, 0 IBB, 0 WP
St. Louis Cardinals: Batting: 7 R, 12 H, 3 2B, 2 HR, 7 RBI, 2 2-Out RBI, 3-12 RISP, 8 LOB; Fielding: 0 E; Pitching: 6 H, 3 R, 3 ER, 2 BB, 12 K, 2 HR, 0 HBP, 0 IBB, 0 WP
---
Studs of the Game:
Chicago Cubs: Kris Bryant (DH): 2-4, 0 R, 0 RBI, 0 BB, 2 K, 1 2B
St. Louis Cardinals: Harrison Bader (CF): 3-3, 1 R, 0 RBI, 0 BB, 0 K, 2 2B, 1 HBP
---
Duds of the Game:
Chicago Cubs: Jon Lester (SP): 3.1 IP, 6 H, 5 R, 5 ER, 2 BB, 4 K, 2 HR, 1 HBP, 0 IBB, 0 WP
St. Louis Cardinals: Yadier Molina (C): 0-3, 0 R, 0 RBI, 1 BB, 1 K
---
Up Next: In addition to serving as the finale of the five-game set at the Friendly Confines, the Cubs-Cards matchup on Monday, Sept. 7, will mark the final meeting of the regular season between the National League Central rivals. Expected to be played under mild, partly cloudy conditions, the Labor Day contest will see Cubs righty Kyle Hendricks (4-4, 3.78) and Cardinals righty Johan Oviedo (0-1, 4.30) start on the mound. The first pitch is scheduled for 3:10 p.m. CDT.
---
Highlights:

Tags: Cubs Baseball
,
Anthony Rizzo
,
Jon Lester
,
Willson Contreras
,
Daniel Winkler
,
Jason Heyward
,
Kris Bryant
,
Javy Baez
,
Craig Kimbrel
,
Duane Underwood
,
Kyle Hendricks