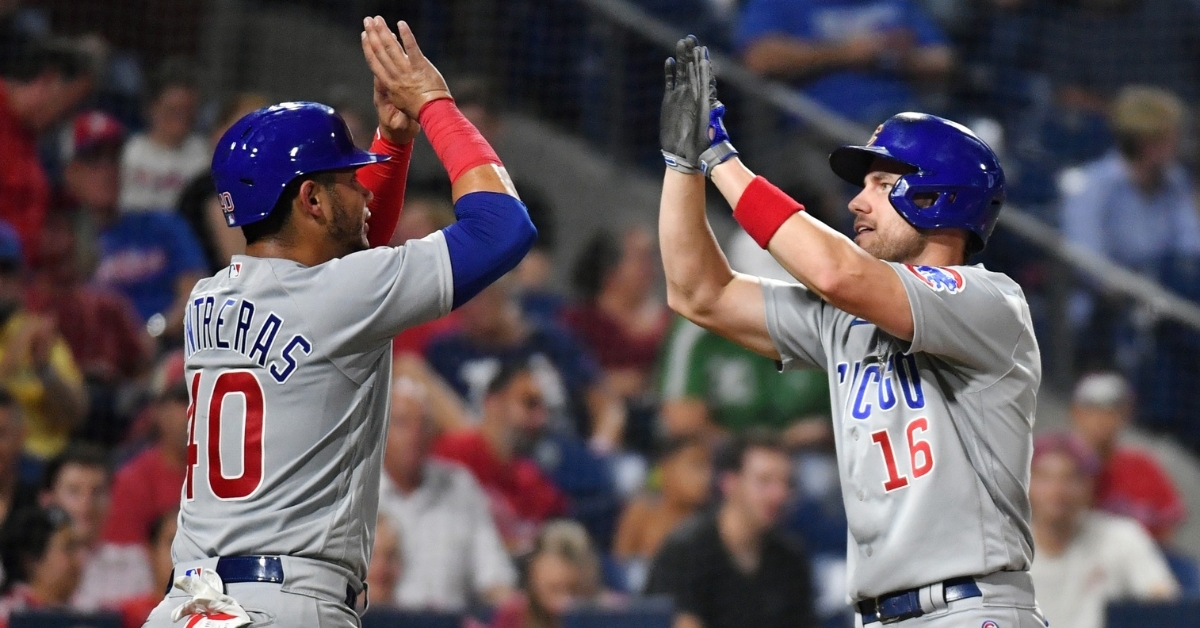 | | |
| --- | --- |
| Wisdom, Rivas homer in series opener win against Phillies | |
---
| | | |
| --- | --- | --- |
| Wednesday, September 15, 2021, 8:07 AM | | |
PHILADELPHIA – Don't look now, but the Chicago Cubs (66-79) are down to their final three weeks of the season with just six series remaining on the year. Of those six series, the Cubs will face five different opponents as the Philadelphia Phillies (72-72) were the first of those opponents at Citizen Bank Park.
Locked into not only a division battle with the Atlanta Braves and New York Mets, but also the wild card hunt, and the Phillies have a ton to play for and were hoping the Cubs would be the series they needed to get on track. However, as fans have seen over the last three-plus weeks, this Cubs team isn't so bad as they have gone 14-10 since that 12-game losing streak. They continued to play well using a flurry of extra-base hits and another strong bullpen outing to top the Phillies in game one 6-3.
Continuing to fill in for the injured Keegan Thompson is Adrian Sampson, who has been nothing short of impressive in his brief time with the Cubs. Not known as a strikeout guy, Sampson spent 2020 in the KBO, where he was hammered in the process. Sampson emerged as the Iowa Cubs ace after signing with the Cubs as a minor league free agent despite his numbers being less than appealing.
The Cubs must have seen something that other teams didn't, as he has been impressive since coming to the Cubs pitching both as a starter and in relief. In what was his longest outing of the season with the Cubs this season, Sampson delivered to pick up his first win as he tossed five-plus innings of two-run ball, walking two and striking out three. The first of those runs came from the first batter as Odubel Herrera took him deep for a long homer to right field and a quick 1-0 lead.
At the time, that lead looked like it would hold up as Kyle Gibson was every bit as impressive, if not more. Not only did he keep the Cubs scoreless through four innings, but he held them hitless while striking out seven, including five in a row at one point. What was most impressive about that run was how he was doing it, as Gibson kept his pitch count extremely low.
For whatever reason, something clicked for the Cubs offense in the fifth, and that all started with a Willson Contreras leadoff single to give the Cubs their first baserunner. A few pitches later, Patrick Wisdom was looking to break out of a 4-46 slump launching his team-high 26th homer, giving the Cubs the lead for good. It was the second-longest homer of Wisdom's career as he got every bit of the Gibson pitch.
Looking to keep the party going was Alfonso Rivas as he too turned on a Gibson pitch and ripped it over the right-field wall for his first career homer to extend the lead to 3-1. Following a Sergio Alcantara single and Sampson bunt, Rafael Ortega did what he seems to do so often: take a pitch the other way for an RBI double, extending the lead to 4-1.
After cruising through five innings in his own right, Sampson started to run into some trouble in the sixth and was eventually lifted for Manuel Rodriguez with one down in the inning. Hoping to hold onto the three-run lead, Rodriguez suffered his second consecutive rough outing. Bryce Harper smoked an RBI double off the right-field fence before coming home to score on the Didi Gregorius RBI single to make things 4 3. Fortunately for the Cubs and Rodriguez, he was able to get out of that inning which set the tone for the rest of the game.
In what looked to be a battle of the bullpens from here on out, the Cubs continued to keep the pressure on in the seventh, with Nick Martini picking up a pinch-hit double to put another runner in scoring position. Despite a rough night at the plate, Frank Schwindel did manage to pick up one hit, and it was a big one as his seventh-inning RBI double brought home Martini and pushed the Cubs lead to 5-3. Ian Happ continued his hot stretch at the plate and answered that double with one of his own, and just like that, the Cubs were back in front 6-3.
Back-to-back doubles from Frank the Tank and Ian Happ extend the lead! pic.twitter.com/X8kacrwxK1

— Marquee Sports Network (@WatchMarquee) September 15, 2021
That would be all this team would need in the end as the trio of Tommy Nance, Scott Effross, and Rowan Wick were not only impressive, but retired all nine hitters they faced as the Cubs bullpen retired the final 10 Phillies of the game. Effross and Wick were especially strong, combining for five strikeouts, with Wick striking out the side in the ninth to earn his fifth save of the season.
.@RowanWick strikes out the side to end it!

?????? pic.twitter.com/LxQie3uBha

— Chicago Cubs (@Cubs) September 15, 2021
Patrick Wisdom ties KB
It took long enough since his last homer, but it was inevitable that Wisdom reached Kris Bryant's rookie home run record. Too bad it couldn't have happened with Bryant in attendance at Wrigley this weekend, but Wisdom was finally able to reach the 26-homer mark with his bomb in the second.
Since his last homer, Wisdom has been in a tough stretch going 4-46 entering Tuesday's game. Along with that homer, Wisdom also added an eighth-inning double, and maybe this was the game he needed to get out of that funk. Now that he has tied Bryant for the team's rookie record in homers, Wisdom can now set his sights on hitting one more to stand alone.
Given the rate that Wisdom was hitting homers at early this season and back in August, 30 homers is a realistic goal for him to reach. Should he hit that mark, he would have done that in less than 100 games, making you wonder what he can do with an entire season of playing time and fewer strikeouts.
Record-tying No. 26 for @PatrickWisdom5!

That's a home run every 11.46 ABs ?? pic.twitter.com/zqx0jtoVDM

— Marquee Sports Network (@WatchMarquee) September 15, 2021
Rivas just wants to play ball
When the Cubs called up 1B Rivas, many thought he would be platooning with Schwindel at first down the stretch. With Anthony Rizzo no longer in the Windy City, the Cubs need to find either a short-term or long-term option at that spot, and both these men are candidates for next season. The problem is, with Schwindel hitting the ball so well, there is no way you can take him out of the lineup, which would make finding playing time for Rivas extremely hard.
That is where versatility comes in hand, and Rivas is showing he just wants to play ball. Not only has Rivas played first and DH, but he has now played several games in left, along with his first career start in RF on Tuesday. With Jason Heyward on the seven-day concussion IL, look for Rivas to maybe see more time in right as the Cubs are going to figure out how to get his bat in the lineup.
A contact first hitter who knows the strike zone extremely well, Rivas is the rare breed of first basemen where his power is his worst attribute. You wouldn't have guessed that on his home on Tuesday as he not only took an inside pitch over the fence, but lined it out in a hurry. Rivas has now entered the top 30 prospect list in the Cubs system, and Chicago has another fantastic piece to build around.
Alfonso Rivas hit his first career home run as the Cubs beat the Phillies! pic.twitter.com/KgG4rdRjEb

— Marquee Sports Network (@WatchMarquee) September 15, 2021
A pitcher's best friend
There is an old saying in baseball that a double play is a pitcher's best friend. If that is true, the Cubs pitchers made plenty of friends tonight as the double-play ball was huge. Had an overturned call at first base not been made, Sampson would have had three inning-ending double plays in as many innings to start the game.
That is extremely frustrating for an offense trying to get things going to make a postseason push. Regardless, Sampson induced three double plays on the evening, with two of them killing potentially big innings. Rodriguez also collected a double play after he labored through much of the sixth inning.
At this point, the Cubs know what they have when it comes to most of their roster, but they still have plenty of options to look at for 2022. All five pitchers used by the Cubs tonight will be players looked at for 2022, as will those who provided all the offensive damage tonight. As bad as the season has gone this year, fans should be thanking Jed Hoyer for some of these minor-league signings. Had he not made them, this team would be so much worse than they are.

Tags: Cubs Baseball
,
Keegan Thompson
,
Willson Contreras
,
Patrick Wisdom
,
Alfonso Rivas
,
Rafael Ortega
,
Manuel Rodriguez
,
Ian Happ
,
Scott Effross
,
Rowan Wick
,
Kris Bryant
,
Anthony Rizzo
,
Jason Heyward