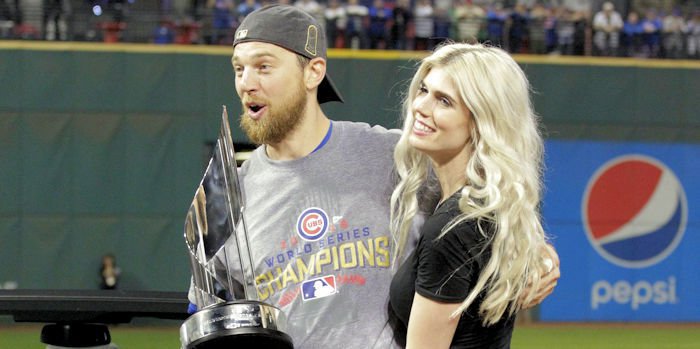 | | |
| --- | --- |
| Cubs News: Ben Zobrist drops lawsuit against his former pastor, who is dating Julianna Zobrist | |
---
| | | |
| --- | --- | --- |
| Saturday, August 14, 2021, 7:27 PM | | |
NASHVILLE, Tenn. — Former star Chicago Cubs utility player Ben Zobrist is in the midst of a turbulent divorce from his wife, Julianna, and has received substantial attention in the press since it was revealed that Julianna and the Zobrist family's former pastor, Byron Yawn, had an affair.
Ben filed a $6 million lawsuit against Yawn in May, alleging that Yawn contributed to his marriage falling apart by having an affair with Julianna and also accusing Yawn of defrauding his charity when the two worked together. However, Ben's attorney, Larry Crain, dropped the lawsuit at Nashville Circuit Court on Thursday.
Meanwhile, the Zobrists are still engaged in a public split that has been bitter, to say the least. Julianna has denied many of Ben's accusations against her and is seeking a substantial amount of money in the divorce trial. The reason for Ben dropping the lawsuit has not been publicly revealed.
Yawn's attorney, Christopher Bellamy, told the Chicago Tribune that the lawsuit being dropped was "a step in the right direction." However, the bombshell revelation made by Bellamy was that Julianna and Yawn consider themselves a couple and have been in a relationship ever since the Zobrists broke up.
"For the past two years Mr. Yawn and Ms. Zobrist have been in a healthy and emotionally secure relationship," Bellamy wrote in a legal brief.
While Julianna previously admitted to being romantically involved with Yawn, who is no longer a pastor, the current status of their relationship had not been made known to the public throughout the divorce proceedings until Bellamy addressed it in the aforementioned brief. Although the lawsuit against Yawn has been dropped, the acrimonious divorce proceedings are far from over.