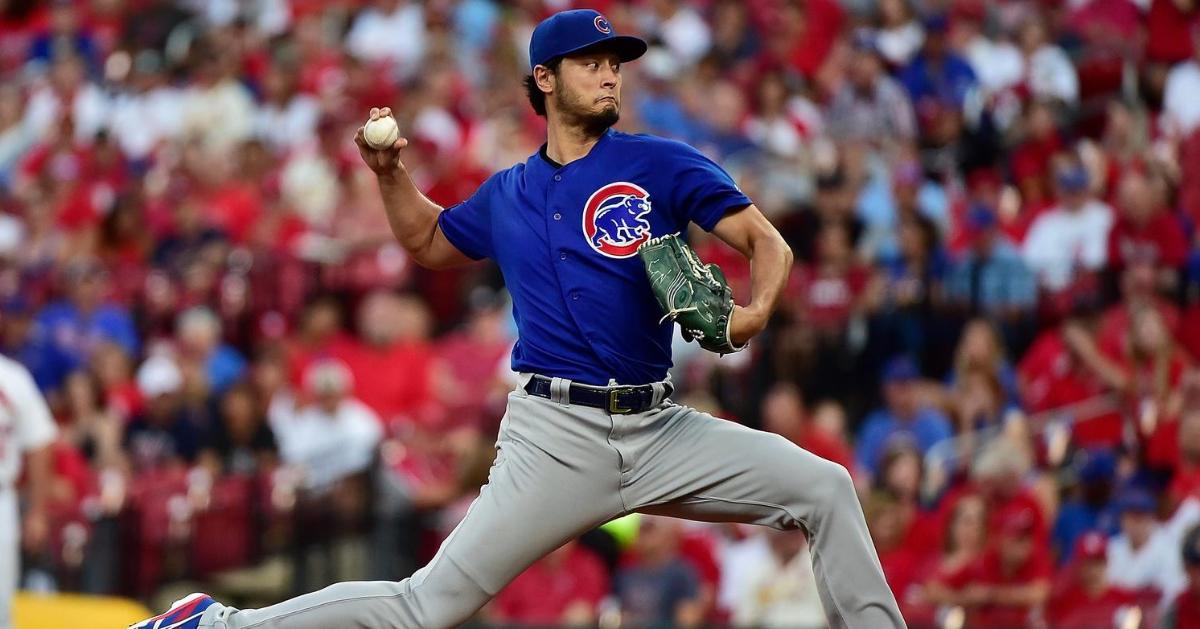 | | |
| --- | --- |
| Cubs News: Craig Kimbrel taught Yu Darvish how to throw filthy knuckle-curve | |
---
| | | |
| --- | --- | --- |
| Wednesday, August 28, 2019, 10:15 PM | | |
NEW YORK — As if Chicago Cubs starting pitcher Yu Darvish did not already throw enough pitches, the right-hander recently added another pitch to his arsenal by learning from Cubs closer Craig Kimbrel. Darvish dominated in an 8-inning start in the Cubs' 5-2 win over the New York Mets on Tuesday, and he made Mets hitters whiff at filthy breaking balls throughout.
Darvish collected seven strikeouts at Citi Field en route to earning the winning decision to improve to 5-6 on the season. In addition, Darvish extended his career-best streak of not issuing any walks to 142 plate appearances before giving up his lone walk of the night. One of the pitches that Darvish utilized on the evening was the knuckle-curve, and he revealed to the media afterward that he learned the pitch from Kimbrel, who also chatted with reporters about it.
"He walked up to me the other day, and he was like, 'Hey, I've been working on that,'" Kimbrel said. "I was like, 'Cool.' I didn't know he was going to go out and throw it. I thought that was pretty cool."
Marking the 10th pitch in Darvish's arsenal, the knuckle-curve paid dividends for Darvish in his stellar performance on Tuesday. Evidently, Darvish sought out Kimbrel for assistance when he wanted to learn how to throw the pitch effectively, and, a mere week later, Darvish used it in a start. For Darvish, adding a new pitch to his repertoire in a span of one week was not that significant of a feat, with the talented hurler treating it as business as usual.
"Kimbrel taught me that pitch, and I feel good," Darvish said. "That's why I used it."
Yu-San fire. ?????? pic.twitter.com/k7LCHQNyCN

— Chicago Cubs (@Cubs) August 28, 2019
.@faridyu's 2nd half ERA: 2.93#EverybodyIn pic.twitter.com/49MqjpvBTb

— Chicago Cubs (@Cubs) August 28, 2019
Here's a look at the knucklecurve that Darvish used to K McNeil in the 8th inning. More velo than his usual curve. pic.twitter.com/pPGf6aQaYZ

— Jordan Bastian (@MLBastian) August 28, 2019
Craig Kimbrel, on Yu Darvish learning his knucklecurve in less than a week and taking it into games already as a wipeout pitch: "He's amazing. He can do anything he wants." pic.twitter.com/gFkkfAWIk6

— Jordan Bastian (@MLBastian) August 28, 2019